Summer Conference recap: Entrepreneurs and collaboration are pathways to prosperity
August 1, 2016
How is your city welcoming new residents and entrepreneurs? Will your welcome encourage them to stay?
Don Macke, co-founder and co-director of the Center for Rural Entrepreneurship, posed these questions and more to guests at Heartland's eleventh annual Summer Conference held in July. In addition to Macke, the event's lineup included a Q&A with Paula Jensen of Dakota Resources, highlighting one community's rural development success story and an update on Heartland's strategic plan from Communications Manager Ann Hyland and strategic plan facilitator Brian Bonde.
After lunch, guests were treated to a round of golf or scenic boat tour of Lake Madison and wrapped up with awards and pin prizes. Attendance surpassed 100 as individuals from more than a dozen customer communities participated, joined by members of Heartland's board of directors and staff and field representatives for the offices of South Dakota's U.S. legislators. Several state legislators and officials from various state offices and entities were also present.
Energizing Entrepreneurs: The Pathway to Prosperity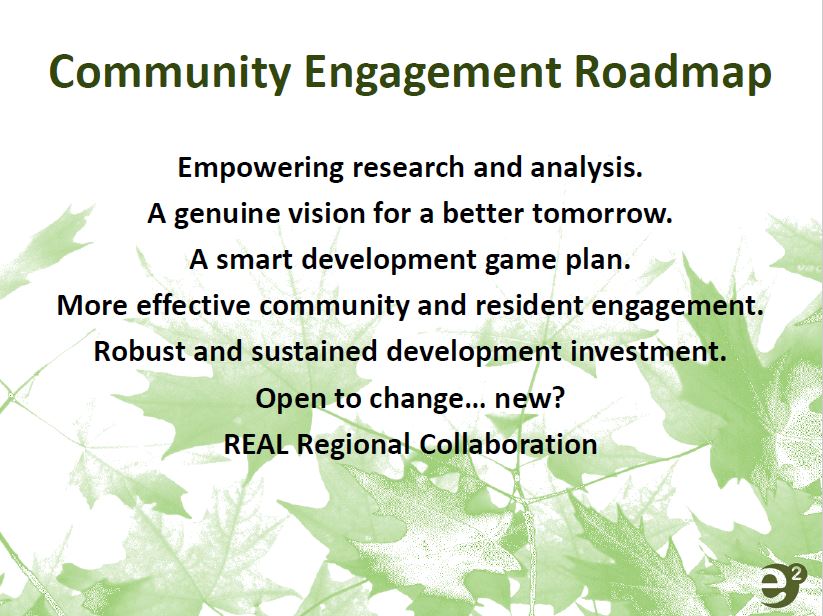 According to Macke, there are three essentials for community success: 1) demographic renewal, 2) economic opportunity, and 3) quality of life. Every community must demographically renew itself to achieve prosperity. In order to do that, the community must create economic opportunities through job creation and business retention and expansion. In today's environment where human talent is key, quality of life is essential. Better conditions for families, investments in education and civic and social improvements are strategies that can work long-term.
Also key: entrepreneurs.
Entrepreneurship is a necessary component in any economic development strategy because entrepreneurs are innovative and open to change, pursue opportunities and make things happen, and build visions and teams. According to Macke, creating a supportive ecosystem for entrepreneurship requires a collaborative, regional approach. Success of your community depends on local commitment and a willingness to genuinely collaborate, not compete, with your region.
With over 40 years experience in the field, Macke is an expert on entrepreneur-based economic development systems for rural cities. As leader of the Center's Entrepreneurial Communities solution area, he works throughout the United States and Canada supporting research, outreach, professional development and policy work related to rural entrepreneurship. For more information, visit energizingentrepreneurs.org.
To view Macke's presentation from the Summer Conference, click the link below.
Energizing Entrepreneurs: The Pathway to Prosperity (PDF)
Spotlight on Rural Development: One Community's Success Story
After learning the tools and resources to help a community achieve economic prosperity, guests were treated to a real-life example of small-town success. Heartland Director of Economic Development Casey Crabtree facilitated a question and answer session with Paula Jensen, resources and community development director for Dakota Resources and one of the founders of The Front Porch in her hometown of Langford, SD.
Jensen discussed how a group of residents in Langford, population 316, came together to create a new business and gathering space that has revived the community and its downtown district. Sharing behind the scenes details of the restaurant's formation, construction, management and operations, Jensen painted a picture of a collaborative effort from local residents who had pride in their community and wanted to see it succeed. Her city's story proves prosperity is possible, even in rural communities.
Local commitment and local pride kicked off rural success @LangfordSD @DKTAresources #HeartlandSummerConference pic.twitter.com/veWkjTK7M7

— Heartland Power (@HeartlandPower) July 12, 2016
Jensen's message of collaboration echoed Macke's assertion that local and regional commitment are critical to community development.
Paula is the vice president of advancement with Dakota Resources, based in Renner, SD. Dakota Resources is a 501c3 Community Development Financial Institution with the purpose of stimulating financial and human investment in rural communities that are invested in themselves. Her role includes resource development, community coaching and implementation of programs throughout rural South Dakota.
Heartland Strategic Plan Update
Wrapping up the educational portion of the Summer Conference, Brian Bonde and Heartland Communications Manager Ann Hyland provided an update on Heartland's strategic plan. Heartland began working on our strategic plan in mid-2015, gathering employee and board input and putting together a general outline. Earlier this year, we retained the services of Bonde, president of Advanced Certified Fundraising, LLC to assist in developing the strategic plan and facilitate the process.
Most recently, we've been collecting input from our customers through round table discussions at our Annual Meeting and telephone interviews with members of the Customer Connections Committee. All of the data is being formatted into an executable strategic plan that includes goals, objectives and implementation strategies.
Each goal will be assigned to a team of Heartland staff to track progress and work on completion. Progress reports will be made to the board and customers and each year, a thorough evaluation will be done to monitor progress and ensure we're on the right track. Goals, objectives and strategies will be revised as needed.
Brian Bonde is an Advanced Certified Fundraising Executive and nationally recognized expert in not-for-profit management and fundraising. He is a noted consultant and trainer to non-profits and has been in senior leadership positions at Sanford Health, Children's Care Foundation and Augustana College.
---
To view images from our 2016 Summer Conference, visit our online gallery.