Stowater supports local animal rescue with Leadership Madison group
April 4, 2016
Heartland Energy Scheduler McCord Stowater is making a difference for a local animal rescue center through a community service project with Leadership Madison. Stowater and fellow Leadership Madison participants John Bloom (Lake County International), Lexi Bohlander (Bulldog Media Group), and Ryan Burdge (Karl E. Mundt Archives) recently held a 50-50 raffle fundraiser and collected freewill donations to benefit Almost Home Canine Rescue in Madison. The group, known as Paws for a Cause, collected over $375 from their efforts, which they presented to AHCR President Barb Stacey-Olajidae in March.
"We live in an amazing, supportive community, and the timing for this project is perfect," said Stacey-Olajidae. "With kitten season upon us, the funds will be used towards vet bills from spaying and neutering all of the homeless cats in the Madison city pound."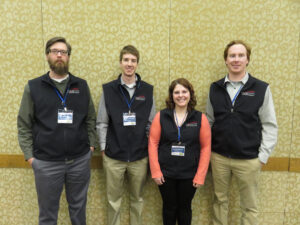 Stowater helped create the community service group as part of his training with Leadership Madison, a program of the Greater Madison Area Chamber of Commerce. The program's community service project requirement provides participants with the opportunity to apply the skills learned in classes to a real world experience.
"When our group came together, we realized we all shared a love for animals," Stowater said. "Tapping into that common interest, we decided to find a way to increase awareness and help local animals in foster care."
Paws for a Cause was one of four projects resulting from the 2015-16 Leadership Madison class, who graduated March 15. Heartland is a long-time supporter and sponsor of the program, and Stowater is the latest employee to graduate. Several staff members have also served on the program committee.
"Leadership Madison is a unique and valuable opportunity," said Stowater. "Through this program, I have met a lot of new people and become more familiar with the community and its businesses. It's been a good experience."
Using the community as a classroom, Leadership Madison helps participants gain insight into their unique leadership style while growing awareness and understanding of local needs, resources and opportunities. It features interactive training and development activities as well as tours of area businesses and organizations.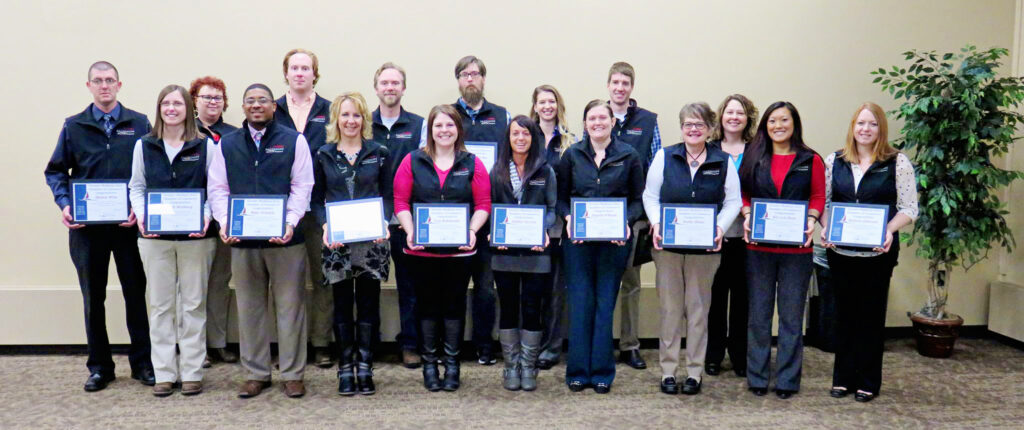 In addition to the community service project, Stowater participated in Madison/DSU Hosts the Legislature in Pierre, SD and attended 12 classroom and on-site sessions as part of his training.
Run completely by volunteers, Almost Home Canine Rescue is a foster-based rescue organization in Madison. Donations to AHCR provide the necessary funds for vet care, including spay/neuter, vaccinations, dental cleaning and micro-chipping, as well as for healthy food, collars, leashes, toys, and other necessities to make animals comfortable in their foster home until they are adopted in their forever home. AHCR also assists Madison's pound animals, including financing vet care, finding them homes and transporting them to shelters if needed. For more information about AHCR, find them on Facebook or visit their Petfinder page at www.almost-home.petfinder.org.
Feature picture, from left to right: Almost Home Canine Rescue President Barb Stacey-Olajide accepts a donation from Leadership Madison Paws for a Cause group members McCord Stowater, Ryan Burdge, John Bloom and Lexi Bohlander. Photo courtesy the Greater Madison Area Chamber of Commerce.