Business is growing at Seed Barn, LLC
April 4, 2016
Wessington Springs businessman Jerry Caffee was on the verge of moving to another community about a year and a half ago. But he had a change of heart that has led to an expansion into a new product line and a new business that includes a 6,000 sq. ft. building in the Wessington Springs Industrial Park.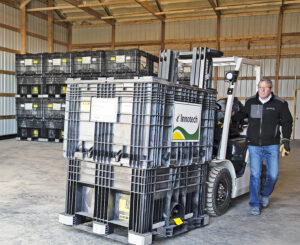 Caffee decided to add Rob-See-Co seed to his lineup and business began to grow. The new business, Seed Barn, LLC, specializes in Rob-See-Co agricultural seed and sales have been brisk. "We looked at crops, saw what Rob-See-Co yielded and really saw value in the product," he said. "And our sales have tripled since we started."
Jerry has been around agriculture for a long time, he recalled, but he has never sold seed before. "I'm learning every day," he concluded.
Caffee credits two veteran salesmen with much of the company's early success. Tom Grohs has handled seed sales in the Wessington Springs area for years. Keith Solberg, of Mitchell, is a seed salesman who came out of retirement to work for Seed Barn, LLC.
"Tom and Keith have a total of fifty years of knowledge and experience between them," Caffee said. Standing in the new building, Caffee laughed, "I had a good feeling about it (the expansion), but we didn't build it big enough. I never dreamt that Tom and Keith would help expand our reach the way they have."
Any success in business that he enjoys can be credited to others. "We really couldn't have done this without the people who have worked with us over the years and our really good customers."
Another family business he has been involved with is farm equipment dealership L Double J Implement. Following the tornado Jerry and his brother in law, Jeff Reider, bought out the share of L Double J that was owned by Jerry's father, longtime Wessington Springs businessman Lawrence Caffee.
L Double J and Seed Barn, LLC work hand in hand, according to Jerry. The two businesses are located near each other, encompassing a five-acre footprint in the Wessington Springs Industrial Park.
After considering leaving the community following the June 18, 2014 tornado in Wessington Springs, Caffee decided to stay rather than pursue business opportunities elsewhere. It's a decision he is happy with today as he continues looking to the future.
"You don't have to leave town to be successful," Caffee said. "I have a business a mile and a half from my house," he said, "it's a dream come true."
Pictured above: Finishing touches are being made inside the new Seed Barn, LLC building in the Wessington Springs Industrial Park. Business owner Jerry Caffe, right, is shown with sales representative Keith Solberg inside the 6,000 square foot building. Photo courtesy Kristi Hine/True Dakotan.