Solar power: trend or fad?
November 5, 2019
There are currently about 1.5 million solar panels installed in the United States, producing about 64 GW of energy, equating to about 1.6% of all the generation in the country.
Most solar installations have occurred in the last few years, with almost one sixth of current solar energy installed in 2018 alone. Solar has ranked first or second each year since 2013 in new generating capacity added.
The average solar installation equals 5 kilowatts. However, utility scale solar (installed solar capacity greater than 1 MW) is becoming more popular with about 2,500 MW currently under construction.
Like many other emerging technologies, the price of installing solar continues to fall, and efficiency continues to increase.
But many questions remain. Is solar cost effective? What will the payback be? Is solar power just a passing fad?
Heartland Chief Operations Officer Nate Jones tackled those questions and more at Heartland's recently held Budget Meetings.
According to a recent survey, 89% of Americans support solar. However, cost was not a consideration in the survey. Since 59% of those who support solar say saving on their electric bills is their motivation, cost would certainly impact this statistic.
So, the question becomes, will you save on your electric bills by installing solar panels?
Heartland's recently developed solar calculator should help answer this question, for both residents interested in installing solar panels and the utilities that serve them.
The calculator is designed to determine the payback of different-sized installations.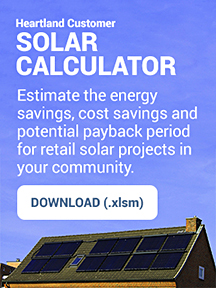 The calculator utilizes every state's unique set of rules governing solar installations. These rules differ in regard to billing offsets and the rate at which excess generation must be purchased by the utility. It correctly analyzes solar data including accurate production estimates, which gives a realistic payback period.
While solar vendors will provide savings estimates, it is important to remember their goal is to make a sale. Our goal is to provide another non-partial resource to ensure all the most relevant information is available to make an informed decision.
There is no one-size-fits-all approach to solar. Factors including roof space, location, state laws and more will determine the payback period and level of savings able to be achieved.
All costs and risks must be weighed against potential savings.
We encourage you to use this calculator as a resource when your customers inquire about installing solar. While solar may not have popped up in your community yet, chances are it will at some point.
Heartland recently sent out a survey to our customers inquiring about your utility's feelings about solar and readiness for installations in your community. We encourage you to fill that out if you haven't already done so. This will help us determine how we can best help customers be prepared should you see an interest in solar in your community