SlyDog is leader of the pack
September 1, 2017
Public Power is Good for Business is a quarterly section highlighting successful businesses and projects located in our customer communities. Public power communities help foster prosperity and growth by offering reliable electric service at cost-based rates.
Public Power is Good for Business: Madison manufacturer finds niche in snowmobile industry
While you're more likely to find snowmobile enthusiasts farther west in the Black Hills or the mountains and Wyoming or Montana, one of the sport's leading manufacturers of specialized snowmobile parts is located among the prairies of southeastern South Dakota.
With roughly 1.8 million registered snowmobiles in North America alone, more and more riders and dealers are turning to a family-owned business in Madison for high-quality, custom-made snowmobile components.
SlyDog, Inc. specializes in the manufacture of highly engineered, compression-molded aftermarket snowmobile skis and parts. Founder, president and production engineer Dan Palli is an innovative leader whose wealth of knowledge and experience has catapulted his business to the forefront of the industry.
Science behind the sport
Using cutting edge methods, SlyDog works with a material that's somewhat traditional to the snowmobile industry: Ultra High Molecular Weight Polyethylene, or UHMWPE.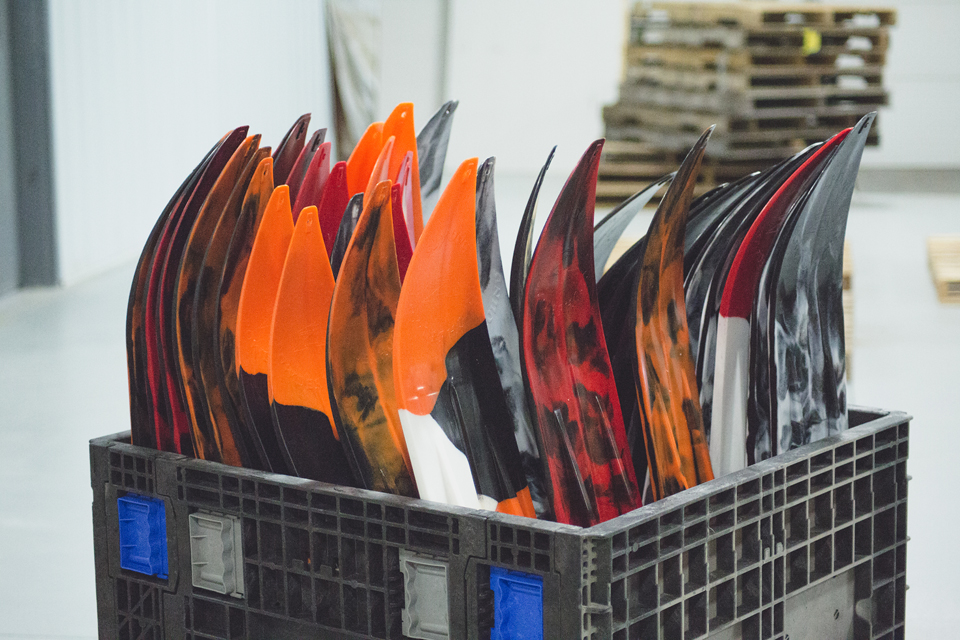 UHMWPE is a highly specialized thermoplastic polyethylene. Noted German physicist Karl Ziegler developed the process to create UHMWPE in the 1950's and it was commercialized years later. Today, it's widely used in industrial and medical applications, such as hip joint replacements.
Seven times lighter than steel and three times lighter than aluminum, UHMWPE has unmatched abrasion resistance and impact strength. Self-lubricating and water and chemical resistant, it can also withstand sub-zero temperatures.
However, the very characteristics that make it an ideal substance for snowmobile skis also create hurdles in processing and production.
UHMWPE has a zero melt index and does not flow. Consequently, traditional methods of producing plastic parts, such as injection molding, are unsuccessful.
Instead, Palli works with engineers to develop high-compression molds to create his products.
High-performance parts
With a degree in industrial electronics and 27 years experience in every aspect of UHMWPE manufacturing, Palli prides himself in creating innovative, superior products and maintains strict control over the design and production of SlyDog products.
"I want to ensure precision and quality with every item," he said.
Palli consistently experiments with design and form. A seasoned snowmobile rider himself, he relies on his first-hand knowledge plus feedback from other riders to build components that lend to the ultimate riding experience.
For instance, SlyDog's "Real Cool" Bogey Wheels use a rotating fan blade design that prevents ice and snow from sticking to the wheels, eliminating bothersome vibrations during the ride.
His merchandise is also notably versatile.
"We like to create products that are multi-purpose and can be useful in a number of situations," he said. "Our snow flaps can be reassembled into snow scoops, and some models feature ice pick tips and a saw blade in the handle."
SlyDog's premier and most popular product, however, is its high-performance snowmobile ski.
"We use a snow induction process to make the skis," said Palli. "The design keeps the skis from darting on trails and helps lift the sled in deep powder."
The technology appeals to riders because it improves cornering and minimizes steering effort. Customers also love to incorporate custom colors and designs–a capability made possible because of the unique polymer material and manufacturing process.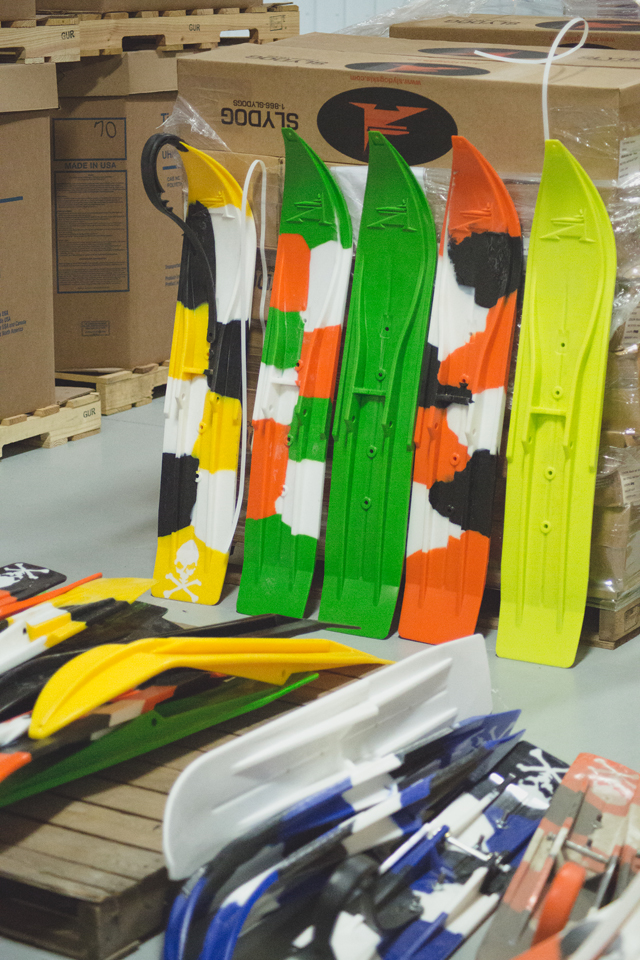 "We make skis and accessories in just about any color," he said. "We also offer four styles: swirl, urban camo, flame or solid."
Customers can choose from several ski packages in stock on SlyDog's website, or design completely custom skis with the site's popular Ski Builder feature.
"Between our skis, bogey wheels and loops, we offer thousands of color and style combinations," he said.
Palli said he is always looking for new ideas and his team has a few new product enhancement ideas in development.
"We want to keep our customers intrigued," he said.
Shared resources
SlyDog ships products internationally from its new headquarters in Madison's Lakeview Industrial Park. It shares the facility with Palli's other business, Dakota Plastics & Machining, LLC (DPM).
Launched in late 2016, DPM provides custom development of plastic, metal, steel and alloy components.
"DPM and SlyDog are two separate entities, but they operate congruously," he said. "DPM makes the molds, mounting kits and suspension packs for SlyDog skis as well as other products."
Palli has been operating the two businesses under one roof for about five months. He purchased the 20,000 square-foot building from the Lake Area Improvement Corporation (LAIC) in December of 2016, but didn't start moving in until April of this year.
"When I bought the building, it was just a shell. There were no cement floors, no office space, no electrical—it was just four walls," he said. "Although it required a lot of work up front, it also meant we could set it up to meet our specific needs."
The LAIC, which serves as the economic development office for Madison and the surrounding area, constructed the spec building exactly for that purpose. The idea was to have a move-in ready building available to be customized for any business.
A large wall now separates the building into two main areas: one side for manufacturing the polymer products and the other for machining and storing inventory. Palli also constructed 2,250 square feet of office space.
Presently DPM's production is strictly limited to SlyDog merchandise, but Palli plans to work with other manufacturing partners and businesses within its target market in the future.
"Snowmobiling is seasonal, so SlyDog has some down time," Palli said. "I expect DPM to help keep us busy in the off-season."
All in the family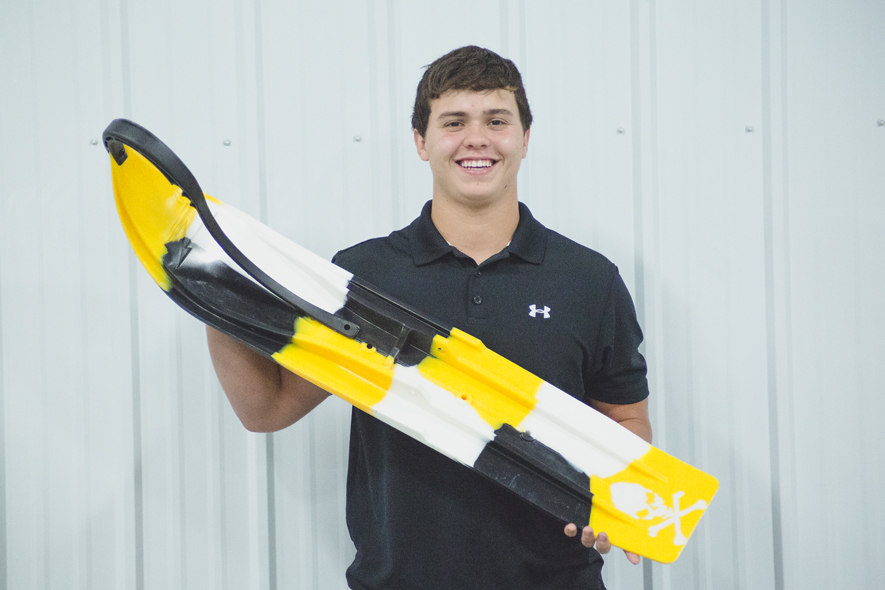 It has been said that behind the success of every small business, there is a family. This holds true for SlyDog.
DPM and SlyDog's staff are comprised of Palli and his three sons, Marcus, Mikael and Matt. Like their father, the young men's personal interests have proved invaluable.
"The boys have all been riding snowmobiles since they were five or six," Palli said. "They love the sport, and their unique understanding and passion carries over into their work."
Palli enjoys working with his boys and is glad they all pursued post-secondary degrees related to the family business.
Twins Marcus and Mikael both graduated from Southeast Technical University in 2013. Marcus studied mechanical tool technology and machine engineering while Mikael pursued degrees in electronics, robotics and hydraulics.
Youngest son Matt works part-time for the company while earning a business degree from Lake Area Technical Institute. He plans to join SlyDog full-time after graduating in 2018.
A welcoming community
As the LAIC works to promote growth in the community's industrial park, the addition of SlyDog is a step in the right direction. The LAIC is looking to add another spec building in the park, next to SlyDog. Communities that have the basic structure of a commercial building available for immediate move-in often find it easier to recruit new businesses.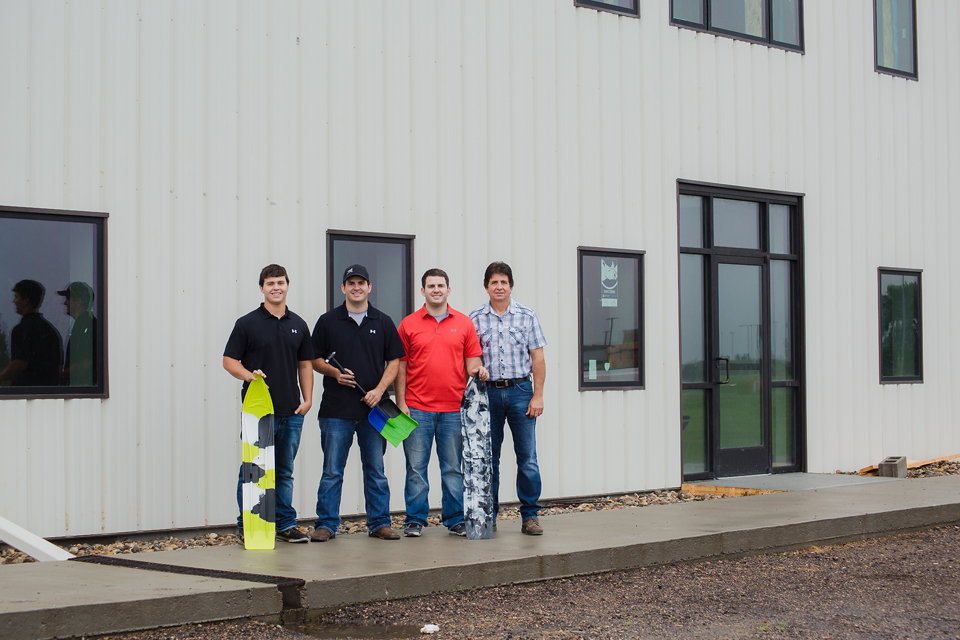 Palli said opportunity led him to choose Madison for his headquarters and the friendly business environment will keep him here.
"I've lived here for a number of years, but as a small business owner based in Madison I've gained a new perspective," he said. "The LAIC and other members of the community have been very welcoming, and I look forward to the opportunities doing business here provides."
With the launch of DPM, Palli qualified for low interest financing from Madison's power provider, Heartland, who awarded him a $150,000 loan from the Heartland Economic development Loan Program (HELP) Fund to purchase new machining equipment.
Heartland Director of Economic Development Casey Crabtree said the two businesses' anticipated growth may also qualify for other incentives in the future.
"Collectively, SlyDog and DPM could create 20 new full- and part-time jobs within the next five years," he said. "They compete in national and international markets in a $26 billion industry, and continue to surpass expectations. Their story is a true testament to economic development and we're proud to be a part of it."
Just the beginning
Amidst finishing construction on their facility and setting up equipment, it's business as usual for Palli and his sons.
"We're still trying to get everything in order, but of course business hasn't slowed down," he said. "There's still orders to fill and items to ship."
With the winter season approaching, they're also preparing for their annual trip to North Branch, Minnesota for Hay Days. The two-day festival features grass drags and vendor booths, and is dubbed the "official start" of snowmobile season.
Palli and SlyDog are a regular fixture at Hay Days, selling and showcasing products and gear.
"It's the largest event of its kind in North America, and we'll be seen by thousands of people," he said.
Thousands of people who learn or may already know a small business in southeast South Dakota is the starting point for an ultimate fresh powder experience.