Rolfes comfortable in new role in Akron
May 31, 2017
Former water/wastewater operator now serving as city administrator
Dan Rolfes is a familiar face in the small community of Akron, Iowa.
"I was born and raised here, and I've never worked anywhere else but in town," Rolfes said.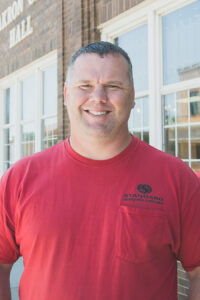 After graduating from Akron-Westfield in 1995, he attended Wayne State College for one year. He then worked for a local chemical and fertilizer business before joining the crew at the Farmers Cooperative Company.
In 2007, he became the city's water/wastewater superintendent–a position that was close to home in more ways than one.
"I was a second-generation water and wastewater operator," he said. "My dad did it for twenty-one years, and then I served for ten."
These days, you can still spot him in city hall, but you'll find him in a different office.
Rolfes took over as city administrator in January after long-time administrator Gary Horton retired. Six months into his new role, he feels comfortable with his day-to-day duties but admits he's waiting for things to calm down.
"Gary told me it would ebb and flow with highs and lows," said Rolfes. "It feels like it's been at a high level since I started. I've already called him and asked, 'when does it slow down?'"
As administrator, Rolfes finds himself involved in many more projects, which leads to longer days and more time spent doing business.
"My phone rings a lot more now, and I'm taking things home more than I used to," he said.
Cultivating business relationships a priority
Despite the busy schedule, Rolfes is happy with his new job and looks forward to a more active role in tackling several community development projects.One priority is boosting the local business district.
Although the city found success with a Main Street spec building, and the new Chubs Country Store is doing well, Akron has also suffered a recent string of closures and has several vacant buildings and businesses for sale.
Rolfes hopes to curb this trend by reaching out and enriching relationships with the city's existing businesses.
"I've been making visits and meeting with local business owners and managers. I'd like to know more about how the city has partnered with each of them in the past, and what we could do in the future to help them maintain or improve their success," he said.
He would also like to see the city consider building another spec building or even a small strip mall.
"There are several small businesses operating out of the old care center," he said. "It would be great to move them into a newer, more efficient facility that fully meets their needs."
Other major projects on Rolfes' radar include replacing the city's 50 year-old substation and helping with fundraising efforts for a new city pool.
Support staff provides relief
Of course, he still has a daily schedule to maintain, which includes training the new water/wastewater superintendent, reviewing budgets and expenditures, overseeing all the utility departments, sitting in on various board meetings and helping with miscellaneous projects.
Luckily, he's got a great support system.
"We have a great crew at the city," he said. "Our utilities employees work really well together and we all help each other out on a daily basis. The staff at city hall are also great, which makes my job easier."
Rolfes has also gained guidance from his predecessor, Horton.
"Gary has been very helpful," he said. "I worked with him on many projects in the past, so I was familiar with a lot of the work. But I still have questions, and he's always willing to answer and lend a hand if I need it."
Horton's knowledge was especially meaningful during the city's annual budget process, which occurs in the early spring. Rolfes had to help project revenues and expenses for the current fiscal year when he was still relatively new to the job.
"I had only been the administrator for a few months, and the budget process was completely new to me. I definitely relied on his experience and that of our clerks," Rolfes said.
Common ground boosts solidarity
Despite any early hiccups, Rolfes says the transition to administrator has been relatively smooth. While a lot of that is due to months of on-the-job training and shadowing in 2016, he also gives credit to his Akron roots.
"Being from Akron and having already worked for the city, I brought a sense of familiarity to the position," he said. "The new water/wastewater operator is also an Akron native. It has helped us maintain a sense of unity."
Rolfes said he's grateful for the fellowship as he discerns his new role and the responsibilities that come with it.
"There is a lot going on in town and now I'm responsible for helping sort it out," he said. "I just try to take every day in stride."