Olson celebrates ten years with Heartland
March 3, 2015
Congratulations to CEO Russell Olson, who recently celebrated ten years with Heartland. Olson was recognized for his service by the Heartland Board of Directors during the February board meeting.
"Over the years, Russell has proven himself to be a great communicator and leader by helping create and administer programs for the benefit of our customers," said Heartland Chairman of the Board Merlin VanWalleghen. "He has been very transparent in his leadership and is recognized by his peers as a leader in the utility industry."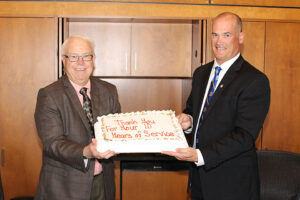 Olson joined Heartland in 2005 as manager of community and economic development. In his first five years he played a key role in developing various economic development and customer service programs, including Heartland's growth incentive program, economic development grant program, Heartland Economic development Loan Program (HELP) Fund, and the popular annual Summer Conference.
In 2013 Olson was selected as Heartland's next general manager and CEO, succeeding Mike McDowell. His first order of business was the official launch of the Energy ONE Incentive, an incentive program targeting new retail loads one megawatt or larger.
"I've always had a vision of increasing new business and job opportunities in our customer communities and throughout the region," said Olson. "I hope we can continue to improve the quality of life in the communities we serve by promoting the many incentives Heartland offers."
During his tenure, Olson has been an active member of his community, serving in the South Dakota State Legislature and participating in many local, regional and state organizations. He served in the House of Representatives from 2006-2008 and the Senate from 2008-2013, including acting as Senate Majority Leader from 2010-2013. He is currently seated on the board of directors for the Madison Career Learning Center, University of South Dakota Research Park, Farber Fund and the South Dakota Development Corporation. He is the vice-chair of Public Power Generation Agency and a trustee for the University of South Dakota Foundation.
A native of Egan, SD, Olson graduated from the University of South Dakota in Vermillion with a Masters of Arts degree in Public Administration and Bachelor of Science degrees in English and Political Science. Prior to joining Heartland, he worked for the Governor's Office of Economic Development and the Lake Area Improvement Corporation.
Olson and his wife Jennie live outside Madison with their four children, Ben, Anna, Victoria and Gordon.
Congratulations Russell!