New Ulm utility linemen responded to Florida call for aid
November 3, 2022
Recently, New Ulm Public Utilities (NUPU) received a thank you letter on behalf of Kissimmee Utility Authority.
The letter thanked line workers James Henderson, Brandon Devorak and Joe Weber of NUPU who assisted with mutual aid support following the devastation of Hurricane Ian.
The letter from KUA read:
"We are grateful for our public power community who comes together to help one another in times of need. We cannot thank you enough for your quick response to our request. Please know that KUA and most importantly, our citizens, are most appreciative of all your support."
In the aftermath of Hurricane Ian, several Florida communities were without power. On Sept. 26, Minnesota Municipal Utilities Association (MMUA) received a call from Kissimmee Utility to help restore power.
MMUA put a call out for help and 14 Minnesota utilities responded, including New Ulm. Henderson, Devorak and Weber volunteered to join the mutual aid call.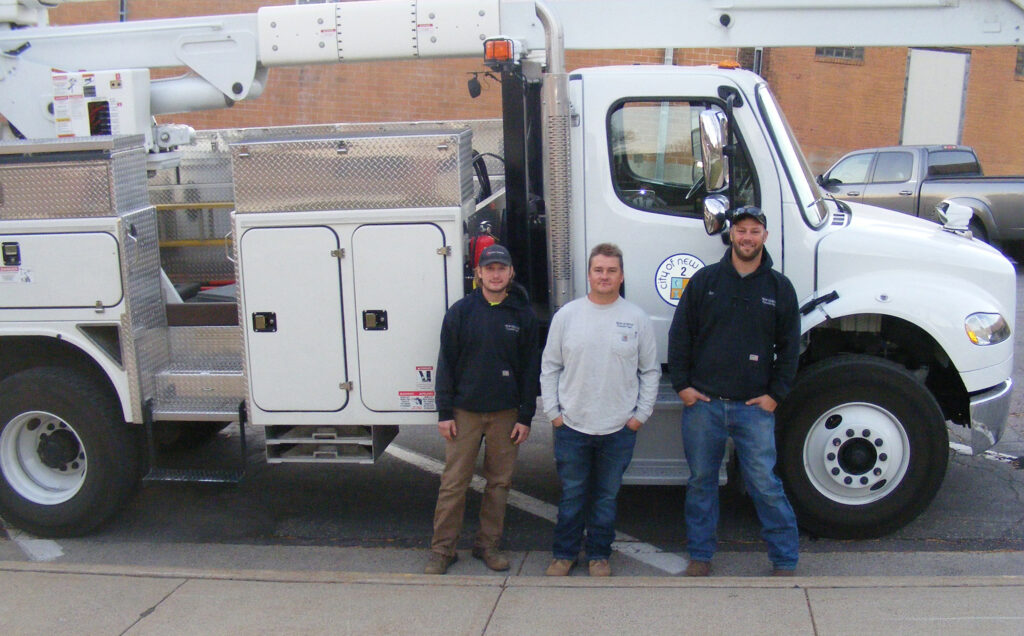 The next day, they met with other Minnesota utilities in Rochester before traveling to Bartow, Florida to help relief efforts.
Line workers spent their time rebuilding the line, replacing equipment and restoring power to the community.
Mutual aid calls for utility work are not unusual. Henderson said there is usually at least one mutual aid request a year. New Ulm line workers have responded to calls in Redwood Falls, Owatonna and Lake Crystal. These calls usually happen in the spring following extreme storms. Devorak said they have helped in Iowa and South Dakota before following ice storms.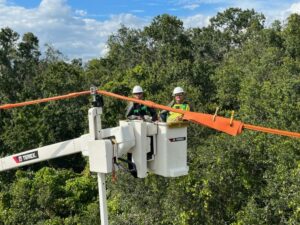 Traveling to Florida was a unique experience. It is not every day that Minnesota linemen get to help following a hurricane. Much of the work was repairing power lines that went down in the storm. This could include fixing or repairing power poles.
Most of the power lines in Florida are above ground, Henderson said. Unlike in Minnesota, power lines cannot easily be buried underground due to the sandy soil and groundwater.
Devorak commented that, unlike Minnesota utility poles, Florida poles were made of concrete but for the most part it was not too different from Minnesota.
Henderson's said one benefit of working in Florida was not digging to replace a pole. They simply pulled the old pole out of the ground and stick in the new one.
Though replacing a pole was quicker, linemen had to be careful of other hazards. As many of the areas had been without power for days, some residents and businesses had backup generators running. They had to be careful around down wires because some could be live. Henderson said they were careful to wear protective gear.
Another unique feature of working in Florida was the wildlife. Henderson said you had to watch your step in Florida. The New Ulm linemen never encountered any reptiles, but they heard from other mutual aid workers talked about large snakes and alligators hanging around repair zones.
The three men worked 16-hour days to help restore power along with other utility workers from across the country. All three New Ulm linemen praised the professionalism of everyone involved in the mutual aid call. The entire process was extremely efficient.
Henderson said organizing and getting crews to Florida went very well. Once on location, they were able to start working almost immediately.
Many of the residents had been without power for days and were thankful to the lineworkers who brought it back online. Homeowners would bring pizzas and breakfast sandwiches as they worked.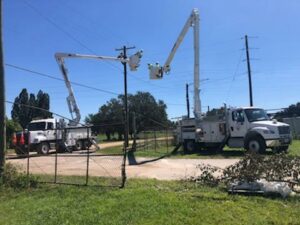 The three said it was a great experience and the locals were grateful for their efforts. All three linemen said they would absolutely help again if the call came.
Henderson wanted to praise the work of Devorak and Weber. He said they were fantastic and safe workers.
Henderson, Devorak and Weber were also commended by New Ulm Utility Director Kris Manderfeld during Tuesday's Public Utilities Commission meeting for their willingness to respond to the emergency.
"This is the spirit of a municipal utility worker," Manderfeld said "whether it be electric, water, gas, or wastewater, they stand to help fellow employees and citizens in our community and others. I am very proud of all the municipal employees of New Ulm Public Utilities."