New hotel to fill local need
August 1, 2018
Madison Hospitality Group hosts groundbreaking ceremony
Construction is officially underway on a new hotel in Madison's Lakeview Industrial Park, marked by a groundbreaking ceremony held July 31st.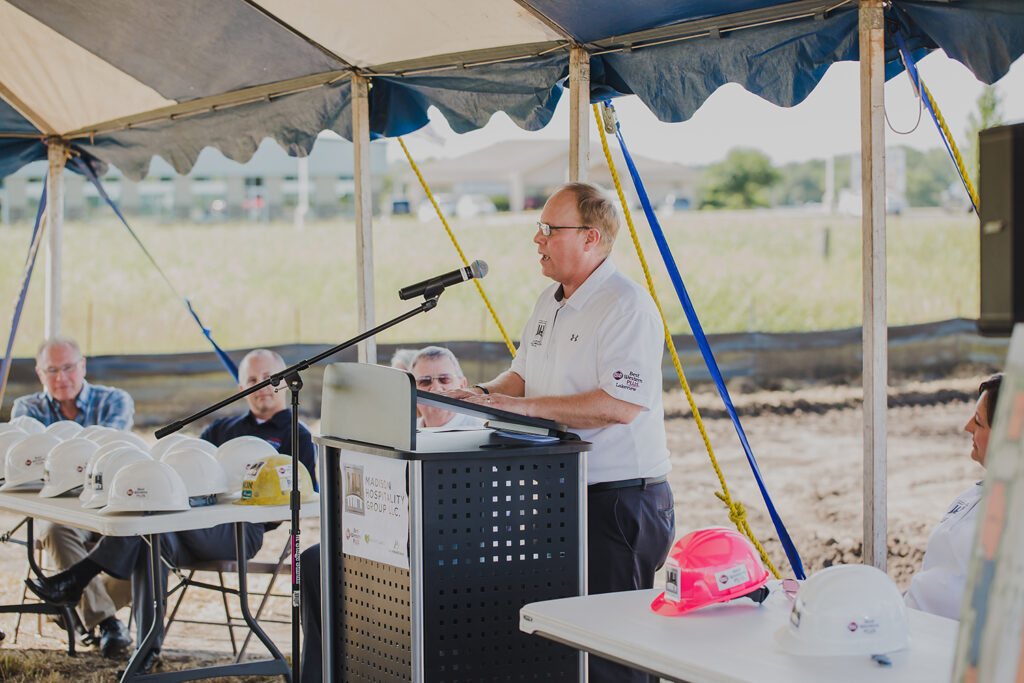 After years of struggling to find hotel rooms in town for customers, vendors and other guests, one local businessman decided to do something about it.
"Madison has so many great amenities to offer, but it's hard to show them off when you have to send people to another town to spend the night," said Terry Schultz.
Backed by a study showing the need for an additional hotel in the city, Schultz approached another local businessman, Ron Howe and the two started working on a plan. They then reached out to other potential investors, eventually forming Madison Hospitality Group, LLC (MHG).
After laying out plans for the new hotel, the group purchased a lot from the Lake Area Improvement Corporation along Highway 34.
"As Madison has grown, we have seen more amenities added such a bike trails, a new hospital, a new outdoor pool and more. The community is hosting more and more events and Prairie Village is seeing record attendance. It was time to keep up with the growth and build another hotel," Schultz added.
At Tuesday's ceremony, Howe described the new hotel as a three-story Best Western Plus featuring 70 guest rooms situated on over seven acres. Rooms will include standard king, double queen and a variety of accessible rooms. It will include a breakfast area, fitness center and indoor pool.
"Future development is planned for the area," said Howe. "The hotel is phase one."
Schultz recognized the growth of Dakota State University as another contributing factor to the need for this facility.
"Over 30 years ago, the focus of DSU switched to computer science, aided by the vision of Governor Bill Janklow," Schultz said. "The school has since grown exponentially. Their continued expansion plans is another great story for Madison, and another reason we as a community need this hotel and development site."
The Madison City Commission recently supported the creation of a new tax-increment finance district that will help finance $1.2 million of infrastructure improvements to land where the hotel will stand.
Madison Mayor Roy Lindsay expressed his support of the hotel, affirming the benefit to Madison of having additional hotel rooms for visitors.
"This will double the number of guest rooms available in Madison," Lindsay said. "It will help make Madison a day, weekend or week-long destination for visitors near and far. It will allow Madison to host multiple activities that will bring people to town to enjoy the local businesses as well as nearby recreation and tourist activities."
Madison Hospitality Group obtained funding through the USDA Rural Economic Development Loan program to finance part of the project. The program provides funding for rural projects through local utilities. Madison based Heartland Consumers Power District applied for funding on behalf of MHG.
State Director of USDA Rural Development in South Dakota Julie Gross noted the importance of partnerships during the ceremony.
"USDA is happy to partner with Heartland to provide financing for this project," said Gross. "We are committed to the future of rural development and this hotel is the perfect example of what happens when people work together for the betterment of their community."
Other speakers at the groundbreaking included Lake Area Improvement Corporation President Paul Schultz, Madison Chamber of Commerce Executive Director Eric Hortness and Heartland Director of Economic Development Casey Crabtree.
Lexstar Construction, a leading hotel construction company based in Fargo, N.D. is serving as the general contractor on the project.
Construction is scheduled to be completed in the fall of 2019.
[Best_Wordpress_Gallery id="11″ gal_title="Madison Hospitality Group Groundbreaking"]