New fire engine will serve Madison area
January 2, 2020
Heartland loan helps rural fire board fast-track the purchase
Rural communities often face unique risks when it comes to fire protection. The distance between residents as well as manpower can create challenges for rural fire response.
Luckily, firefighters in nearby larger communities are often willing to help.
In Madison, SD, the fire department consists of one full-time fire chief and about 28 volunteers. Those volunteers provide fire protection and emergency services for over 350 square miles and approximately 10,000 residents in Lake County.
But, when the fire alarm sounds, the location of the fire determines which trucks are used.
"If the fire is within city limits, we hop on city trucks," said Madison Fire Chief Randy Minnaert. "If not, we use the rural fire department's rigs."
The Madison Rural Fire Board partners with the city's volunteer fire department to serve ten townships surrounding Madison. It manages a fleet of six vehicles, located at the city fire station, which help volunteer firefighters respond to an average of 68 fires per year in rural Lake County.
A loan from Heartland Consumers Power District is helping with the purchase of a new fire engine, which will better equip firefighters to serve the rural community.
Rural engine outdated, no longer meets safety standards
Madison's Rural Fire Board is a volunteer organization founded over sixty years ago. Each township is represented on the board, which collects and manages dues for fire protection and revenue from mutual aid provided across the state.
Minnaert reports to the board periodically to review department activities, goals, and needs.
In addition to personnel, the rural and city fire departments share storage space as well as some equipment and costs. Vehicles, however, are entirely separate.
The rural fire board owns one engine, three tankers and two brush trucks, or grass rigs.
Engines need to be tested and certified annually, but the rural fire engine no longer meets all the standards.
"For certification, it has to pump 1,250 gallons per minute. The truck is nearly 30 years old, and it just can't keep up," Minnaert said.
To replace the outdated vehicle, the board recently purchased a new $330,000 Rosenbauer Pumper. With pump and roll capability, the 4-door freightliner features a 1,000-gallon tank and highly efficient, state-of-the-art pump.
"It is a considerable upgrade that was needed immensely," said Minnaert. "Fires are dangerous situations and safe, modern equipment and vehicles protect our crew and help us do our job better."
Heartland loan fast-tracks purchase
Low interest financing from Heartland, Madison's wholesale power supplier, allowed the board to buy the engine in a timely manner.
"Prior to the loan, our board opted to raise township dues to $5,000 a year to start saving for the truck. That's a 400% increase in rates and a heavy burden on the residents, but there wasn't really another option," said Secretary Brad Benson. "Lake County does not have a tax levy for fire protection."
At the new rate, Benson estimated it would have taken the board six or more years to collect the current purchase price.
"By that time, the cost would likely be higher," he said. "The loan from Heartland is a huge help because it cuts out years from the timeline and saves us and the township residents tens of thousands of dollars."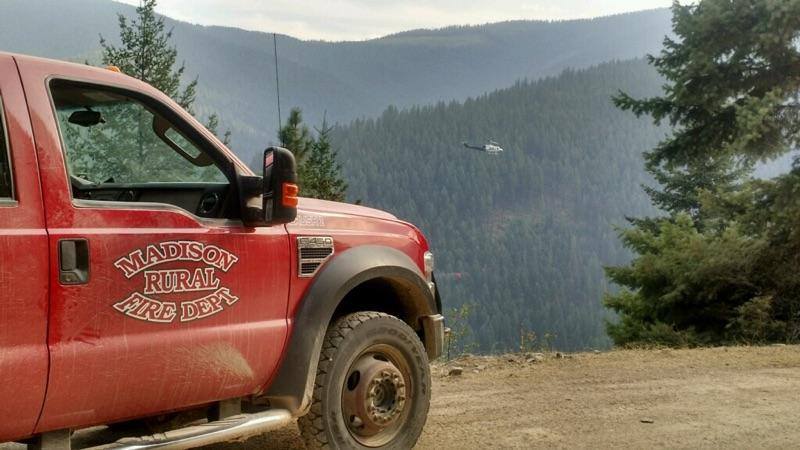 Heartland awarded the fire board a $270,000 loan through its Heartland Economic development Loan Program (HELP) Fund.
With interest rates lower than traditional rates, the HELP Fund promotes community development and prosperity by partnering with businesses and organizations served by Heartland customer utilities. Funds have contributed to infrastructure improvements, regional preparations for growth, investments in new businesses and more.
"Protecting the communities we serve, as well as the surrounding areas, is just as important as developing them," said Casey Crabtree, Heartland director of economic development and governmental affairs. "Our sense of community extends beyond city limits, especially in times of need. If we can help ensure people in our region have the best fire protection, we're happy to help."
Dedicated to Service
Minnaert estimates the new truck will arrive in 12-16 months. It is being manufactured by Heiman Fire Equipment in Sioux Falls, SD, which recently delivered an identical pumper to Madison's city fire department.
"It's a huge perk to have identical engines between the two departments," he said. "Usually we aim to own trucks from the same era, so they operate similarly. Now, our volunteers will be fully trained on the city's engine when the new one arrives, so it will be an easy transition."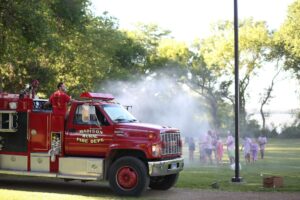 Most often the department responds to grass fires followed by structure fires. The fire department responds to every structure fire in the county as automatic mutual aid to the Nunda, Wentworth, Chester and Ramona departments.
Additionally, the department dedicates much time to education, training and other fire-related services to ensure the public's safety.
"Our volunteers live and work here too, so we're passionate about protecting this area," said Minnaert. "We will always provide the best service possible."
Featured image: The Madison Rural Fire Board purchased a new Rosenbauer Pumper, identical to the one recently acquired by the city's fire department. Pictured is the city's new truck, courtesy Heiman Fire Equipment.