Minnaert: Making an online map for Madison's power grid
July 10, 2019
By Chuck Clement, Staff Reporter, Madison Daily Leader; Originally published July 5, 2019
Modern communications and other needs have made it more complicated for communities to provide power, water and other utilities to their residents; it's no longer a matter of just keeping the lights on but making certain that computers keep running and internet connections remain intact.
One of the basic first steps centers on knowing where all of the electrical transmission lines, transformers, switches, water pipes and storm-sewer infrastructure are located. And that's the job for which Olivia Minnaert was hired in April as a full-time employee for the city of Madison.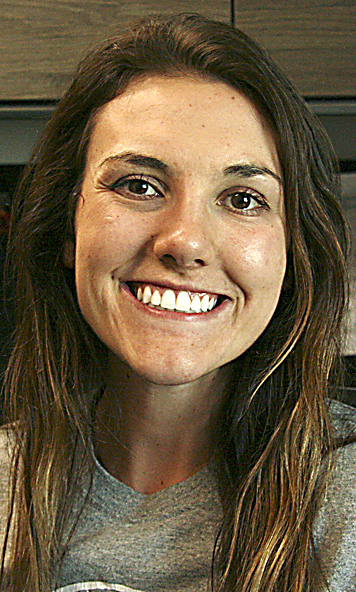 Previously, Minnaert had interned for two summers for the city Electric Department, collecting the data needed to map out the details of Madison's electrical transmission system.
The data collecting meant that Minnaert and other city workers would inspect electrical wiring, power transformers, substations, switch boxes and other equipment to determine how Madison's electrical grid and distribution system is put together. The inspections meant opening enclosures to look at the wiring and taking photos of the equipment assemblies.
"For my internships, we collected all of the data…Right now, I'm looking into all of the nitty-gritty details, making sure that everything is accurate," Minnaert said.
Minnaert is also checking that the city's electrical system is doing the work that it's supposed to do.
Madison officials hired Minnaert to work as a geographic information system (GIS) and project engineer. A Madison native and current Sioux Falls resident, she graduated from South Dakota State University in December. She majored in mechanical engineering and minored in biomedical engineering.
A GIS is an information system designed to capture, store, manage and present spatial or geographic information. The GIS applications operate as tools that allow users to create interactive searches for information and help the users study that information.
According to Minnaert, city officials have a goal of creating an online map of Madison's electrical grid. With that map available, the city's electricians will have the resources to bring it up for display on an iPad screen (or other smart device). If the electricians need to maintain the grid or make repairs, the GIS information will help them with their work.
"By this fall, I'd like to have the online system functional," Minnaert said.
After Madison's electrical grid is mapped out, city officials would like to have Minnaert perform the same sort of work with the city's water and sanitary-sewer distribution systems.