Miller community mourns loss
August 1, 2016
Friday, July 8, two Miller, SD city employees were gravely injured when a water line trench in which they were working collapsed, trapping them. Terry Manning and Jim Bonebright were extricated and taken to Avera Hand County Memorial Hospital for initial treatment. Bonebright, 48, was transported to Avera McKennan Hosptial in Sioux Falls, where he would succumb to his injuries on Sunday, July 10, surrounded by family and friends. His obituary can be found here.
Our hearts are pouring with love, support and sympathy for Bonebright's family, friends, co-workers and the entire community of Miller.
---
The article below originally appeared in the Wednesday, July 20, 2016 edition of The Miller Press. It was written by Will Page and reprinted with permission.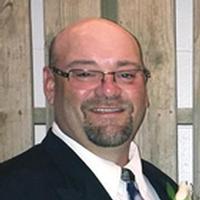 Sunday morning, July 10, the people of Hand County lost a good man.
"There are no words that can truly express our sorrow." Those are some of the many heartfelt words written in remembrance of James "Boney" Bonebright on a poster in the window of the Main Street Lunch Box pizzeria.
That morning as the church congregations in Miller gathered to worship, many started with a prayer for Boney and his family. Some of the people reading this are alive because Boney saved their lives. As an EMT, Boney saved many lives and comforted many more when they were injured or dangerously sick.
Sheriff Doug DeBoer said Boney had an uncanny ability as an EMT to calm people as he treated them. He always maintained his composure under stress.
The best measure of a man's life is the way he is remembered by his family, friends and neighbors. He was friends with everyone. He did everything with humor. Even the people who disagreed with him liked him. Those are some of the descriptions Boney's neighbors have given of him. People liked Boney.
One Monday evening at a city council meeting when the potential lottery payout was past $100 million dollars, Boney had just reported to the city council on the upgrades needed to the city's water and sewer system. Boney was heard to say, like several million others, "I want to win the lottery." He went on to state, "if I won I would just pay for upgrading the city's water and sewer system." That is exactly what he would have done.
He was a community leader who led by serving his neighbors. He was the city's water department superintendent and airport manager. He was an EMT and a volunteer fireman. He was a trusted businessman who, with his family, owned and ran Boney's Parts Plus (a small engine repair shop), Main Street Lunch Box as well as being a partner in Midway Drive-In Theater.
He was a husband, father, grandfather and friend to many. Boney was a public servant in every sense of that title. He served the people of Miller and Hand County. He always did more than was expected and did it with a pleasant sense of humor. Through his humorous personality, untold acts of kindness and competence Boney made the world around him a better place to live in, without him the world will be a diminished place.
He leaves a legacy of saved lives, many friends and a family he loved. There truly are no words that can express our sorrow.
Featured image: One of the many public expressions of condolence for the family of Jim "Boney" Bonebright in a wheat field south of Miller. Photo courtesy The Miller Press.