Madison senior named September student of the month
October 5, 2015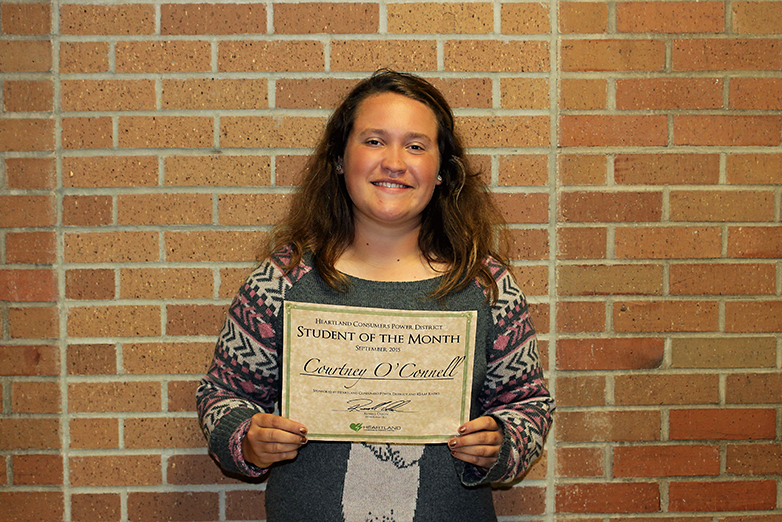 Heartland is pleased to announce Courtney O'Connell, a senior at Madison High School, as our September student of the month. The daughter of Mike and Trudy O'Connell, Courtney is recognized for her academic and extracurricular achievements, kindess and leadership skills.
"Courtney is a well-rounded student who will go out of her way to help others," said Madison Principal Adam Shaw. "She is a leader who can motivate and push her peers to higher levels."
O'Connell has two younger sisters, Kelsey and Riley. Her high school activities and clubs include softball, marching band, mixed choir, Mad Vocals, One Act Play and Spring Play.  She is also a member of Buckle Up Bulldogs, National Honor Society and Y Disciple at St. Thomas Aquinas. She is a babysitter and umps youth softball games during the summer. In her free time, she enjoys fishing, going on walks and being outside.
After high school O'Connell plans to attend the University of South Dakota to study elementary education. She hopes to one day teach in her home state of South Dakota.
The "Student of the Month" is awarded through a partnership of Heartland and KJAM Radio in Madison, and recognizes exceptional students in one of five area school districts. Heartland provides wholesale power to the cities of Madison, Arlington, Colman, Howard and Volga, all of which are in the KJAM listening area.  Each month of the school year, Heartland will present an outstanding student from one of these schools with a recognition certificate and a small token, and advertisements announcing the winning student will air on KJAM Radio for one week.  Officials from each participating school nominate students for the award.  This is the fifth year Heartland and KJAM have teamed up to offer this program.