Madison senior loves social sciences, law
April 6, 2020
Grace Nelson named student of the month by Heartland and KJAM Radio
Last fall, Madison High School senior Grace Nelson completed a one-of-a-kind internship at a local law firm. As the agency's first-ever high school legal intern, she conducted research and provided aid on an assortment of cases.
"Throughout the duration, I was able to sort out and interpret a trust, settle a divorce, work on criminal cases, conduct legal research, hammer out a custody agreement, resolve a land disagreement and much more," she said.
Though challenging at times, Nelson finished her internship with practical application experience and a greater appreciation for law. Her newfound interest has led her to consider one day attending law school.
"I am fascinated by the world and simply love to learn," she said. "My affinity for the social sciences is without question, but my love for law has been a recent development."
Nelson has been named Student of the Month by Heartland Consumers Power District and KJAM Radio. She is recognized for her many achievements as well as for being a leader among her peers.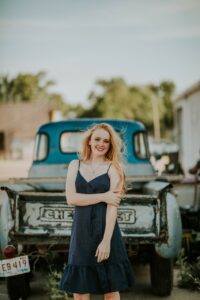 "She always leads by example, and I appreciate her dedication, competence and enthusiasm," said MHS Principal Adam Shaw. "Grace is extremely capable and can rise up to meet challenges. She has contributed a great deal to our school district, and I believe she's destined for tremendous opportunities."
Nelson boasts a long list of extra-curricular activities and groups, in which she often assumes leadership roles.
She's student body president and former student council secretary, FCA founder and chairperson, FFA chapter vice president and former treasurer and secretary, and editor of the school newspaper. She's also been named a senior ambassador, Champion of Character and is a designated student leader in her church youth group.
Nelson is also two-sport athlete, participating in basketball and volleyball, including Pentagon Volleyball. She served as captain in both sports her junior and senior seasons.
She's a member of Future Business Leaders of America and school bible study group and has earned membership in National Honor Society and the National Society of High School Scholars.
Grace is the daughter of Steve and Deb Nelson. After high school, she plans to attend South Dakota State University to major in political science and economics with minors in history and religious studies. After undergraduate school, she'd like to pursue a Juris Doctorate degree.
The "Student of the Month" is awarded through a partnership of Heartland and KJAM Radio in Madison and recognizes exceptional students in one of five area school districts. Heartland provides wholesale power to the cities of Arlington, Colman, Howard, Madison and Volga, all of which are in the KJAM listening area.
Each month of the school year, Heartland presents an outstanding student from one of these schools with a recognition certificate and small token, and advertisements announcing the winning student air on KJAM Radio. Officials from each participating school nominate students for the award.
This is the ninth year Heartland and KJAM have teamed up to offer this program.