Arlington valedictorian named Student of the Month
April 30, 2020
Victoria Donovan earns award from Heartland Power and KJAM Radio
Arlington Principal Lisa Parry believes senior Victoria Donovan has made the most of her high school experience.
"She's involved in fine arts, athletics and leadership, and though she is always busy with these commitments, she never let her academics take a back seat," Parry said.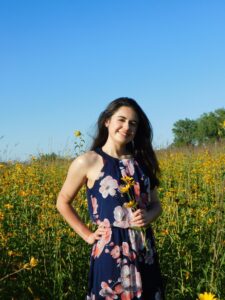 Donovan's determination paid off as she earned the title of valedictorian of her graduating class. She's also been named Student of the Month by Heartland Consumers Power District and KJAM Radio.
Donovan's clubs and activities include FCA, A-Club, oral interpretation, choir, band and jazz band. She is also a student athlete, participating in track and cross country, and cheers for football and basketball.
Her academic achievements have earned her membership in National Honor Society as well as South Dakota High School Cross Country Academic All-State honors for her senior season this past fall.
She is the daughter of Steve and Yvette Donovan. After high school, she plans to attend South Dakota State University to pursue a degree in public relations.
"We are proud of Victoria and cannot wait to see where life takes this talented young lady," Parry said.
The "Student of the Month" is awarded through a partnership of Heartland and KJAM Radio in Madison and recognizes exceptional students in one of five area school districts. Heartland provides wholesale power to the cities of Arlington, Colman, Howard, Madison and Volga, all of which are in the KJAM listening area.
Each month of the school year, Heartland presents an outstanding student from one of these schools with a recognition certificate and small token, and advertisements announcing the winning student air on KJAM Radio. Officials from each participating school nominate students for the award.
This is the ninth year Heartland and KJAM have teamed up to offer this program.