Local investors save Tyndall grocery store
May 31, 2018
Cahoy's General Store opens with help from community
After a whirlwind year, Tyndall, SD has a neighborhood grocery store once again. Cahoy's General Store opened on Main Street in March, offering a wide variety of groceries and deli services.
The venture began with a group of determined community members who later enlisted the help of an auspicious South Dakota grocer. Working together, the group brought back the local supermarket, and with it, restored a local economic driver, community builder, employer and meeting place.
Group forms, secures buyer
At its grand opening, Cahoy's was the third grocery store to exist in its location in one year. The original store closed unexpectedly in March of 2017, along with stores in nearby Tripp and Scotland. They were purchased by a new owner and re-opened about a month later.
However, in December of that same year, the new owner announced he would close the stores in Tyndall and Tripp on January 31 due to insufficient profits.
Residents were disheartened by the news, knowing not only that they'd have to drive for their groceries, but also that a grocery store is a necessity in helping a small, rural community thrive.
That's where Tyndall Market LLC stepped in.
A local group of investors saw the impact the closure would have on their community, so they pooled funds to purchase the store.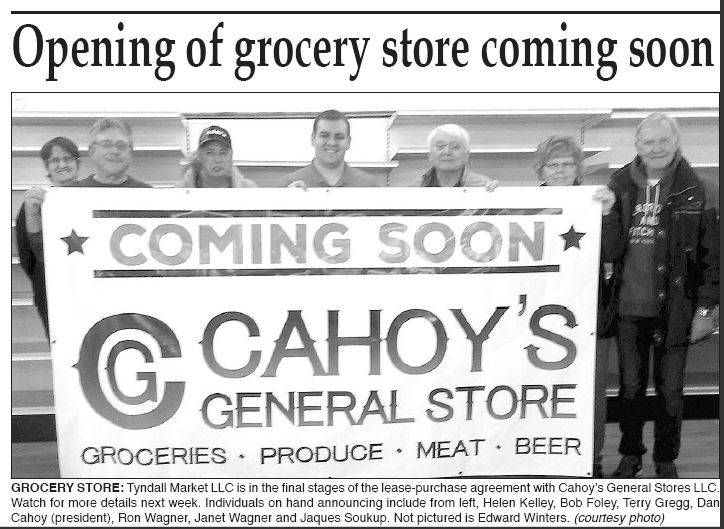 "We knew we had to do something," said Ron Wagner, president of Tyndall Market. "Small, rural communities need a grocery store to be successful so we decided to combine our resources and make it happen."
Next, they approached Dan Cahoy, owner of grocery stores in Bonesteel and Lake Andes, for advice on running the Tyndall store. However, he offered them something much better – an offer to buy the business.
Cahoy's parents opened Bonesteel's grocery store in 1986, and he and his wife Trisha took it over in 2011. Because he grew up in the business and developed a model that works in other small towns, he was confident it would work in Tyndall as well.
Cahoy's opens with new services and enhancements
Cahoy's General Store focuses on friendly, hometown service including carryout and delivery services and call-in orders. They also installed a deli offering meats, cheeses and salads–something that was missing from the previous store.
Supply comes from highly successful distributor SpartanNash, which serves 2,100 independent grocery stores and owns 140 corporate grocery stores across the U.S.
Along with increased services, Cahoy's also made several improvements to the facility, including LED lighting, new coolers, a new sign and painting. Shoppers are treated to a bright, welcoming environment equal to those of much larger food retailers.
The store has seen a steady stream of customers since opening. Wagner says the response from the community has been overwhelming, and gives much credit to Cahoy.
"The Cahoy family knows how to run an excellent grocery store," he said. "They have put in a lot of hard work and hours to make our grocery store be so successful. Tyndall was very fortunate that Dan and his family answered the call."
City, power supplier offer assistance
Beyond patronage, the city has taken extra steps to make the Cahoys feel welcome and help ease the burden of starting a new business.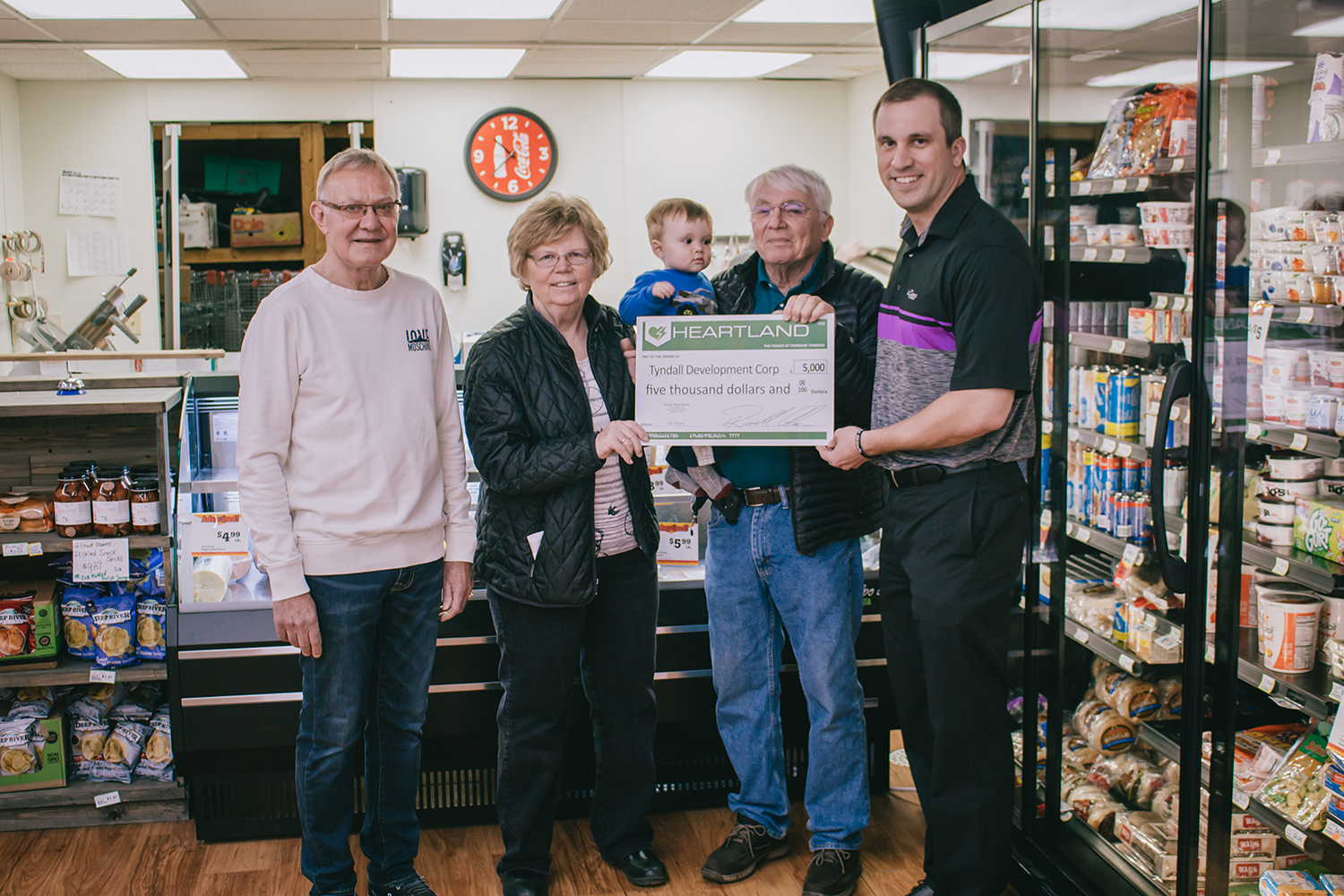 The city partnered with Heartland, Tyndall's wholesale power provider, to offer Cahoy's energy efficiency rebates and incentives on their new qualifying lighting and cooling equipment. In preparation for Cahoy's arrival, the development corporation utilized a $5,000 economic development grant to help finance necessary upgrades to the building.
Heartland Director of Economic Development Casey Crabtree commends the community for being proactive in securing the business.
"Grocery stores play a crucial role in the survival of rural communities," he said. "Residents forced to travel great distances for their groceries will likely buy their fuel, home goods and other items elsewhere as well. By restoring the local supermarket, they have restored the heart of the community, and a vital source of nutrition, jobs and tax revenue."
Cahoy's is the latest in a string of new retailers on Tyndall's revitalized Main Street. Earlier this year, a 2,500 square-foot building housing five small businesses opened across the street from another relatively new building, bridal shop Sandra Rose.
Heartland played a role in those business ventures as well, offering low-interest financing for the construction of both facilities through its Heartland Economic development Loan Program (HELP) Fund.
Crabtree promises the public power company will continue to help in any way that it can.
"We are committed to stimulating growth in our customer communities," he said.
The power of collaboration
Cahoy's General Store illustrates what's possible when a group of people filled with resolve to preserve their vibrant community band together. Through concentrated efforts and a twist of fate, Tyndall Market LLC and others actualized their vision to the benefit of their community.
While a neighborhood grocery store is something many people take for granted, after losing their grocery store twice in one year, residents in Tyndall will forever be grateful.