Keeping the lights on for more than three decades
May 2, 2018
Longtime city electric superintendent Roger Larson retires
By Kristi Hine / True Dakotan / Originally published March 14, 2018; reprinted with permission
A long line of well-wishers flooded into City Hall [in March] to pay tribute to Roger Larson, Electrical Superintendent for the city of Wessington Springs, as he retires after 33 years.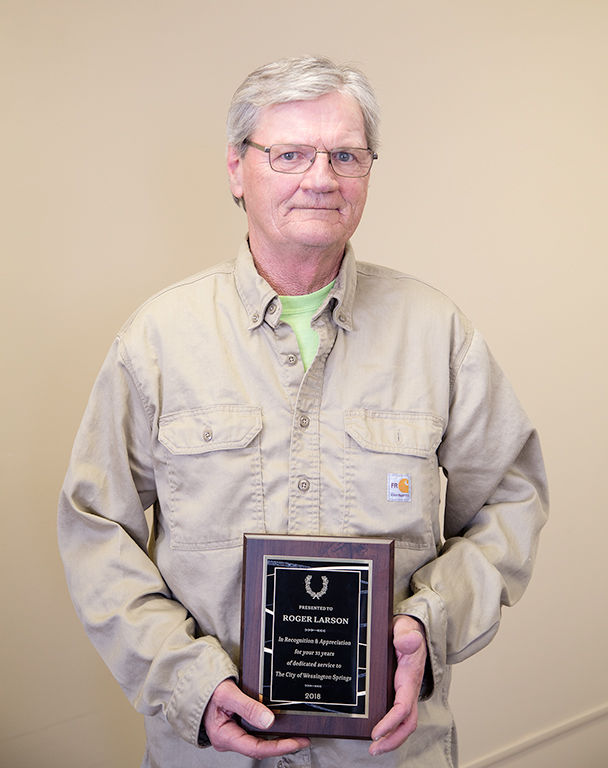 Admittedly overwhelmed at the large turnout, Larson said he's grateful for the community support he received and for the past three decades.
After the Springs native graduated from Wessington Springs high school, he attended vocational technical school and worked as an electrician for 14 years in various places in South Dakota. He returned to Wessington Springs on April 8, 1985 to take the electrical superintendent job at the city which he held for the next 33 years.
Larson said that among the many changes he's seen working for the city since the mid 1980s, three things come to mind when it comes to accomplishments: collaboration with other departments, installation of 51,000 feet of underground wire in town and 18 miles of transmission line to Woonsocket.
"The collaboration that exists now between departments hasn't always been there but we all work well together to get the job done," he said. "Like last week, when a big storm rolls in, it's all hands on deck to move snow."
"The thing I'm proudest of is getting the transmission line to Woonsocket," he said. "Before we had that, every time the wind would blow or we'd have a lightning storm, we'd have power outages up to eight hours."
As he eases into retirement, Larson said he looks forward to not being on call, although he said he will continue to help city lineman Rob Heiman until the superintendent position is filled. He also said he will continue to help in emergency situations.
Larson said his next big priority has nothing to do with transmission lines or reading meters.
"Highest on my list now is spending more time with all of my grand-kids."