Horton recognized for outstanding service in Akron
October 5, 2015
Gary Horton is the inaugural recipient of Heartland's Distinguished Service Award, created to recognize exceptional employees at Heartland customer utilities. Horton serves as city administrator for Akron, Iowa and has been employed with the city for 31 years  in various roles. Horton was nominated by his co-workers for his work ethic, generosity and commitment to the community and its residents.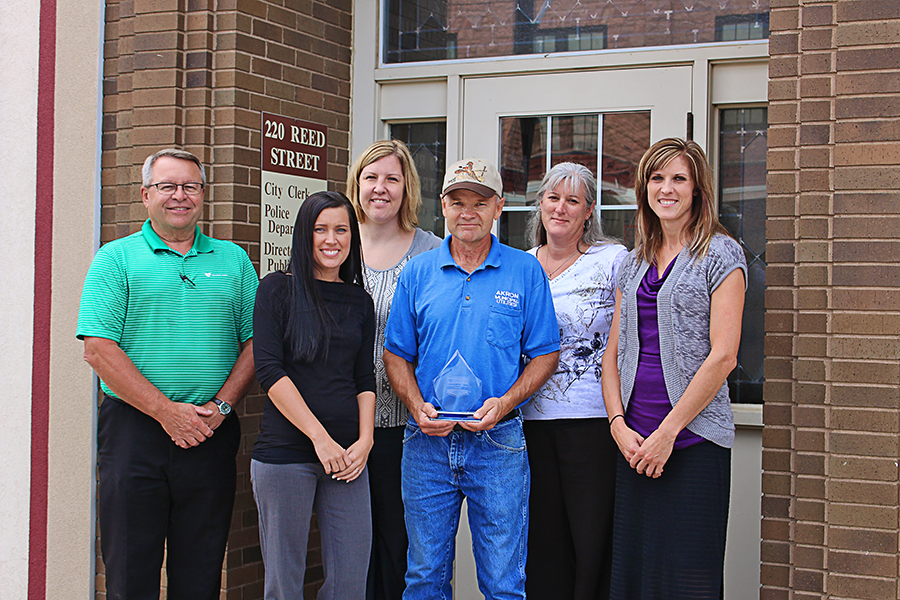 "Gary is very giving of his time to family and friends, but is also willing to help with community projects on his own time," said Akron Deputy Clerk Karen Wardrip. "He always puts in well over his 40-hour work week for the city, and knows what is going on not only in the field but in the business and financial areas as well. Gary is not a 'suit and tie' city administrator–he always gets out there and gets his hands dirty. He has a good rapport with those he works with, and is always a positive influence."
Wardrip said Horton played a critical role in helping establish a community-owned health club, including helping with construction and maintenance of the building and serving on the board. He was also instrumental in the installation of playground equipment at a community ball field, development of a fishing site, boat ramp and camping sites at the city park, and flood prevention projects. He is frequently found helping local homeowners with personal projects, such as roofing or cement work and has a near perfect attendance record at city council meetings.
"He not only gets the ball rolling for big projects, but follows them through to completion," Wardrip said.
Horton is active at his church, serving on the council and capital fund campaign as well as an usher and greeter. He is the Akron city representative on the local landfill board and has served on Heartland's Customer Connections Committee since its inception in 2011. Prior to his role as city administrator, he served as public works director from 2000-2014.
"My favorite aspect of working for the city has been the variety," said Horton. "I often fill in for different positions and it makes the day go by so fast."
Horton and his wife Theresa have two daughters, Kendra and Jessica, and will soon be grandparents. In his free time he enjoys hunting, fishing and spending time at the lake.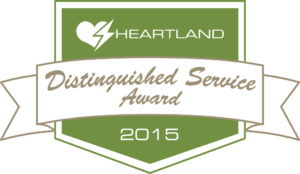 Heartland established the Distinguished Service Award in conjunction with Public Power Week, an annual opportunity for public power utilities to remind customers and stakeholders about the distinct advantages public power offers.
"What better way to mark the occasion than to recognize individuals who make public power exceptional," said Heartland Communications Manager Ann Hyland. "This annual award will showcase employees who often go above and beyond and have made outstanding contributions to their municipality, community and other organizations."
Any employee of a municipal system served by Heartland involved in the electric utility was eligible to receive the award, including but not limited to finance officers, line workers and electric superintendents. Any city employee or city official can nominate someone for the award.
Heartland is also celebrating Public Power Week by submitting articles to each customer's local paper about the benefits of public power. If your utility has a Public Power Week Celebration planned, email us photos and we'll feature them in our Newsroom.