Heartland appoints Sonnenschein to represent Subdivision 4
October 5, 2015
The Heartland Board of Directors recently appointed Lee Ann Sonnenschein to represent Subdivision 4, which consists of Lincoln County and Split Rock Township of Minnehaha County. Sonnenschein succeeds Kay Anderson, who resigned from the board in May after having served since April of 2012.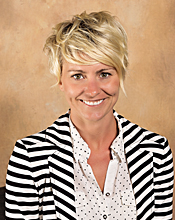 "We are always excited to welcome new board members to the Heartland family," said Heartland CEO Russell Olson. "Lee Ann has a strong business background and is a valuable asset to our team."
A native of Clark, SD, Sonnenschein graduated from South Dakota State University in 2000 with a degree in Business Economics and a minor in Marketing. She has worked in sales for Pharmacists Mutual Insurance for 15 years and recently purchased the clothing store her mother started fifteen years ago called Denims and Diamonds.
"I was interested in joining Heartland's board because of the passion they have for their customers," said Sonnenschein. "I look forward to sharing in that approach and working for the best interests of the electric consumers."
Sonnenschein and her husband Chris live in Worthing, SD with their three children, Jersey (12), Clay (10) and Brody (9).