Heartland hosts SD GOED for tour of Madison
November 3, 2021
Heartland welcomed Commissioner Steve Westra and employees of the South Dakota Governor's Office of Economic Development for a tour of Madison businesses on October 15.
Heartland hosted the group to not only showcase the Madison community, but to educate GOED officials on Heartland economic development programs and show examples of how those programs are being used at local businesses.
High-quality skid loaders
The tour started at Gehl of Manitou Americas, producer of high-quality skid loaders using state-of-the-art engineering. Gehl has been in Madison since 1973 and is one of the city's largest employers.
Gehl owns three facilities in Madison, and like many businesses, needs more workers to keep up with demand. They currently employ 220 people and expect to almost double their workforce in the next few years.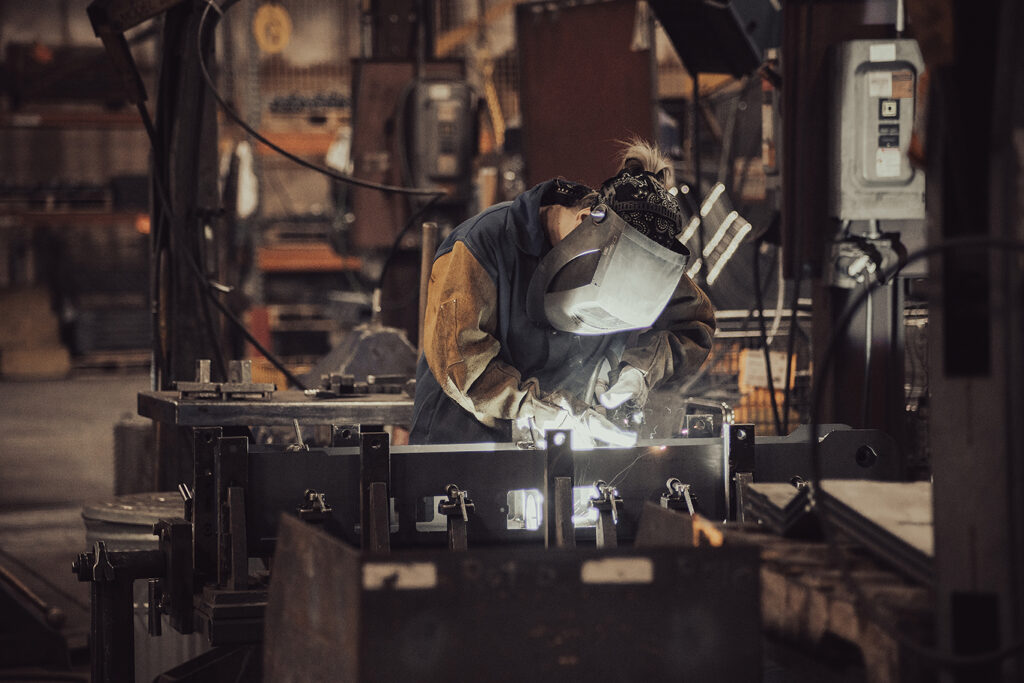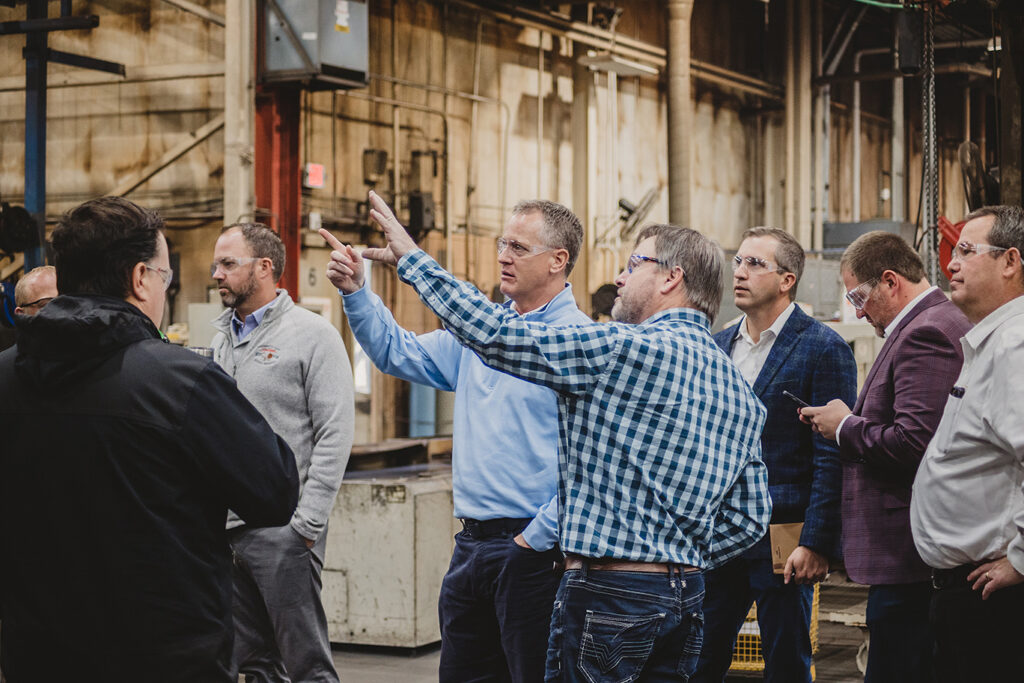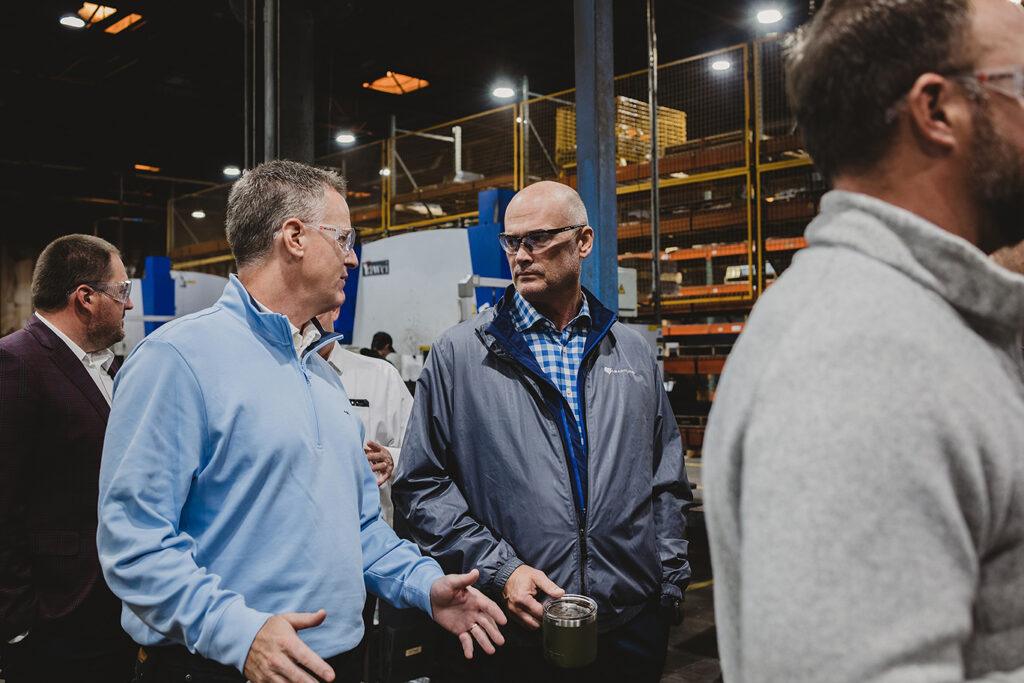 Manitou Americas is headquartered in West Bend, Wisconsin, and in addition to Madison, maintains operations in Yankton, SD and Belvidere, Illinois. Formerly known as Gehl Company, it became a wholly owned subsidiary of Manitou Group, based in Ancenis, France, in 2008.
Assembly of one Gehl skid loader takes two weeks, and they can produce 18 per day in the Madison facility. Each loader goes through four hours of inspection time before being shipped out. The 260,000 square foot site is a state-of-the-art manufacturing facility equipped with laser cutters and robotic welders. However, the world's largest skid loader, the V420, is hand-welded.
The company ships skid loaders to 50 different countries and Gehl is currently the number one skid loader brand in Israel. Between 35 and 45 percent of skid loaders are shipped overseas each year.
Leader in custom injection molding
Falcon Plastics started in Brookings, SD in 1975, molding customer ideas into a wide variety of quality plastic products. Falcon has become a mid-to-high volume custom plastic molder of choice. They remain a family-owned and operated manufacturer.
The company expanded to Madison in 1990. They also have facilities in Lexington, Tennessee and Portland, Oregon. The manufacturing facility in Madison employs 52 people with plans to hire more. Overall, the company has 285 employees.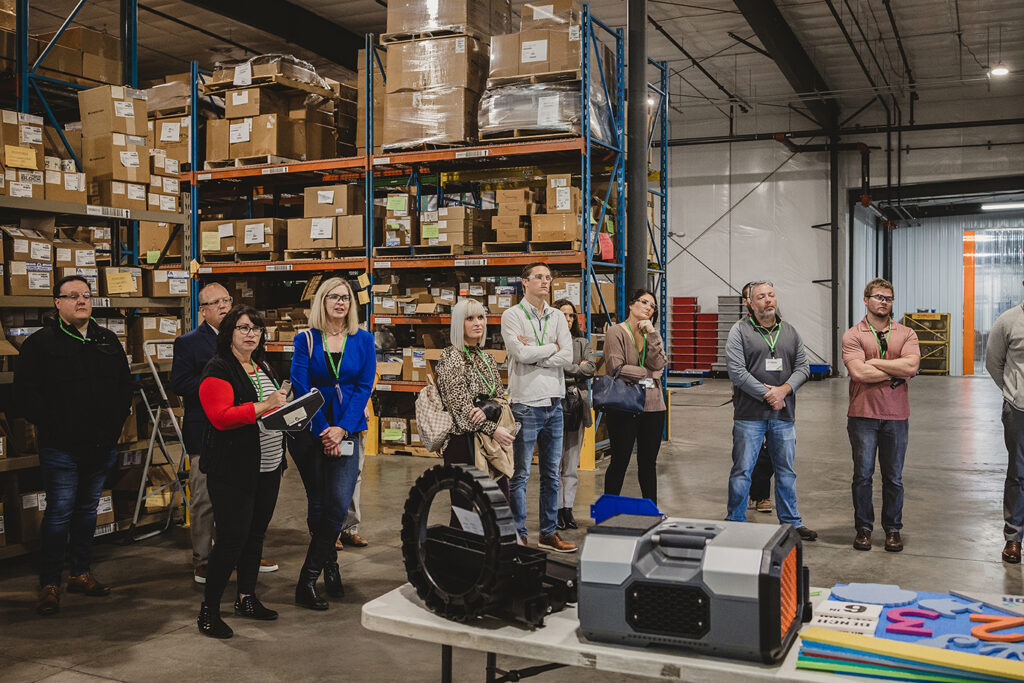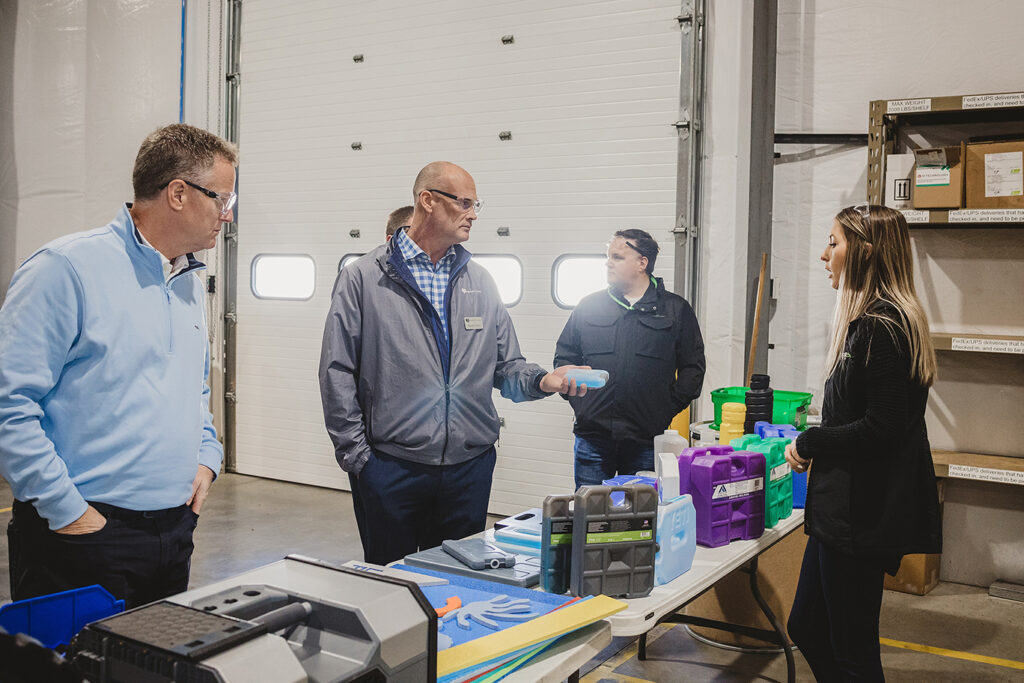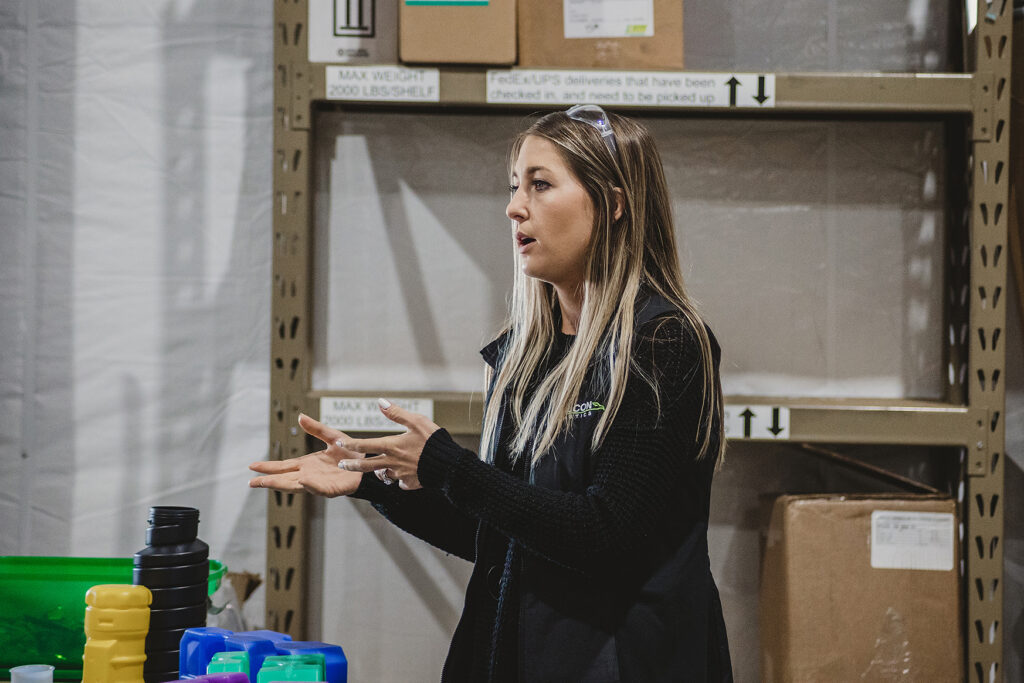 Each facility offers production in different markets and focuses on agriculture, automotive, construction and industrial, electronics, medical, office products, and recreational sports.
The Madison facility focuses on recreational sports, pet care and business products such as toner cartridges. They also produce high performance ice packs for outdoor and sporting goods markets. Overall, they produce 30 different products in Madison along with variations of each product.
Falcon Plastics is also home to Life Floor, a slip-resistant, non-abrasive tile installed around pools, on pool decks, splash pads and slide pads. The foam-rubber flooring system is the only safety surface specifically designed to perform in aquatic environments. It has been manufactured at Falcon since 2015. LifeFloor utilized a Heartland HELP Fund loan to assist with setting up operations in Madison.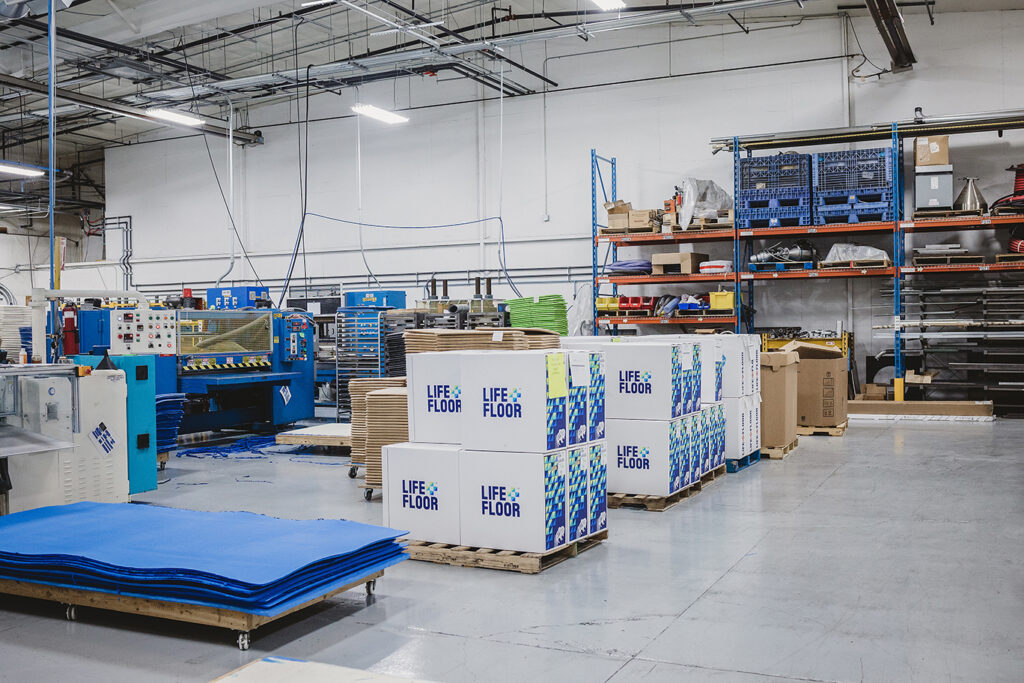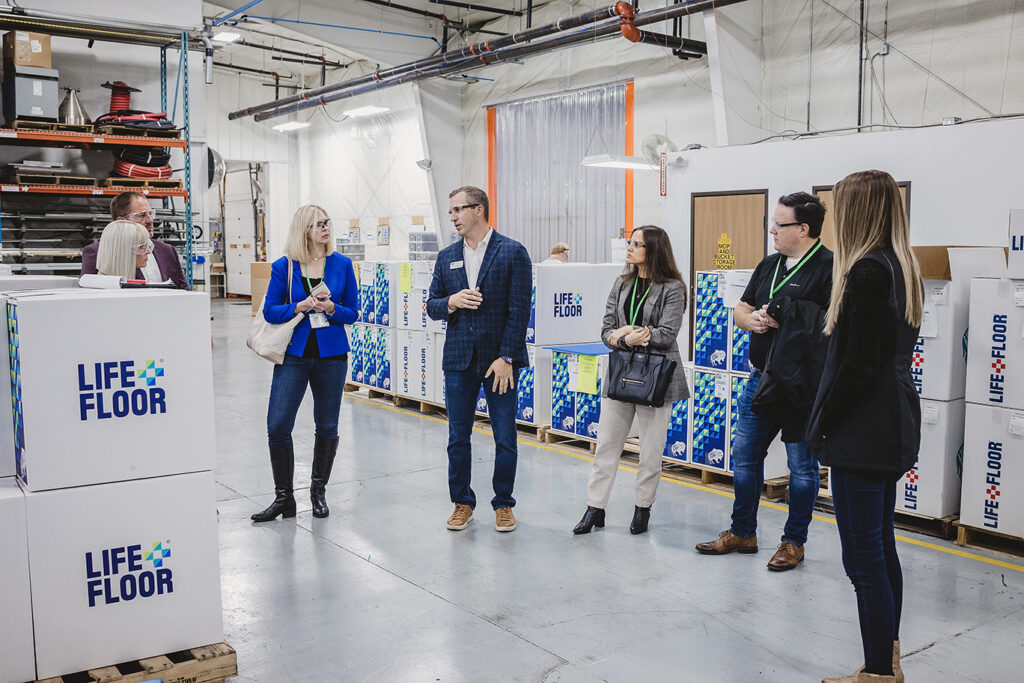 Planting your future
The next stop was another family-owned business, Mustang Seeds. The company started in Madison in 1963 with a mission to provide quality small grain seed to area farmers. Today, over a million acres of Mustang brand seeds are planted in the United States annually.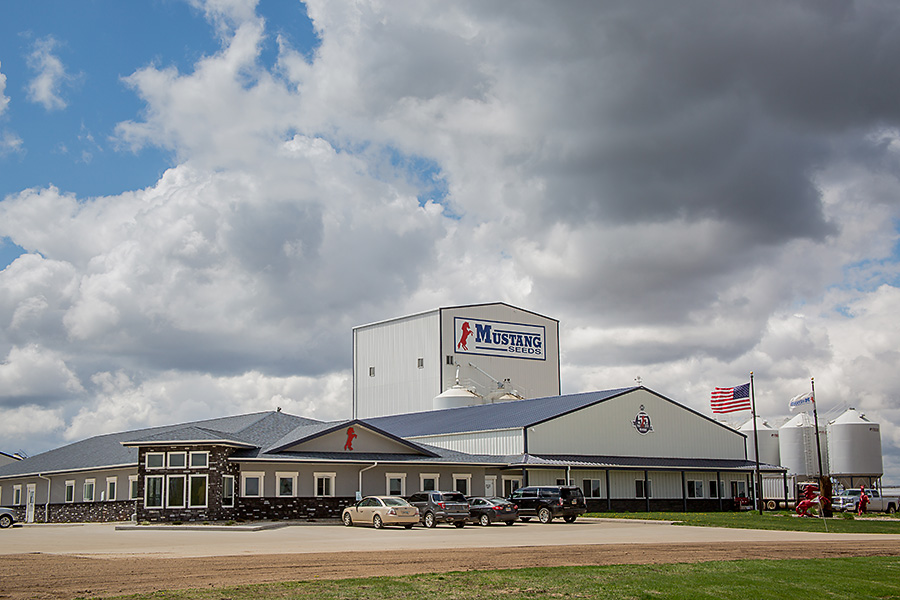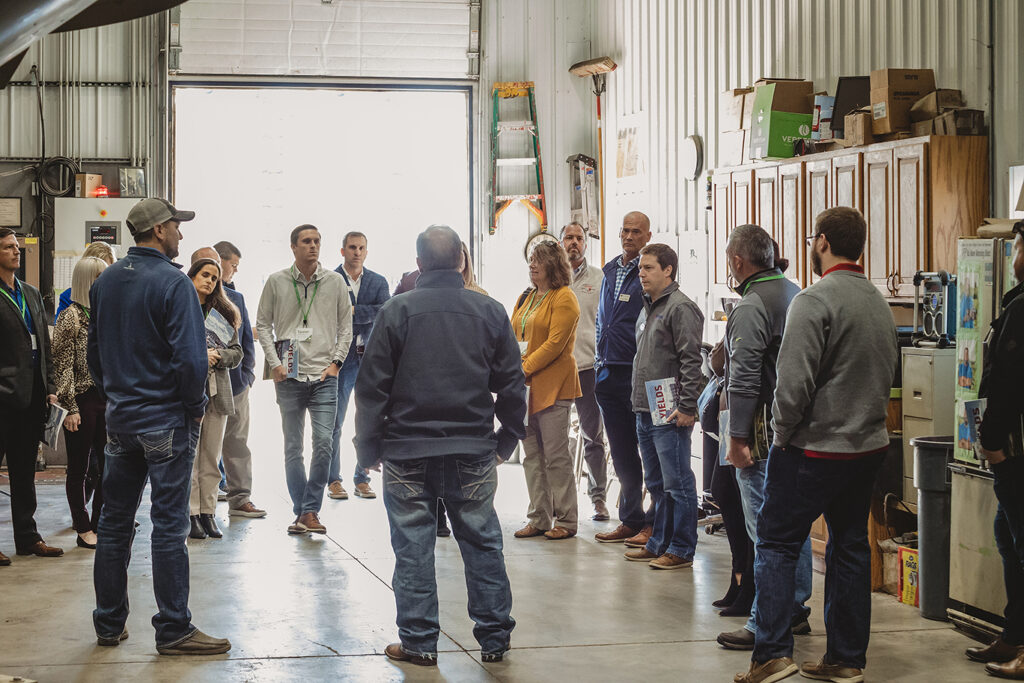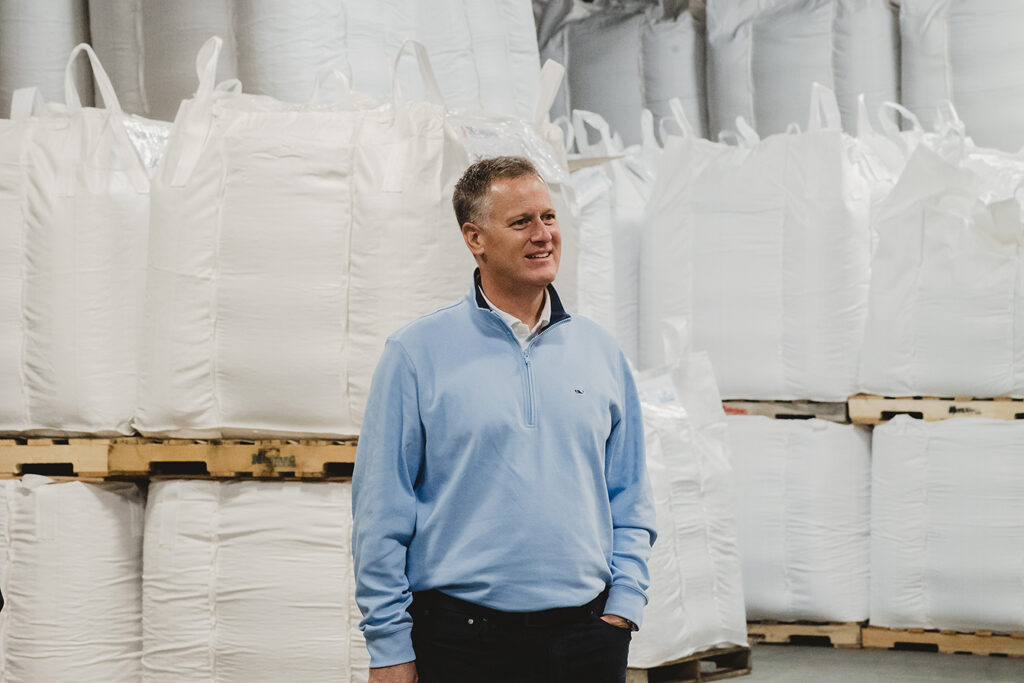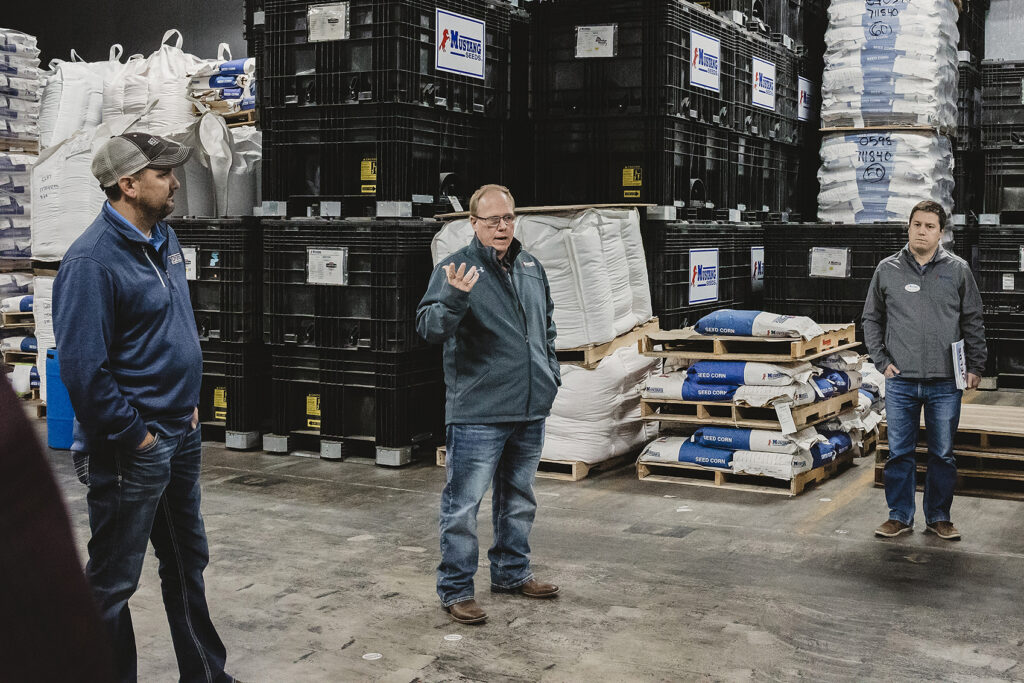 Over the years, Mustang has adapted their product line as farmers in their five-state region have moved strongly toward row crops. Currently in their second generation of family ownership, Mustang offers a full line of corn, soybeans, alfalfa, cover crops, grasses and small grains.
The seed supplier encompasses over 200 dealers in South Dakota, Iowa, Nebraska, Minnesota and North Dakota.
In 2017, Mustang launched Red Horse Crop Insurance to offer growers protection against multiple perils. Red Horse Seed Production (RHSP) was launched in 2019 after Mustang partnered with GDM, a global company based in Argentina which focuses on soybean research, development and commercialization. RHSP is responsible for the operations and distribution of all seed products for Mustang Seeds.
The company employs 80 people across the region. They recently built a 20,000 square-foot warehouse which is completely climate controlled to help maintain product quality. They utilized a Heartland HELP Fund loan to aid with construction.
Technology leader
The final stop on the tour was Madison Cyber Labs, otherwise known as MadLabs, on the campus of Dakota State University.
MadLabs opened in 2019 as one of the only cyber research facilities of its kind in the United States. The building features both an open floor concept for research as well as closed off rooms where classified research is done.
Dr. Ashley Podhradsky, VP for Research and Economic Development at DSU, provided a tour of the open part of the lab. A variety of research projects are currently being undertaken at the lab, including those on drones, electric vehicle charging stations, and testing for weaknesses in convenience systems such as "smart" home devices.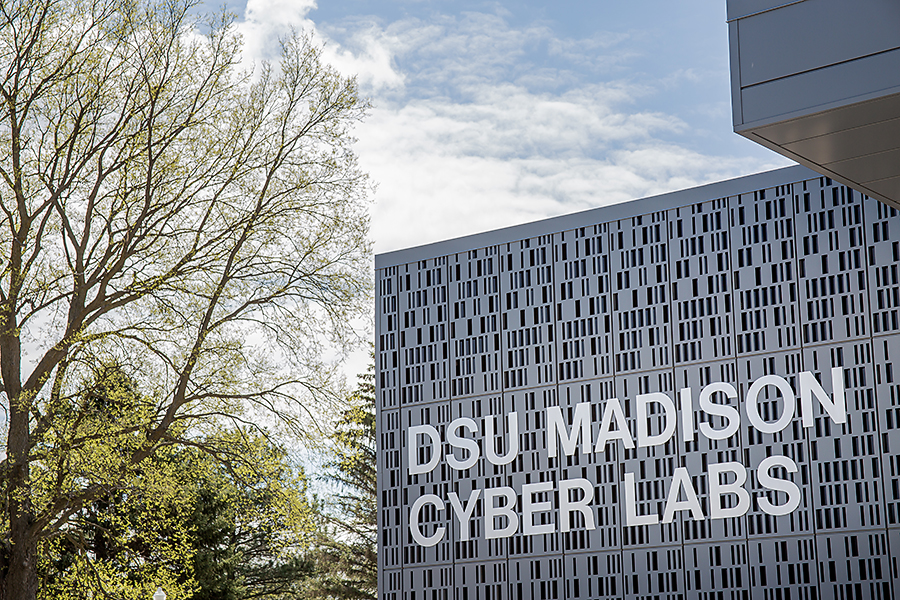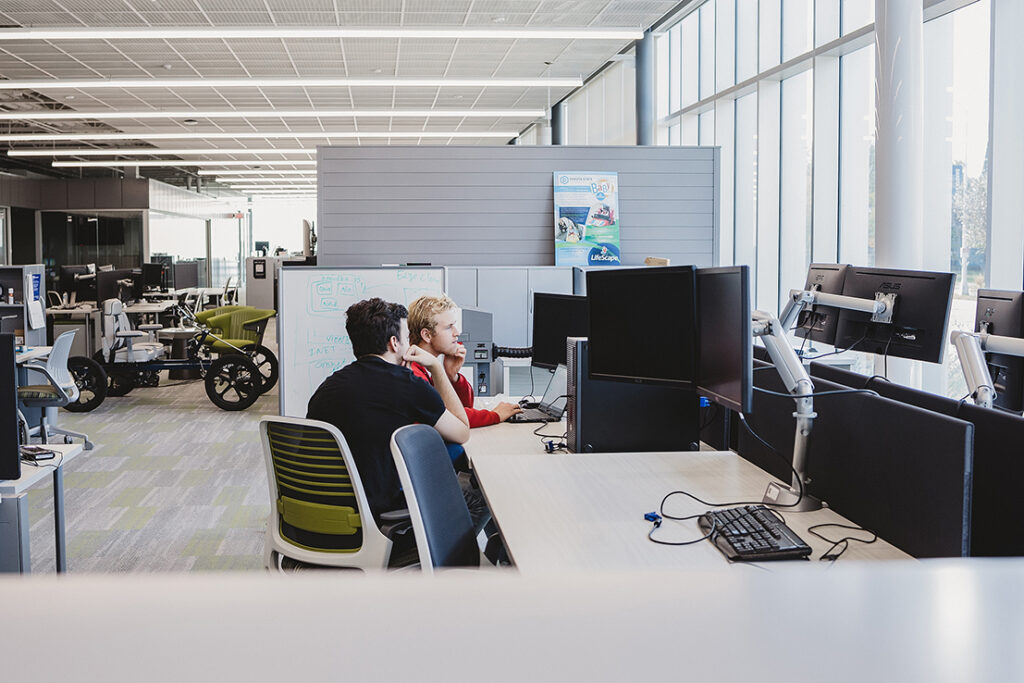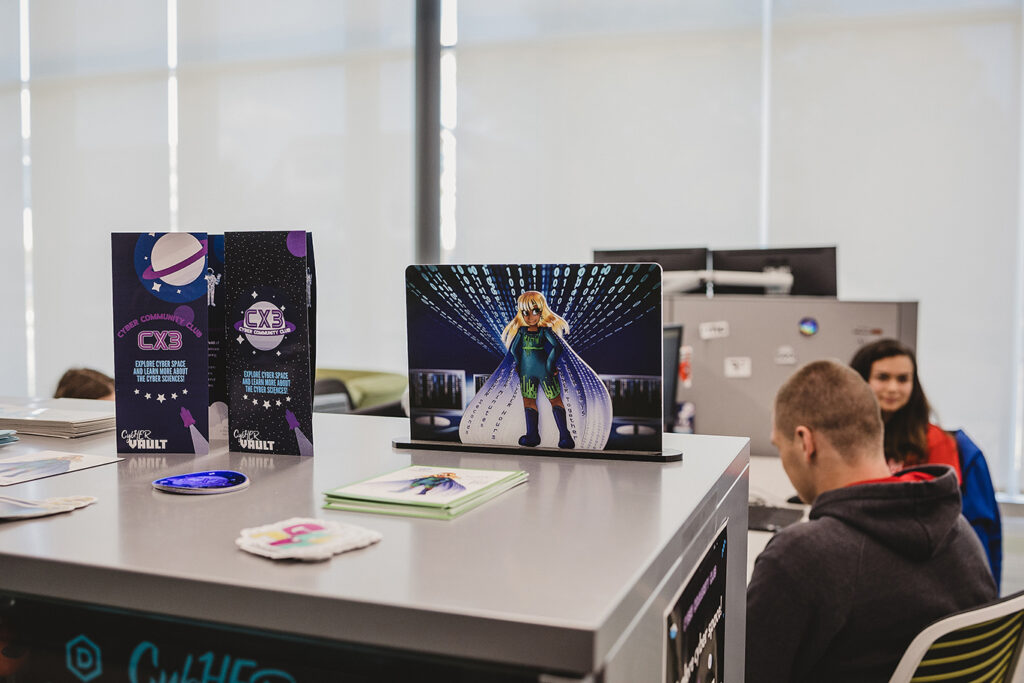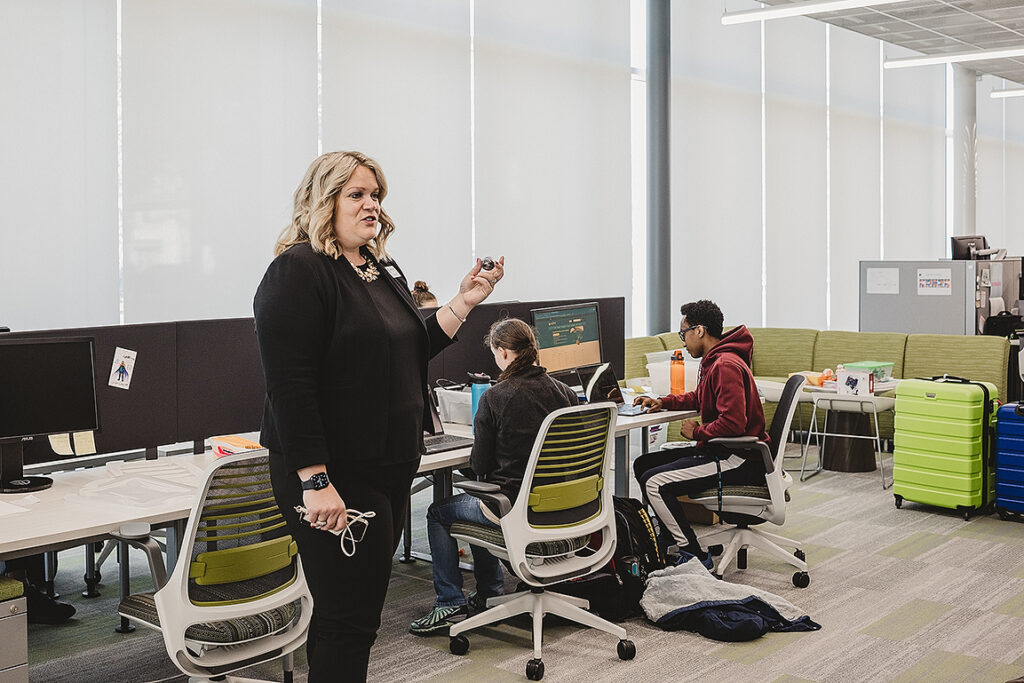 The lab houses 17 full-time employees. Podhradsky emphasized the lab's partnerships with private entities which enables the utilization of university students, which benefits everyone involved.
Podhradsky also touted the CybHER Institute, a program designed generate interest among women in cybersecurity and related fields.
Local businesses highlighted
Two local technology companies were given the opportunity to share their stories with the group over lunch.
Darin Namken is founder and president of Bulldog Media Group, a performance-based e-commerce and marketing company in Madison. The company was formed in 2000 and is recognized as an industry leader that has developed proprietary software and innovative technology.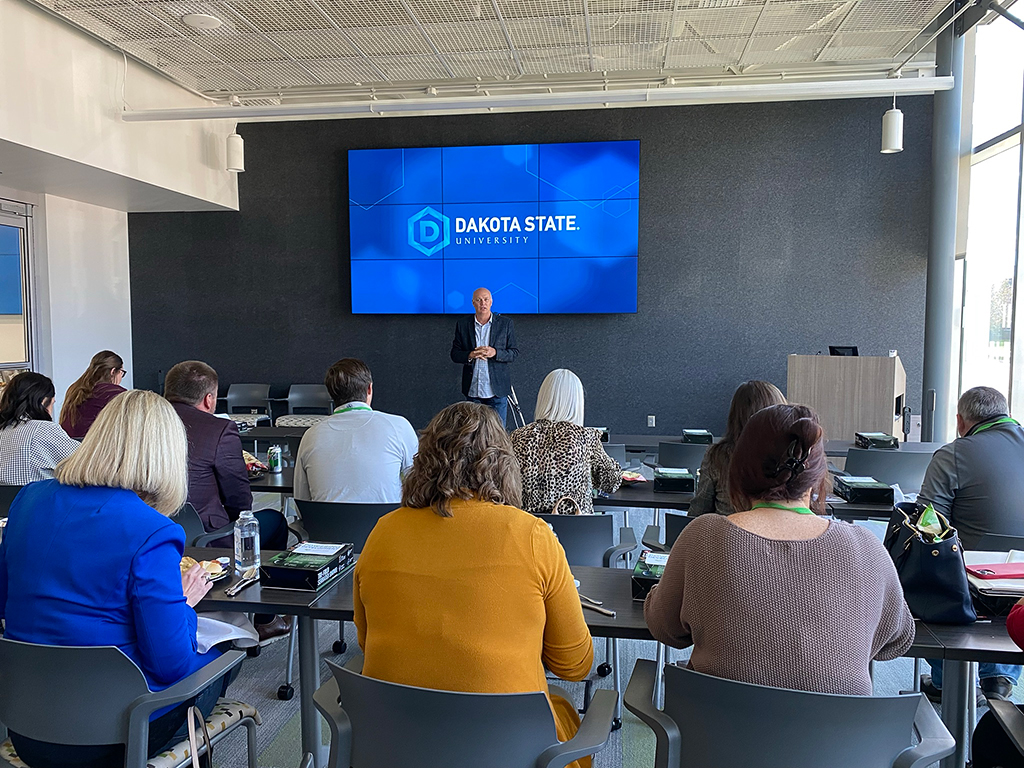 In 2006, Namken co-founded Infotech Solutions, LLC, an information technology company with offices and a data center in Madison. Infotech is the only complete managed IT company in South Dakota.
Bulldog Media employs 22 in Madison and recently acquired a digital performance marketing agency, taking their total employee count to 30. Infotech employs 10 full-time employees plus currently has four interns on staff.
The majority of both Bulldog Media and Infotech's employees are graduates of DSU. Heartland utilizes Infotech's services for technology management needs.
Chad Knutson is a co-founder of SBS CyberSecurity, a premier cybersecurity and consulting firm based in Madison since 2004. SBS assists organizations with the implementation of risk management programs and helps mitigate cybersecurity risks. SBS empowers customers to make more informed security decisions.
SBS has 75 employees, 30 of which are DSU alumni and 35 of which are based in the Madison area. They have employees across 15 states and expect to keep growing.
School spotlighted
The Madison Central School District generously provided a bus for the group's transportation around Madison for the day. Driving the bus was Madison High School Principal and Madison City Commissioner Adam Shaw.
During the tour, Shaw took a moment to tout the high school's "Workforce Ready" program. The school has formed several partnerships with community businesses, including those highlighted on the day's tour, to introduce students to different careers and job opportunities.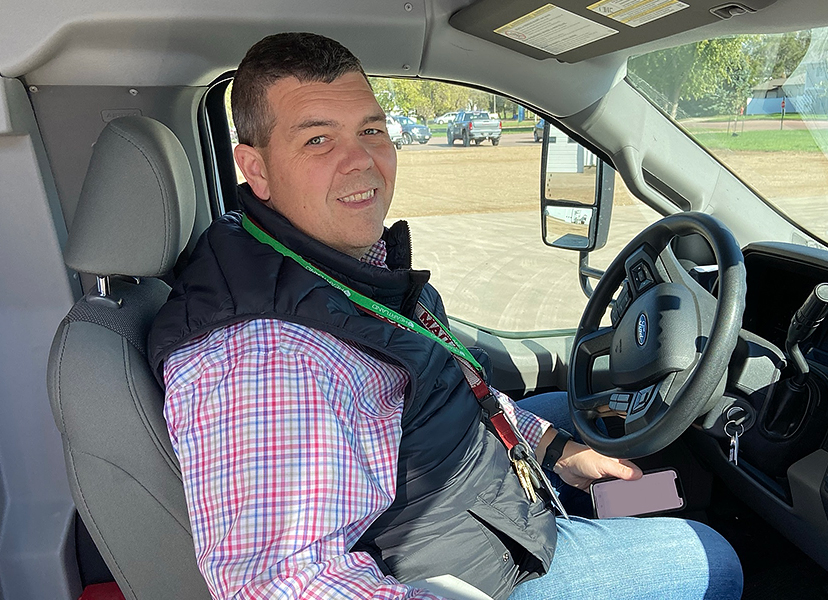 The school lines up 70 internships per year for students. They also offer a dual credit class through Madison Regional Health for those interested in learning more about the healthcare field. The same is said for welding opportunities at Gehl. The school even has an auto shop on campus that mirrors the local auto shop at Prostrollos to give students first-hand experience.
The staff at GOED were treated to just a small portion of what Madison has to offer in their few hours in the community. They even had a chance to meet with Brooke Rollag, the new executive director of the Lake Area Improvement Corporation.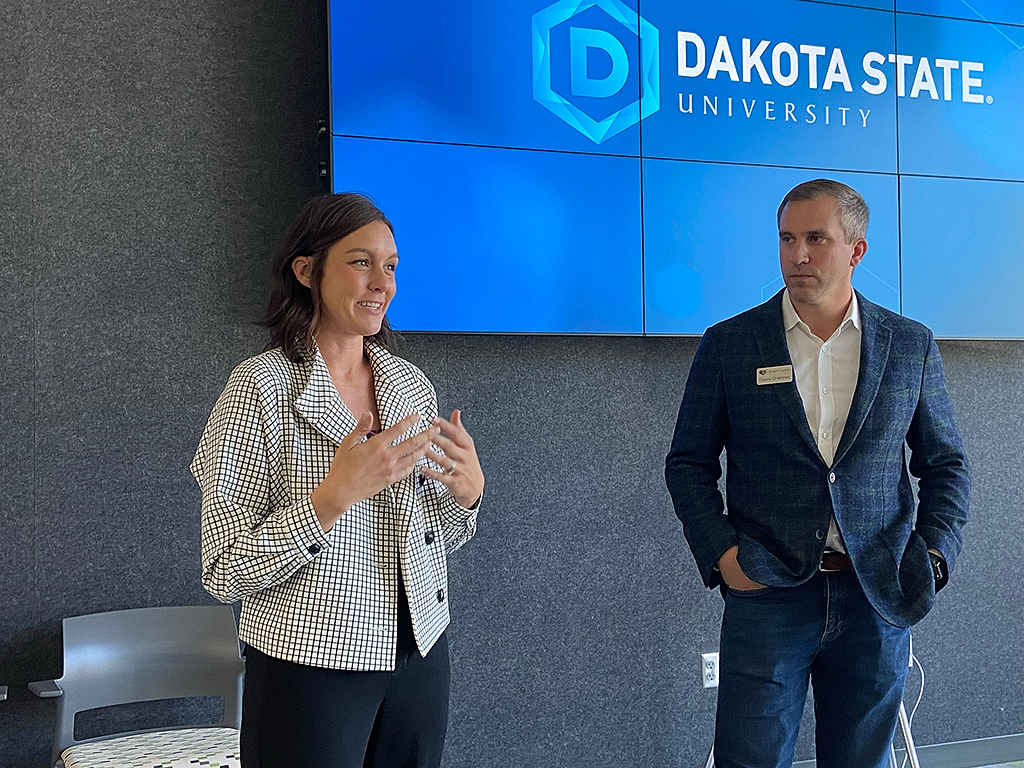 Heartland would like to thank GOED for spending time in Madison and all the local businesses that opened their doors for tours. Heartland has a long-standing partnership with GOED and was proud to not only show of our community, but also share more about the many programs Heartland offers to help businesses succeed.