Economic trends and key accounts focus of Annual Meeting
May 2, 2015
Heartland hosted our fourth Annual Meeting April 10. This year's event featured presentations on current and future economic trends as well as the art of key account program development. The meeting also included a "year in review" from Heartland staff and the election of members to the Customer Connections Committee.
"Our Annual Meeting continues to grow in popularity," said Heartland CEO Russell Olson. "This year's speakers focused on relevant topics and we heard a lot of positive feedback from those in attendance."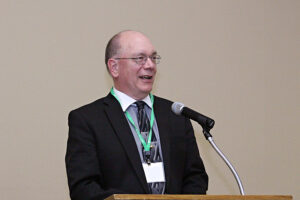 Dr. Chris Kuehl, managing director and co-founder of Armada Corporate Intelligence, shared his insights on the good, bad and ugly of the 2015 economy. He provided three theories on oil production and how each could affect U.S. consumers and the global economy as well as weighed in on the Keystone Pipeline. He also offered forecast scenarios for interest rates, labor supply, manufacturing growth and more.
Kuehl noted a distinct characteristic of energy prices, stating that the problem with energy is that if the price changes, people don't change behavior. They still drive to work, heat and cool their homes, and run appliances. The problem lies in the fact that the price of energy affects other products. When people spend more on energy, they have less to spend on other things, such as food, clothing or travel.
Kuehl has a doctorate in Political Economics and advanced degrees in Soviet Studies and Asian Studies. Prior to founding Armada he was a professor of international economics and finance for 15 years. He is currently the chief economist for the National Association for Credit Management and is on the board of advisors for their global division.
Erick Rheam, vice president of business development for Automated Energy, Inc., spoke to the group about the importance of key accounts. According to Rheam, a customer is designated a key account because it has a unique set of characteristics that greatly impact the utility and the community. These characteristics may include a large consumption of energy, large job creation capabilities, a significant revenue stream for the community, or political or strategic influence. Retaining key accounts is the most cost-effective way to ensure a utility's success and enhance revenue. A strong key accounts program nurtures relationships between key accounts and the utility through a municipal-wide effort involving support from all city departments and leaders.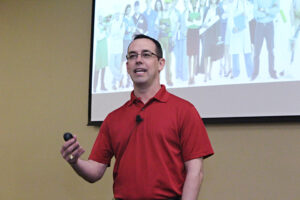 "The municipality's job is to be a resource for your business community," said Rheam. "If a key account were to leave your city, it could have a dramatic impact on the entire community, affecting the local tax base, revenues and more."
Rheam shared three myths associated with key accounts programs and addressed common pitfalls as well as best practices. He also shared indicators of a successful key accounts program, offered tips for program development and introduced three program levels: basic, standard and master.
"The level and commitment of a formal key accounts program may vary, but a clear customer service vision must be cast over the commercial accounts in your service territory," said Rheam.
Rheam has been active in the public power industry for 15 years and previously served as vice-chair and chair for the American Public Power Association (APPA) Key Accounts Committee. He most recently partnered with Wallace Barron of Barron and Associates, to write Key Accounts Field Manual: A Guide for Public Power Professionals for APPA. Prior to joining Automated Energy, he managed the key accounts, mid-market, conservation, marketing and industrial pretreatment programs for Loveland Water & Power in Loveland, Colorado.
The three levels of key accounts programs are discussed in detail in the Key Accounts Field Manual, available online in the APPA Store at publicpower.org.
For more pictures from our 2015 Annual Meeting, click HERE.