Crawler Welding finds new home in Lake Crystal
January 2, 2018
Local business earns one year of free power after relocating
After working for Crawler Welding for 16 years and taking over full ownership this past spring, Wyatt Hanson had his eye set on growth.
Specializing in manufacturing and repairing heavy equipment and machinery parts, Crawler Welding had been operating in Mankato for 40 years in a rented space. Looking to own, Hanson found a vacant building on a large lot in nearby Lake Crystal.
With 8,600 square feet on 2.5 acres, he has plenty of room to grow his business. He opened the doors at the new facility this past June.
"The new facility has office space as well as a fully-equipped mechanic and welding shop," said Hanson. "It's a great fit for our business."
New location offers incentives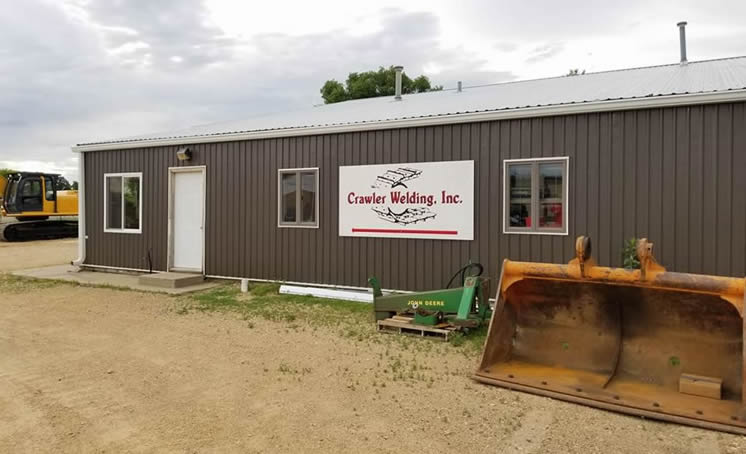 Crawler Welding specializes in undercarriage parts and repair. In addition to selling new and used parts, the small business provides a number of services including line boring, track press, farm implement welding, trailer rentals and more.
Moving the company to Lake Crystal has allowed Hanson more flexibility in his operation, expanded services as well as incentives to set up shop.
The business earned $1,600 in electric rebates from Lake Crystal Municipal Utilities' wholesale power supplier, Heartland Consumers Power District, during their first quarter of operation in the city.
"It's always exciting to see new businesses succeeding," said Heartland's Director of Economic Development Casey Crabtree. "Our incentives are designed to give businesses an extra boost when they're getting started. We're happy to play a small part in Crawler's success."
Heartland offers new and expanding businesses in their customer communities rebates on their electric bills through their Growth Incentive Program. Rebates are based on energy consumption and disbursed over the course of three years, equaling one year of free power.
"As a new business trying to get established in town, the rebates have certainly helped with cash flow," said Hanson. "Every little bit makes a difference, and I appreciate what the utility and Heartland are doing to help."
Utility partners in development
Since moving his business to Lake Crystal six months ago, Hanson has enjoyed a warm welcome by the community as well as reliable and friendly service from Lake Crystal Municipal Utilities.
"The staff at the electric department have been taking great care of us," he said. "Speaking from experience, bigger companies often make you wait and wait. But here, I can call the city and speak to someone right away, and they take care of it. They are a great crew, and it's a true advantage of doing business in Lake Crystal."
Having accomplished his initial goals since taking over, Hanson looks forward to a bright future for his company.
"Eventually I hope to diversify and hire a few more employees," he said. "In the construction field, equipment is changing all the time, and I'd like to be able to meet those needs and become a full-service supplier."
As Hanson looks to the future, both Lake Crystal Municipal Utilities and Heartland stand ready to help.