CEO's Report: Explore funding opportunities with Frontier Energy
November 2, 2023
Funding opportunities abound. Whether it's through the IIIJA, state programs or low-interest financing, there is no shortage of money out there.
But how do you access it?
You may have a project in mind but aren't sure what funding options are a fit. Or, if you have one in mind, don't know if the project qualifies.
Is my project eligible? What is the cost share? What is the timeline? Is my utility eligible? Which grant should I be applying for?
There's usually no simple checklist to answer all these questions.
That's where Frontier Energy comes in.
Resource for federal and state funding
We often get questions at Heartland Energy about grant funding. While we always try to answer those questions, we don't have a grant expert on staff. Therefore, we hired Frontier Energy to wade through the money available and break it down into easy-to-understand terms.
Personally, the notice of funding opportunities typically provided are akin to reading a foreign language. But like most things, there are experts in the field to help us through. That is why we contracted with Frontier Energy to provide this service to our customers.
Frontier Energy hosts webinars for customers twice per month on Tuesday mornings at 9:00. These typically don't take more than 30 minutes. Meeting dates and all relevant information are sent out in advance.
Frontier Energy has done a fantastic job outlining what may be beneficial to public power utilities. They have also gone beyond funding only available through the IIJA and IRA. They also outline state-specific resources and monies available through USDA.
Perhaps the best part of their service is the chance to ask questions.
You don't have to ask only about the ideas they are presenting. If your utility has a project you are thinking of pursuing, I encourage you to reach out to Frontier Energy and ask if they know of any funding or what the best program is to apply for.
If you don't want to ask in the webinar, their contact information is always provided.
They have a pulse on a variety of different funding sources and are a great resource.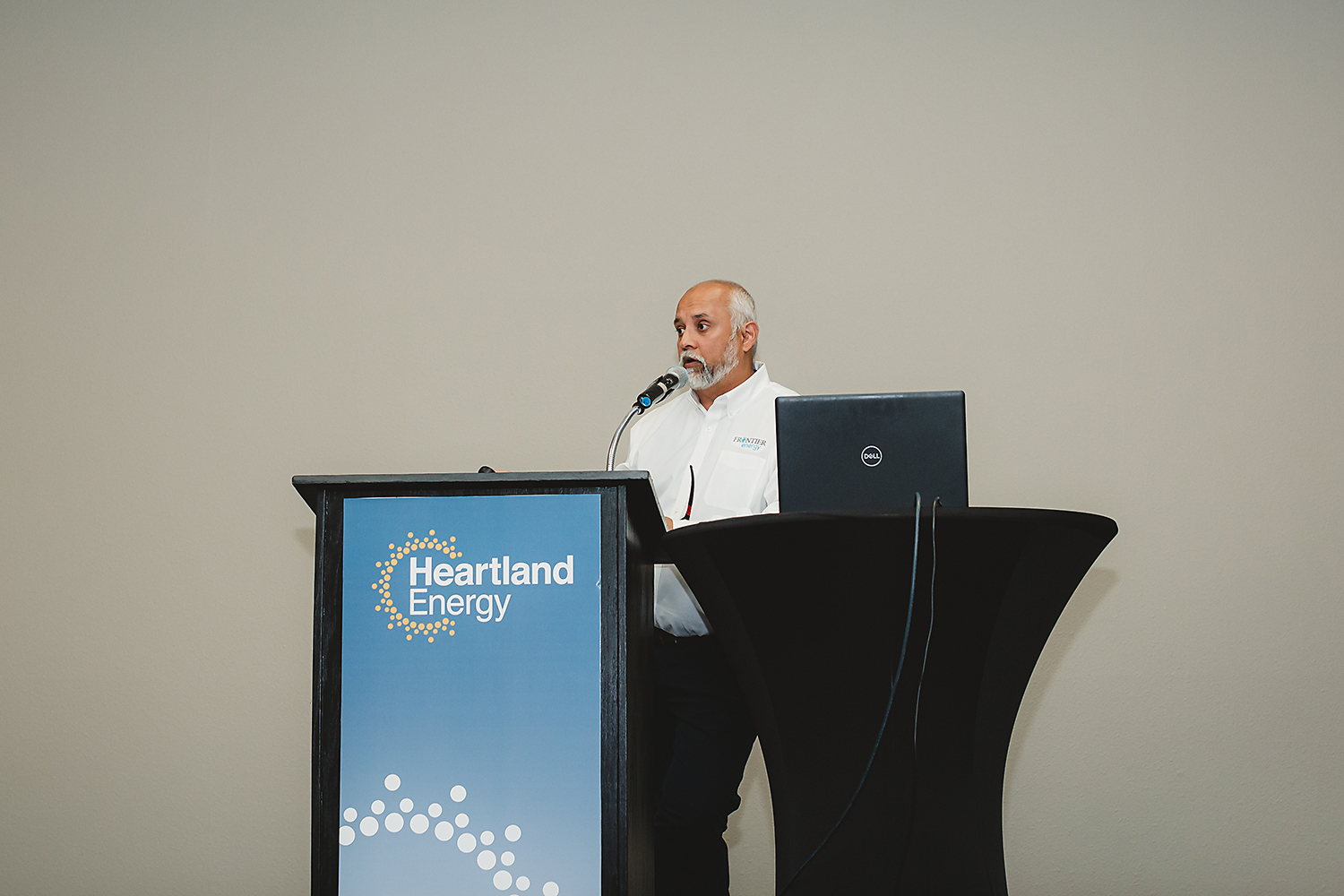 State funding opportunities
While the IIJA and IRA are the focus of Frontier Energy's service, they have also done research in each state where we have customers to highlight opportunities specific to you.
Minnesota
In their last presentation, they discussed three opportunities available in Minnesota. The first is a fund which will be available to provide matching funds for IIJA grants. The State Competitiveness Fund aims to enhance the ability of eligible entities to successfully compete for federal funds. The Minnesota Department of Commerce announced further details and a Request for Proposals on October 26.
Frontier will continue to provide details as they become available.
They also discussed the Minnesota Grid Resilience Program, where municipal utilities are eligible to apply for funding for anything that would increase the resilience of the grid. New equipment as well as new energy efficiency measures may qualify. As we begin to see more electrification, we will also see more demand on the electric grid. Therefore, new equipment to meet that demand could be eligible for funding.
If you haven't already, I encourage you to sign up for the Department of Commerce's energy funding newsletter to stay abreast of the latest news.
The Minnesota Pollution Control Agency also offers clean heavy-duty off road equipment grants. The goal is to reduce emissions from diesel engines to improve air quality. Diesel powered engines used in equipment, construction or energy production may be eligible.
South Dakota
The South Dakota Community Development Block Grant Program is not specifically targeted toward utilities. However, utilities have received funding in the past.
It is administered by the U.S. Department of Housing and Urban Development to develop viable communities through projects such as water/wastewater infrastructure, community facilities, and other "community needs."
The program's objective is to correct deficiencies in public facilities that affect the public health, safety or welfare, especially of low- and moderate-income individuals.
These are competitive grants and require a percentage of the total project cost to be paid through local funds.
Iowa
The Energy Infrastructure Revolving Loan Program is directly geared toward any electric grid modernization work. Upgrading equipment such as distribution, transmission or substations would be eligible.
Emergency preparedness is also eligible.
This is a loan, not a grant, but a good opportunity for low-interest financing. The next deadline is January 26, 2024.
Nebraska
The Nebraska Department of Environment and Energy Dollar and Energy Savings Loan Program provides energy loans from eligible lenders.
Local governments can apply for a maximum of $500,000 with proof that the project will pay for itself in 10 years.
Typical eligible projects include equipment replacements and overall building upgrades, but they are open to "other energy efficiency projects" as well. Reducing demand on the grid could be considered an eligible project.
Tune In
The information provided in this column is only the tip of the iceberg. It also only represents one 30-minute webinar conducted by Frontier Energy.
They provide a wealth of information. If you can't make the scheduled times, you can tune in to each webinar at your convenience as recordings are sent to customers after the presentations.
Finally, I urge you to reach out to Frontier Energy should you have questions about any of the funding opportunities they present, or if you have a project in mind and are wondering if there is any funding available. We have retained them to provide you a service and we hope you are able to find value in that service.
I hope you join us for the next meeting on November 7. Meeting details will be sent out soon.