April proclaimed Safe Digging Month
April 2, 2015
With warm weather and spring projects just around the corner, April is the perfect time to remind residents to call 811 prior to beginning any digging project. Calling 811 can protect lives and critical underground utilities.
Utility services such as gas, electricity, water and telephone are vital infrastructure within a community. When an excavator strikes one of these lines, the result may lead to significant disruption of services, or worse yet, harm to themself or others. Additionally, they may be held financially responsible for any damage caused. Those who call 811 prior to starting a project can significantly reduce these occurrences. "
It is easy to forget that many of the essentials to our daily living are buried beneath our feet," said Heartland Customer Relations & Marketing Manager Steve Moses. "Electricity, natural gas, communication lines and water and sewer services could be interrupted if someone decides to dig without first having the appropriate individuals mark their yard. The process is easy, fast and free."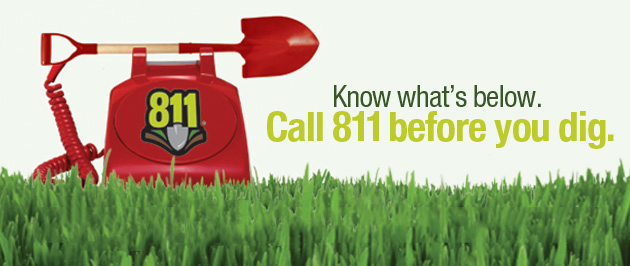 A call to 811 is required at least 48 hours to all digging projects, no matter the size. The possibility of striking underground utilities exists even with smaller activities such as building a patio or deck, or installing a fence or mailbox post.
"The depth of each buried line varies. The risk of striking a line or pipe exists even a few inches below the ground," South Dakota Public Utilities Commission Chairman Chris Nelson said. "It's imperative that homeowners and professional excavators take time to have all underground utilities located and marked before breaking ground."
South Dakota residents can visit SDOneCall.com for more information about 811 and the call-before-you-dig process. Iowans should visit iowaonecall.com. In Minnesota, gopherstateonecall.org provides all the necessary information for excavators, utilities and homeowners.
The 811 number is a national "Call Before You Dig" phone number designated by the FCC to eliminate the confusion of multiple numbers across the U.S. The Common Ground Alliance (CGA) is the leading association created specifically to work with all industry stakeholders in an effort to prevent damage to underground utility infrastructure and ensure public safety and environmental protection. Along with the 811 phone number, CGA and its 1,400 members and sponsors launched the national "Call Before You Dig" campaign to increase public awareness about the importance of using 811, having utility lines marked before digging, and protecting America's vast underground infrastructure of pipelines, conduits, wires and cables. For more information on the national "Call Before You Dig" campaign or the CGA, visit call811.com.