Abeln honored with Distinguished Service Award
October 5, 2021
April Abeln's job is centered around doing what's best for her community.
As deputy finance officer for Groton, South Dakota, she helps manage city operations and ensure reliable utility service to residents.
Serving in this capacity, it was an easy decision to find more ways to help others and give back. Her mantra is simple: if you're working for the city, you might as well WORK for the city.
"When you live and work here, it makes sense to do extra," she said. "It comes with the job, but it's also my personality—I try to give one hundred percent."
In recognition of her outstanding service, selfless attitude and commitment to her community, Abeln is the recipient of the Distinguished Service Award from Heartland Consumers Power District.
Community focused
Abeln's adoration for Groton is something that has grown over the past two decades. She's considered herself a member of the community since 2003 and has enjoyed raising her two sons here.
She dubs herself an "honorary member of anything." Although not always formally affiliated with a project, she's not afraid to step up when needed.
"If I'm asked and it works out, I'll definitely help out where I can," she said.
She plays a key role in organizing two of the community's largest annual events: Summer Fest and Pumpkin Fest.
Summer Fest is spearheaded by the local Lions Club. Each year Abeln lines up vendors prior to the event and helps with setup and other tasks during.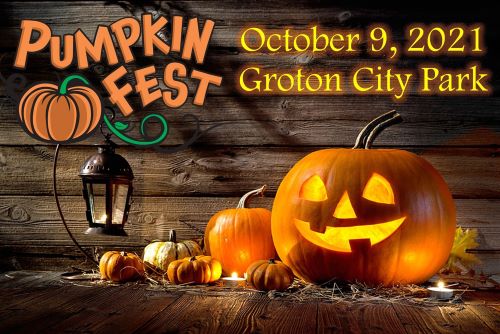 She is the main planner for Pumpkin Fest and heads up a team of volunteer "pumpkineers." Now in its sixth year, the event has become a passion project for Abeln.
"It's my baby," she says, laughing. "Some people call me the pumpkin queen."
Held at the city park, the one-day, family-friendly festival draws hundreds of people from the region. It features a lunch plus inflatables, hay rides, face painting, pumpkin decorating and more.
The event is free to the public—a source of pride for organizers. Abeln and her team line up dozens of sponsors to help with expenses. Guests may offer free will donations for the meal.
Money raised is typically used to help cover costs of future events. This year, however, the group plans to raise funds for new bathroom facilities at the park.
"Any time a public event is held there, we have to rent handicap-accessible facilities," Abeln said. "We desperately need an update, and the entire community could benefit."
When she's not planning events, Abeln teaches Sunday School at St. John's Lutheran Church and serves as secretary of Groton's Chamber of Commerce.
City role
Abeln grew up in Mansfield, South Dakota, and attended grade school in Warner. She later studied accounting at Northern State University in Aberdeen.
Shortly before graduating she started working part time in the Groton finance office. In May of 2008 she joined the office full time as assistant finance officer.
She's since moved into the deputy role, where she's mainly responsible for payroll for thirteen full-time employees. But, she admits, she enjoys helping with other tasks. Her attention to detail and proficiency with numbers proves beneficial for many aspects of the finance office.
Although managing a city can be hectic at times, Abeln relishes her work.
"I don't think there's ever a dull moment. We are busy all year long," she said.
She also appreciates the flexibility and convenience it offers to pursue community projects.
"I don't think many jobs would let you be this community-oriented," she said. "We can have meetings here at city hall or use the space to collect and sort items for city rummage and other projects. The mayor and council are very supportive. They understand these events are valuable to the community."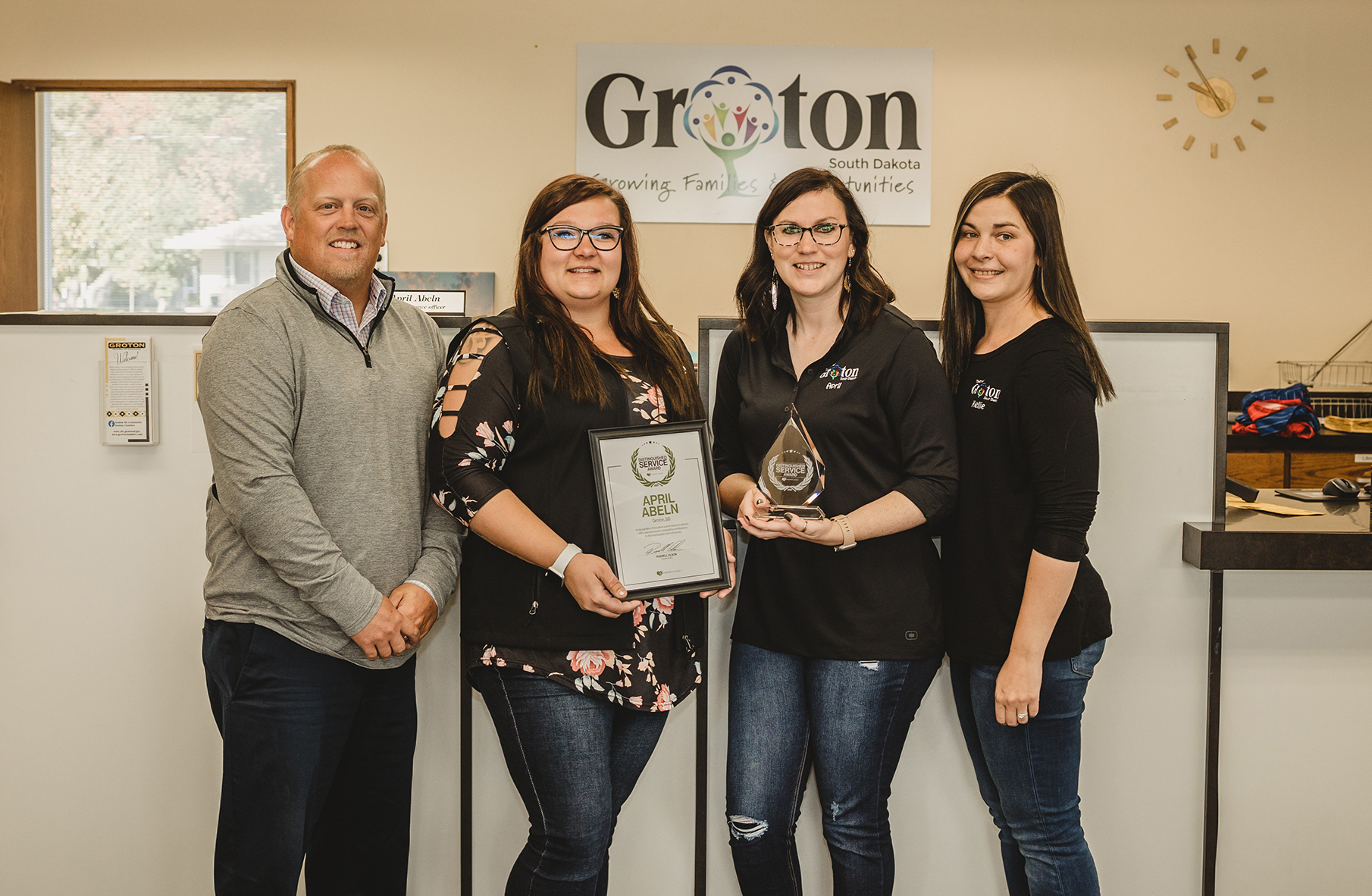 Distinguished service
Heartland provides wholesale power to municipal electric utilities throughout the region, including Groton. Each year one employee from a customer community is chosen for the Distinguished Service Award, to recognize the exceptional people working behind the power.
Abeln was nominated separately by co-workers Hope Block and Kellie Locke. Both commended her expertise and willingness to help.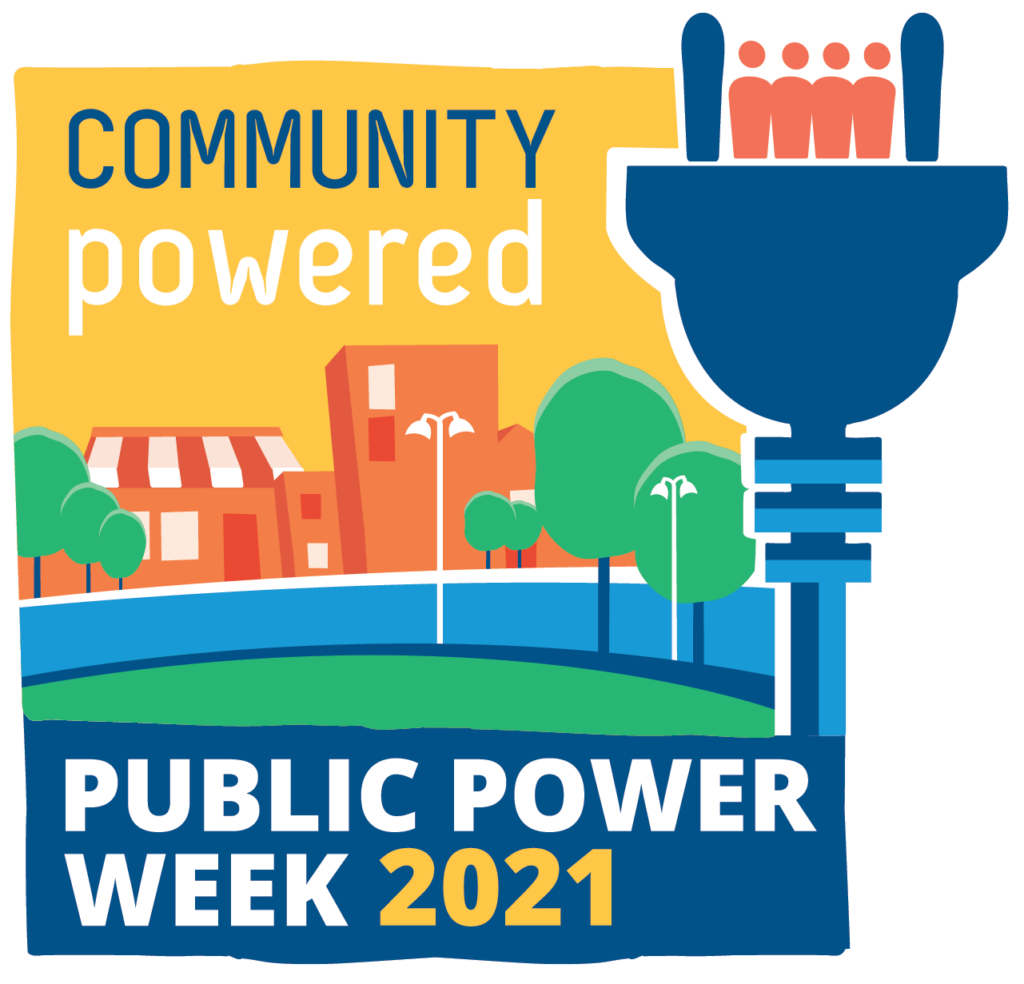 "I can ask April any question about anything, and she knows it," Locke said.
Block agrees, saying that if Abeln doesn't know an answer, she will find it.
"She's resourceful and will figure it out," she said. "April's also reliable, dependable and always eager to help. She's the most wonderful person I've ever worked with."
Abeln received her award in conjunction with Public Power Week. The annual event celebrates the distinct advantages public power utilities offer, including local control, community-focus, public input and dedicated employees. "People like April make public power exceptional," said Heartland Chief Communications Officer Ann Hyland. "She tirelessly and selflessly serves her community in many ways, both on and off the clock. April is a shining example of the people behind public power: individuals committed to moving communities forward."