Work to begin on almost $600,000 power project
July 5, 2016
By Sarah Ebeling, Editor, The New Era
This article originally appeared in the June 30, 2016 issue of The New Era; reprinted with permission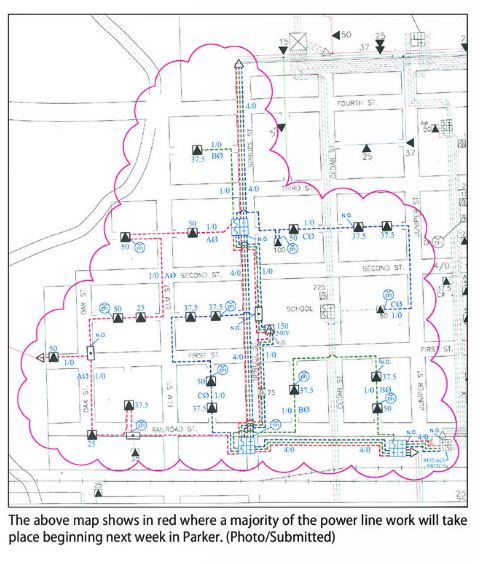 Work is scheduled to begin next week when 12 square blocks worth of overhead power lines will be buried in Parker, SD. The project, scheduled to last three months, will span from 4th street to Railroad Street and east to Juniper and then west to Oak.
Robbi Buller, electrical superintendent, explained that most of the lines that will be buried are in the right of way, and anyone with a pole with a transformer in their alley will receive a pad mount transformer when the construction is done.
"And, if you live in the red area and have an overhead service line to your house, it will get buried at no cost to the homeowner," said Buller.
Most of the line that will be buried will be directional bored, meaning residents will not end up with trenching through their backyards.
Two other areas will also see work done during this project, including the athletic complex. The entire facility will get new primary wires and transformers.
Buller noted that during this project, which is being completed by Karian and Peterson Powerline Contracting out of Montevideo, Minn., they will be replacing power lines that are 70 plus years old.
"This will improve services and help with storm outages because of no overhead lines," said Buller.
Although there may be small individual power outages, Buller noted that the company that is doing this work is a very good contractor and the city will let anyone know if they are going to be without power during this project.
Cost of this work is about $585,000. The city raised electrical rates in 2003 and these improvements came from that increase. The city will be paying for this and it is part of the long term capital improvement plan that was started in 2002.
The project is bonded out for 10 years and then when it is paid for, the city will look at their next big project.