Volga exploring housing development options
April 1, 2019
Heartland grant funds engineering study and design
Growth has been the prevailing trend in Volga, SD in recent years. The town of nearly 2,000 experienced a housing boom in 2016 with the addition of multiple developments that have since filled up.
Facing a rapidly rising population, the public school completed an expansion which doubled its space for elementary instruction and the city has been upgrading infrastructure to ensure efficient delivery of services.
More recently there has been an uptick in commercial and retail interest. Several new businesses have opened with more on the way and existing businesses have expanded or renovated.
Now community leaders are once again looking for ways to further accommodate growth. Armed with a design for a potential new housing project, city officials hope to spark interest from development groups to add significant residential territory to the community.
City initiates housing study
City Administrator Jameson Berreth says officials are concerned about the lack of housing options available in Volga.
"Our existing developments filled up rather quickly, and there are currently no other housing development projects underway within city limits," he said.
Hoping to get the ball rolling, officials approached property owners in 2018 regarding roughly 63 acres of land just west of town next to the current city park. With multiple property owners and some accessibility issues, the land may not be a developer's first choice.
"Physically, the area in question is challenging for growth due to the surrounding creek and railroad," Berreth said.
But Berreth believes those same barriers might make the area appealing for homes or recreation.
"About 45 acres is buildable, with the remaining land ideal for campgrounds, a walking trail, ball fields or additional park space," he said. "Our initial intention was not necessarily for a city-led development project. Essentially we'd like to to spark interest from development groups."
Economic development grant assists with project
The city partnered with engineering firm Banner Associates to study the property and create a housing development layout and design with pro-bono assistance from architecture firm designArc Group.
Heartland Consumers Power District, wholesale power supplier to Volga, awarded the city a $5,000 economic development grant to help pay for the services. Heartland provides grants to customer communities for projects that support new business opportunities or improve the social and economic well-being of residents.
"Many communities across the region are facing housing issues, but not all are approaching the problem head-on like Volga," said Heartland Director of Economic Development and Governmental Affairs Casey Crabtree. "Their progressive attitude and initiative will help generate interest and ultimately lead to a successful project allowing their community to continue to grow and improve the local quality of life."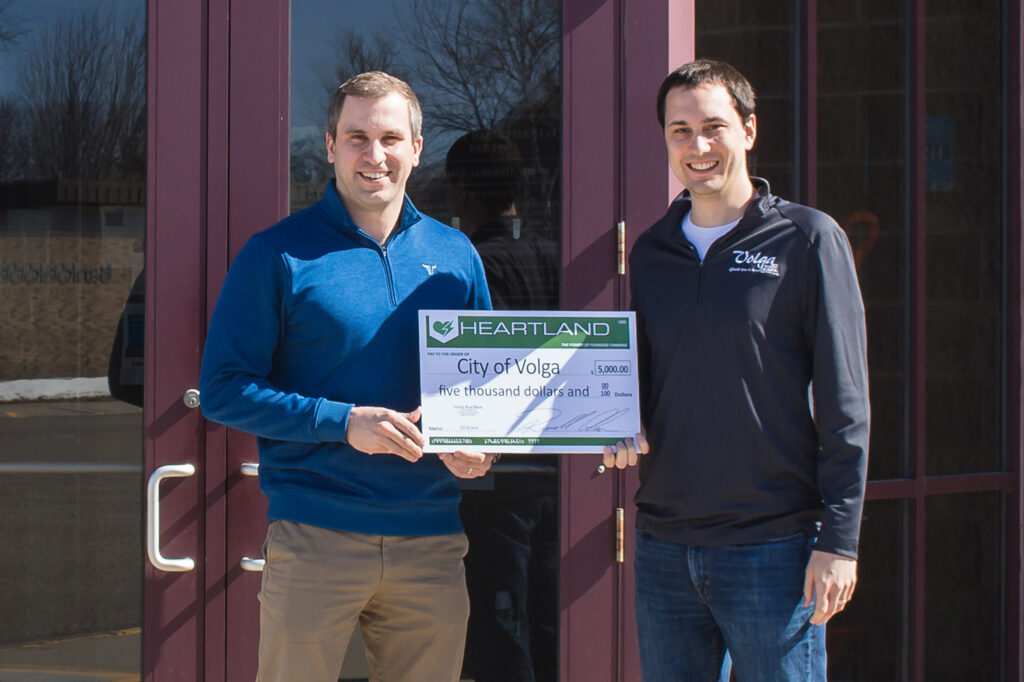 Envisioning a brighter future
Banner's final design included 60 lots for housing plus an additional 20 acres of recreational park space.
Berreth said the next step is to share it with land owners and developers to help envision what's possible.
"If the groups involved like what they see, they can choose to invest time and resources in pursuing the development further," he said.
He's optimistic about the project's potential.
"This is exactly what Volga needs right now. These are the necessary next steps to ensure we continue on a successful path forward. We are excited about what our future holds."