Utilities upgrade street lights, receive grants
July 29, 2015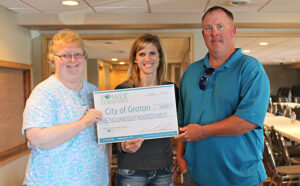 Four Heartland customers recently upgraded street lights in their communities and received energy efficiency grants from Heartland to help make the replacements.
Groton, S.D. upgraded 33 high pressure sodium street lights to LED and was awarded a grant for $3,800 for the project, which is expected to save the city about $1,500 per year. The project has a simple payback period of just less than four years.
According to Paul Kosel, Groton's metering technician, the city is also looking forward to the State of South Dakota replacing the high pressure sodium lights along Highway 37 through Groton with LEDs in 2016. The city has upgraded other street lights in previous years and also replaced lighting at the city shop last year.
Lake Crystal Municipal Utilities in Minnesota was awarded a $5,000 grant for replacing 51 high pressure sodium fixtures with LEDs. The utility is looking to save over 36,000 kWh annually, which equates to about $3,200 per year. The project has a simple payback period of four years.
The utility also upgraded 51 street lights in 2014 with help from a Heartland grant. They plan to upgrade all city street lights over the next few years.
Langford, S.D. replaced 41 high pressure sodium light fixtures with LEDs, a project that will save the city about $1,700 per year. Langford was also awarded an energy efficiency grant from Heartland for $5,000.
Langford last received a grant from Heartland in 2012 for upgrading lighting at the city's fire hall.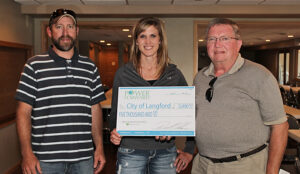 Estelline, S.D. will be replacing 14 high pressure sodium lights on Main Street and 25 in residential areas with LEDs and received a $5,000 grant from Heartland. The utility is expected to realize annual energy savings of over 20,000 kWh, equating to about $1,800 per year.
"LED street lighting is more affordable than ever and once they are installed, residents are typically happy with the upgrade," said Heartland Communications Manager Ann Hyland. "More and more of our customers are upgrading to this technology and finding the cost savings to be remarkable. They also provide a whiter, brighter light."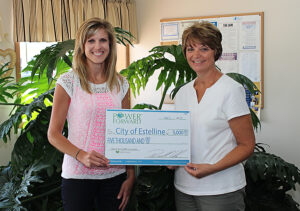 For more information on Heartland's energy efficiency program, Power Forward, or to apply for a grant, contact Ann Hyland or visit our website, www.hcpd.com. Heartland awards grants to customers for projects that improve energy efficiencies within the city.
Top Image: Lake Crystal Electric Superintendent Mathias Phelps, center, and City Administrator Tyler Gronau accept an energy efficiency grant.