Two long-term projects moving forward in Arlington
August 1, 2016
The city of Arlington, SD is moving forward with two phases of its long-term strategic plan with help from Heartland. The Arlington Community Development Corporation (ACDC) received a $5,000 economic development grant to help fund the ongoing Certified Ready Site process for the city's industrial park as well as a Main Street renovation project.
"Both the Main Street Square renovation and the industrial park readiness project have been identified in every Arlington Strategic Study since 2002," said ACDC Executive Director Jason Uphoff. "Each is unique in its own right, and both are critical to improving the community's quality of life."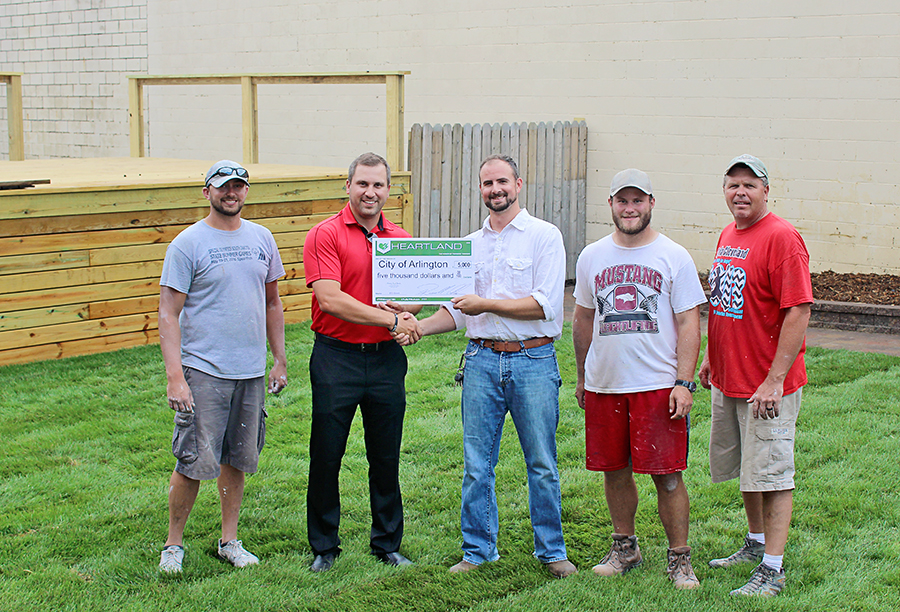 The majority of the Heartland grant money will be applied to the Certified Ready Site application process, helping fund an environmental assessment, archaeological study and soil testing. Operated by the South Dakota Governor's Office of Economic Development (GOED), Certified Ready Sites is an economic development program promoting commercial and industrial sites that are development ready.
"Heartland is excited to partner with ACDC on these projects," said Heartland Director of Economic Development Casey Crabtree. "Developers are more likely to choose a Certified Ready Site because detailed information about the site is provided, mitigating risk. In addition, GOED markets these sites across the country, making certification a critical step for any South Dakota community looking to develop an industrial park."
To obtain certification, applicants must provide a variety of data as well as have certain tests performed. Qualifying sites are featured on the GOED website www.sdreadytopartner.com, marketing to site selectors as well as companies looking to move or expand.
"Attaining Certified Ready Site status from GOED has been a long-standing goal of the development corporation and city," Uphoff said. "Shovel-ready sites will make our city more appealing because the initial legwork is done. This could give us the edge when competing with other communities to attract businesses."
Heartland awarded the city a similar grant in 2015 to assist with the completion of an Industrial Park Master Plan, conducted by Banner Engineering, which outlined a blueprint for the development of roads, sewer and electrical infrastructure to six new lots on the north side of the industrial park, expanding the number of shovel-ready sites by 250 percent.
Uphoff plans to apply the remaining quarter of the grant money towards renovation of two derelict lots on Main Street into usable green space with a stage.
"We expect the Main Street Square to be an attractive, fully functioning addition to our downtown district," he said. "Not only will it beautify our streets, but it will also serve as a gathering space for use by private citizens, business owners and visitors. The potential is nearly boundless: vendor fairs, farmers' markets, concerts and community movies are just a few ideas we have discussed."
Heartland provides economic development grants to customers to help fund projects that promote economic prosperity, support new business opportunities or improve the social and economic well-being of local residents. For more information, visit www.hcpd.com/economic-development.