South Dakota Arms Company is Community Spark
May 11, 2023
Company recognized for contributions to their community during National Small Business Week
South Dakota Arms Company has built a reputation and customer base across the nation in just a few short years.
But fate played a role in leading owners Clint and Tala Sandness to where they are today.
"My husband was working in landscape design, and we seriously considered opening our own business," Tala said. "Friends of ours reached out about the opportunity to purchase Simons Outdoor Sports [in St. Lawrence, South Dakota]. My husband is in the military, and I share those interests, and we thought it might be a good fit."
The couple purchased the small business in 2016, moved it to Miller, SD and renamed it South Dakota Arms Company.
In addition to being entrepreneurs, Clint and Tala are active members of the community, serving on various local boards and volunteering for different organizations.
Their investment in the Miller community has not gone unnoticed. South Dakota Arms Company is the 2023 recipient of the Community Spark Award from Heartland Energy. The award recognizes outstanding small businesses in Heartland Energy customer communities.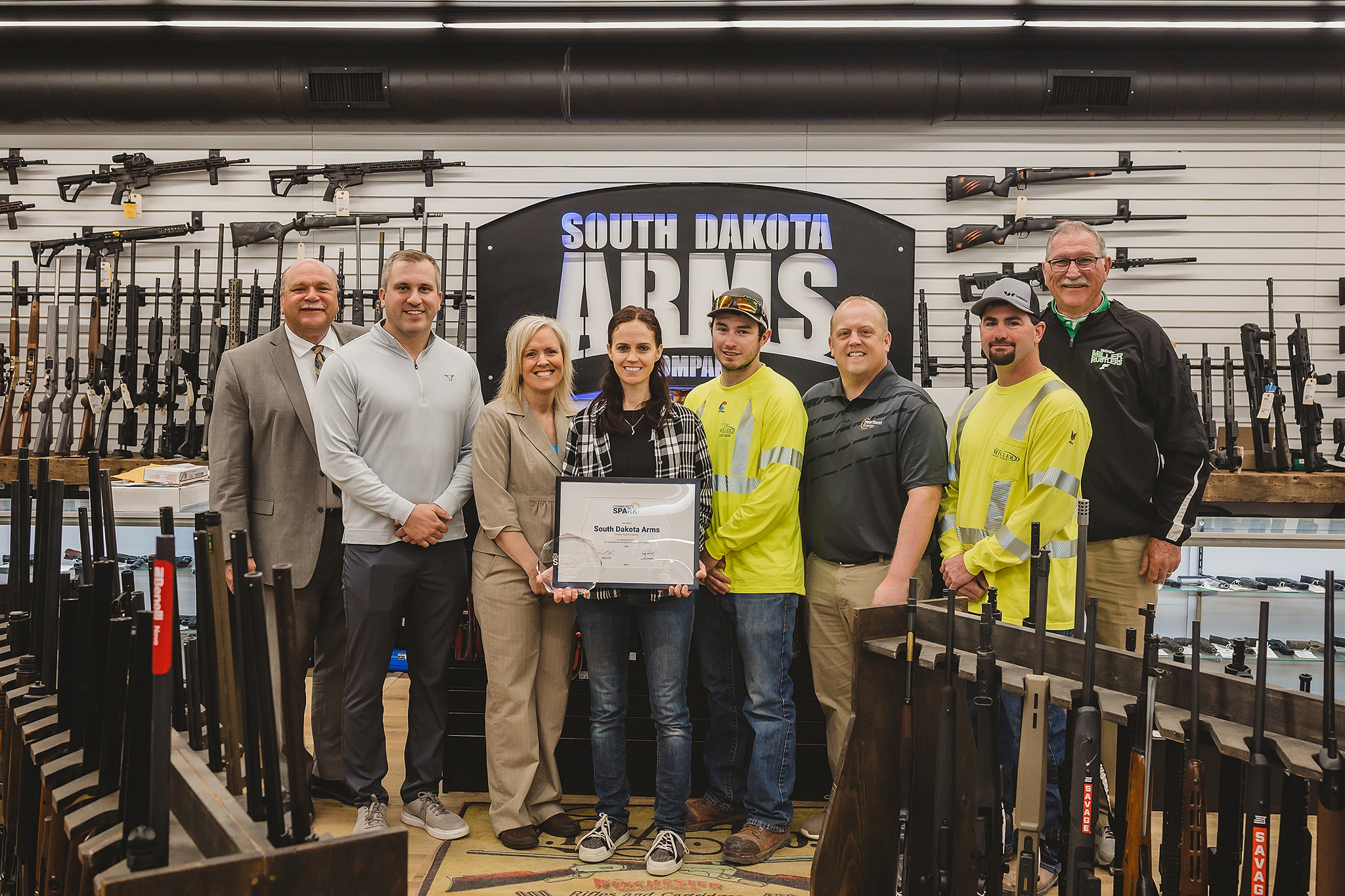 Outdoor sports mecca
South Dakota Arms sells firearms, optics, night scopes, suppressors, ammunition, archery, fishing gear and so much more. Much of the business is dedicated to firearms and accessories, including offering a dedicated gunsmith.
"We offer full ballistic workups and help with zeroing in guns," said Tala. "Our in-house gunsmith has extensive training in machining, and we are Cerakote certified."
Cerakote is a painted ceramic coating that prevents rust and allows for custom-designed guns.
"We started offering Cerakote services in November of 2022 and it's been a huge draw."
The business also stocks and sells rifles from TS Customs, a custom rifle manufacturer also located in Miller.
"TS Customs is one of the top five rifle builders in the nation, and it happens to be only blocks away," Clint said. "We're proud to showcase their work in our store and it helps boost business for both of us."
Looking to the future, Clint said the company plans to expand its relationships with law enforcement agencies through various manufacturers. He also hopes to add more services to customize firearms in-house.
"We are continuously evaluating the market to add relevant products," he said.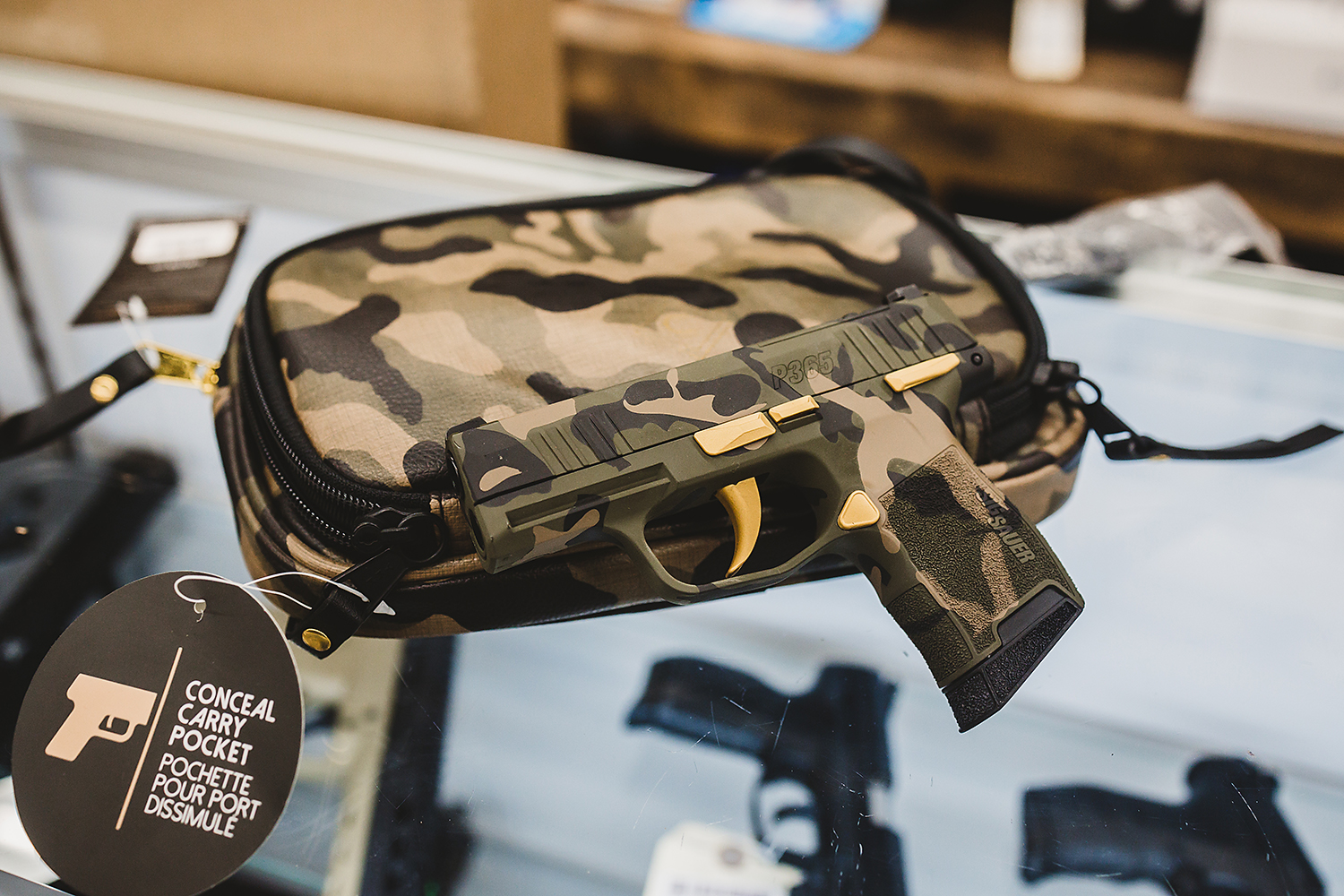 New, improved location
Clint and Tala opened South Dakota Arms in the city's former lumberyard. Though not ideal for a retail store, it met their needs as a temporary location.
After a few years, the couple found an opportunity for a more permanent and prominent location.
They purchased two narrow adjoining brick buildings on Main Street at the busy intersection of Highways 14 and 45.
They tore down the shared 21-inch thick wall and combined the buildings into one retail space.
"We installed new walls, flooring, lighting, siding, windows and ceiling. The only thing left from the original buildings are the HVAC systems," said Clint.
The resulting facility is impressive, featuring 2,800 square feet of retail space that includes a 15-yard archery shooting lane. The building also offers office and storage space plus a work area for the gunsmith and precision machine.
The updated façade attracts and welcomes curious passersby, which Tala said is common in this new location.
"We looked up DOT traffic numbers at this location and estimated foot traffic could improve by 40% over the previous store," she said. "We've far exceeded that already."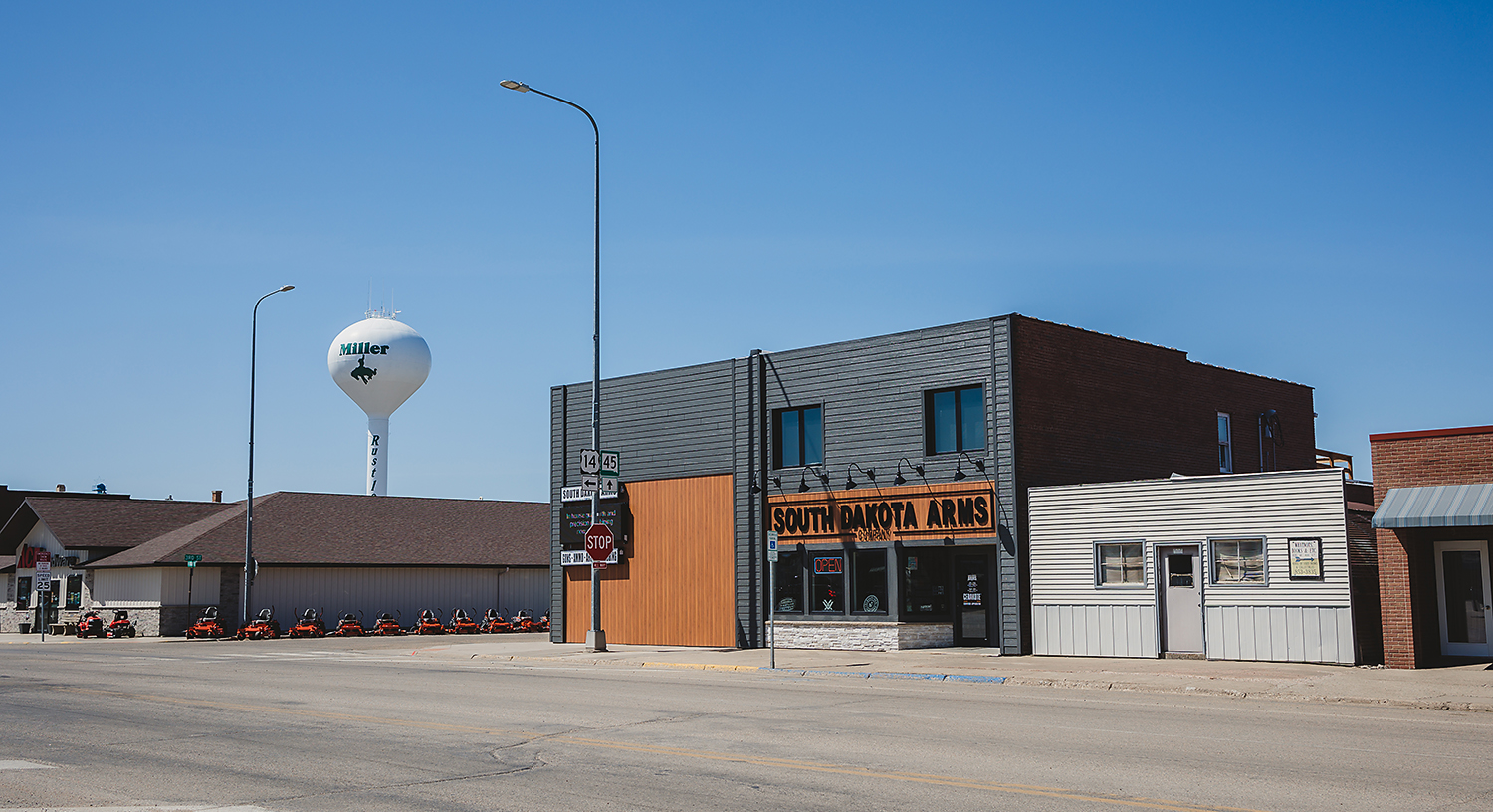 Commitment to community
The new appearance of South Dakota Arms better matches the company's quality of products and services, which customers say has been solid from the start.
"South Dakota Arms is unique because of their amazing customer service," said Kecia Beranek, former executive director of On Hand Development Corporation, the community's local economic development organization. "Their store is typically full of folks from a huge area because they heard about their terrific reputation."
Beranek nominated South Dakota Arms for the Community Spark Award.
"The success of their business has brought thousands of dollars of sales tax revenue to the city of Miller," she said. "They have also cleaned up the corner of a major intersection in our community and helped beautify our Main Street."
Beranek also commended the Sandnesses for their involvement in various local organizations. Both Clint and Tala have served on the Miller Civic & Commerce board of directors, of which Tala remains a member. Each year the couple coordinates a banded rooster release contest sponsored by the Miller C&C, which offers prizes to hunters for harvesting banded roosters.
Clint and Tala also volunteer for the Sunshine Bible Academy, where their children attend school. Clint has served on the SBA School Board and they helped start a clay target team at the school.
Clint, also a member of the South Dakota National Guard, currently serves on the Community Church of St. Lawrence elder board.
"Clint and Tala deserve to be recognized for their investment in Miller and their dedication to our community," Beranek added.
Community Spark
Heartland Energy created the Community Spark Award to celebrate National Small Business Week. Nominations were accepted for the award across Heartland Energy's customer base.
"Small businesses are the lifeblood of rural communities," said Heartland Energy Director of Economic Development Casey Crabtree. "They keep our customer communities thriving, providing goods and services for residents and oftentimes drawing in visitors, which helps the local economy thrive."
South Dakota Arms was chosen from an attractive pool of nominees. Ultimately, they were chosen for their dedication and contributions to the Miller community as well as their entrepreneurial spirit, which keeps their business booming.
"From modest beginnings to an impressive, prominent presence on Main Street, South Dakota Arms is a model of Midwest small business success," Crabtree said. "Clint and Tala operate with integrity and work hard to offer the best product for their customers. The business draws people to Miller, which helps spur revenue for the city and other local businesses."
Heartland Energy, based in Madison, SD, provides wholesale power and energy to the city of Miller as well as other municipalities throughout the Midwest. They provide a variety of programs and services, such as economic development and energy efficiency, to help their customers succeed. The Community Spark Award recognizes small businesses in customer communities for their contributions and service to the community. The award is presented in conjunction with National Small Business Week.