Rudebusch returns to Heartland
February 2, 2015
Regular callers and visitors to Heartland's headquarters may have grown accustomed to a greeting from Executive Assistant Kathie Lewis, who has worked for Heartland for more than 30 years. However, from time to time, you may see or hear a different but familiar face or voice. One of Heartland's original employees, Carolyn Rudebusch, has returned to the office to fill in at the front desk as needed.
"It has been great having Carolyn help when Kathie is out," said Heartland CEO Russell Olson. "She is familiar with Heartland which makes it easier for her to step in."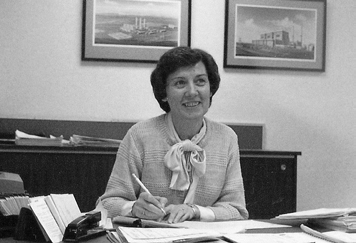 Rudebusch orginally joined Heartland in 1977 after working for East River Electric Power Cooperative since the spring of 1975. As administrative assistant, she was responsible for typing and answering the phones. Later during her tenure she also handled records management. She retired from Heartland in December of 1998 after 21 years.
These days Rudebusch fills in during Lewis's absences and performs many of the same duties, though she does note changes, due largely to computers.
"Before, the secretary typed everything for management," said Rudebusch. "Now, with computers, everyone manages that on their own. We also never scanned records–everything was filed as a paper copy."
After retiring from Heartland, Rudebusch worked part time at the Lake Area Improvement Corporation for eight years. Now she stays busy during retirement traveling, spending time at her cabin on Lake Campbell, attending auction sales and playing bridge with friends. She previously served on the city planning commission and was appointed to the Lake County Conservation District. She currently serves as president of the South Dakota Conservation District, a position that sent her to the National Convention for Conservation Districts in New Orleans in January.
Rudebusch lives in Madison. She has two daughters, six grandchildren and 16 great grandchildren.