Research investment will lead to growth, job opportunities
June 4, 2019
Dakota State University receives grant to invest in high-speed research network
An institutional vision by a university president, bold leadership from within and a variety of public and private partnerships are leading to more advanced research at Dakota State University in Madison, SD, which will lead to more opportunities for the school, the community and the region.
DSU will soon have access to a high-speed research network thanks to a $1.46 million grant from the U.S. Department of Commerce's Economic Development Administration (EDA). The grant will help facilitate more ambitious research in Madison and faster, more efficient work at DSU.
The funding will allow for the purchase of research computing equipment for the Madison CyberLabs and the Heartland Technology Center.
The grant comes at an opportune time for the university. According to DSU Director of Sponsored Programs Dr. Peter Hoesing, the South Dakota Board of Regents recently made a major investment in an expansion of the state's Research and Economic Development (REED) network that will have a major impact along the entire I-29 corridor of higher education partners.
"The network builds up the capacity of all those institutions, including DSU, for speed and security of research-related data," Hoesing said. "EDA awarded the grant to facilitate campus and lab-level linkages to the REED network. Those connections make it possible for DSU to build out robust, secure, fully customizable research environments."
This funding will afford students new opportunities to work with faculty researchers in various capacities as DSU research continues to grow. Graduate programs, and especially doctoral/PhD students will have expanded opportunities and resources to conduct various research activities.
"The ability to fully customize research environments on a powerful, stand-alone network that's walled off from those we use for day-to-day operations will build capacity for bigger, more aspiring research here in Madison," said Hoesing
More data transfer capacity and better security will mean faster, more efficient work and readiness to compete for opportunities. Some of those will be private sector partnerships, some will be federally funded research and development, and some will develop DSU-born intellectual property with great potential for translation into private sector innovation.
The entire Madison community stands to benefit from the innovations taking place at DSU. Vice President for Business and Administrative Services Stacy Krusemark stated, "The research network is just one more piece in the growth of DSU. This growth will continue to foster additional demand for housing, retail, and other services in Madison and the surrounding area."
Heartland Consumers Power District, wholesale power supplier to the city of Madison, was one of the partners assisting in applying for the grant.
"DSU's economic impact to the Madison area, South Dakota, and the region continues to grow as enrollment and research grows," said Heartland CEO Russell Olson. "The EDA project, the MadLabs building, and the university's recent acquisition of the Heartland Technology Center are all facilitators of the innovative research DSU faculty and students are doing now and aspire to do in the future. They are working on so many things relevant to economic development, and EDA certainly saw that when awarding this grant."
The EDA funding required a 1:1 match, meaning the university had to match every grant dollar with a dollar from a non-federal source. University President Dr. Jose´-Marie Griffiths committed the necessary matching funds from the MadLabs building project. The majority of those matching dollars are donor funds, though some were also committed to the project from former Governor Daugaard's Future Fund.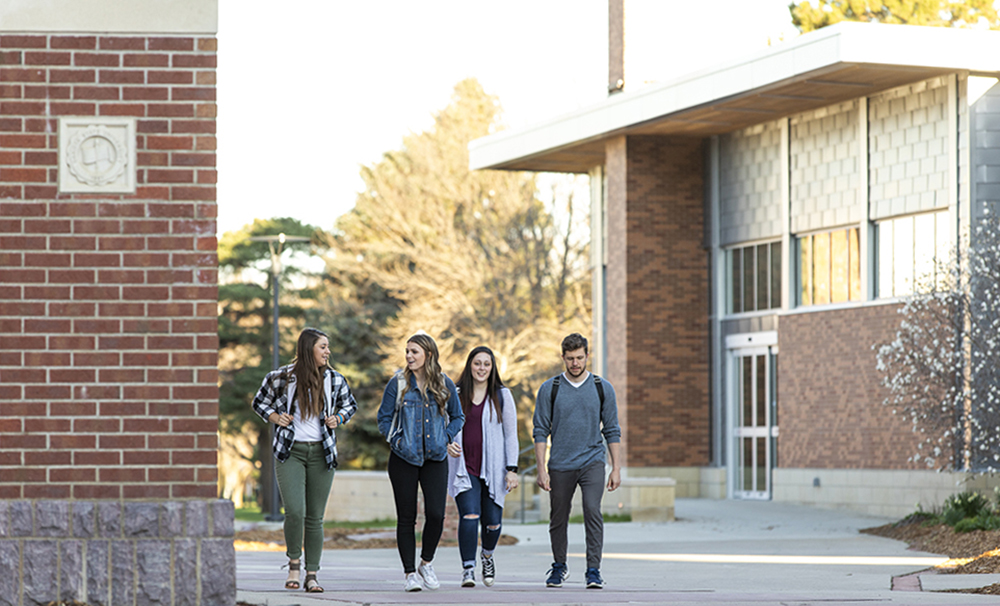 DSU is located in a Tax Cuts and Jobs Act designated Opportunity Zone. This program was created to increase investment in economically distressed communities. Built on bipartisan federal legislation, the Opportunity Zones tax incentive is designed to spur economic development and job creation by encouraging investors to fund new businesses, develop properties, and finance construction. In addition to the private funds available to the opportunity zones, EDA announced in 2018 that its Public Works and Economic Adjustment Assistance Programs are available to eligible entities within Qualified Opportunity Zones.
"This project at DSU is a strong example of a public/private partnership within an opportunity zone," said Alex Smith, economic development representative with EDA. Smith, along with Heartland and DSU started working on this specific partnership in late summer 2018.
Since fiscal year 2018, EDA has invested more than $13 million in 22 projects in Opportunity Zones to help communities and regions build the capacity for economic development.
"DSU faculty, students, and staff alike remain devoted to the continuing development of the community, the economy, and the greater good," Hoesing added. "Investments by EDA and the state in research network technology will empower the advancement of scientific inquiries that actively contribute to economic development. We are excited about all the opportunities those investments will afford our faculty, students, staff, and community partners."