New mixed-use space planned for Volga
February 4, 2019
Dakota Land Design announces commercial and residential building 14 WEST
Dakota Land Design is excited to announce the release of preliminary plans for an approximately 17,000 square foot mixed-use space in Volga, SD. The building, referred to as 14 WEST, will have 3 commercial spaces on the main level. Housed above the commercial space will be a combination of loft, one-bedroom and two-bedroom apartments.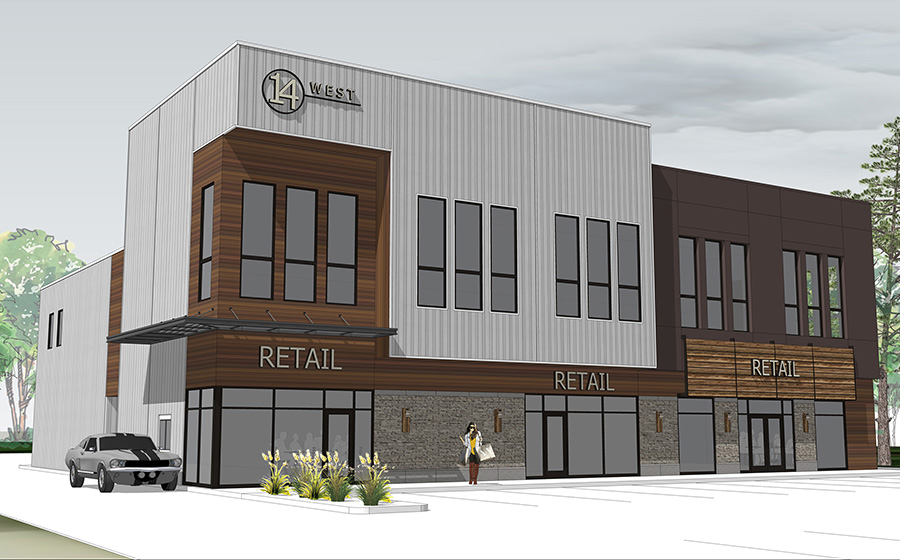 Construction on 14 WEST will begin in early 2019 with slated completion in the late fall. "We are excited to finally unveil the design and are looking forward to beginning construction," Dakota Land Design President, Kyle Rausch said.
14 WEST, which will be located adjacent to Dollar General on Highway 14, is owned by RGS, LLC. Lee Gilkerson, Erik and Amy Schlimmer, and Kyle and Jesyna Rausch make up the leadership of RGS.
"We have been working on the design of 14 WEST for months," Erik Schlimmer said. "Now, we are drafting commercial leases for two interested businesses. I think I can speak for everyone when I say we are eager to see this building take shape." The businesses which have committed to 14 WEST will be unveiled in the coming months.
The available commercial area is approximately 1,200 square feet and is ready for customization. "The beauty of this space is that Dakota Land Design will build-out this space based on a tenant's specific needs," Rausch said. "This allows a business to come in and develop a space that is perfect for them."
The upstairs apartments will have a private, secured entrance and dedicated parking spaces. Each apartment in 14 WEST will have in-unit laundry machines, ample storage and a well-designed floor plan maximizing space and functionality. The residential apartments at 14 WEST will be offered for lease in the fall of 2019.