Mutual aid agreement fulfills plant maintenance needs for three Minnesota utilities
September 1, 2016
Jim Maras likens  generating plant maintenance to car maintenance–if it isn't done regularly, things are more likely to go wrong. According to Maras, general manager of Madelia Municipal Light and Power (MMLP), the five generators that make up their power plant require regular testing, collecting of oil samples, replacement of fuel filters and more to ensure reliable operation. Unfortunately, routine maintenance doesn't necessitate hiring a full-time employee for the position, and small utilities such as MMLP have struggled in the past to find the time and staff to perform such duties.
"Preventative maintenance is crucial but since we didn't have anyone dedicated to the job, it was getting neglected, and we were starting to have problems," Maras said.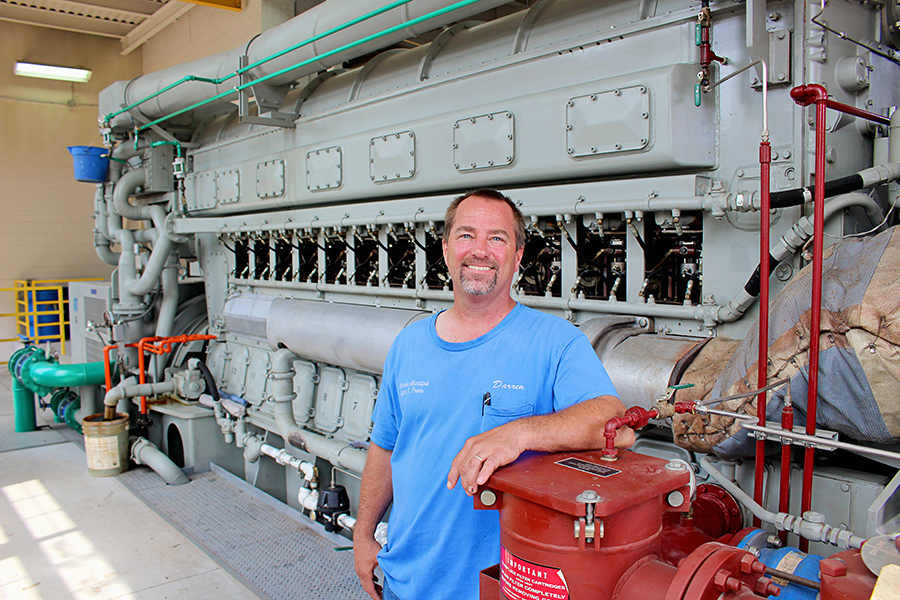 MMLP turned to some of their neighboring utilities and found a solution. They developed an independent contractor agreement with Truman Public Utilities and Lake Crystal Municipal Utilities, which also operate generators in their respective communities. The utilities have helped each other in the past as needed, but the new agreement provides a formal arrangement.
As part of the agreement, former MMLP journeyman lineman Darren Gifferson will serve as plant general maintenance foreman for the three utilities. He will continue to be employed by MMLP but will provide contract labor to Truman and Lake Crystal. His schedule will be flexible, splitting his time between the three utilities depending on what needs to be done.
"It's nice to be working together," said Maras. "Small municipals like ours don't have extra money for more staff, so this allows us to not only take proper care of our plant, but provides access to help when we are short-handed."
In addition to shared labor, the arrangement also facilitates training opportunities.
"Power plant operators are very hard to come by anymore because of generational turnover," said Lake Crystal Line Superintendent Mathias Phelps. "Presently, our utility doesn't have anyone on staff who knows how to repair or perform maintenance on our generators. We're fortunate for this agreement and the opportunity to learn from Darren."
In August, Gifferson performed mandatory URGE testing at each of the generating plants and employees from each utility were on hand to observe and learn.
URGE testing is an annual procedure that consists of running a generator for one hour at maximum capacity. During the test, operators monitor and record the temperatures of the cylinders, jacket water and lube oil as well the kilowatts being produced by the generator. They also check for oil or water leaks or other possible malfunctions.
"An URGE test indicates whether or not a generator is capable of producing its maximum capacity," said Heartland Customer Relations Manager Steve Moses, who was on hand to assist with the testing. "Heartland purchases a set amount of capacity from the three utilities, so we want to be sure the generators are able to produce at their stated capacity should we need it."
The contract between Madelia and Truman has already begun with Gifferson providing services to both utilities. He will begin to serve Lake Crystal under the agreement after the first of the year.