Madelia recovery efforts continue after Main Street fire
March 1, 2016
In the early morning hours of Wednesday, February 3, an explosion erupted in a Madelia, Minnesota Main Street business, igniting a massive fire that would eventually spread throughout neighboring buildings.  More than 100 firefighters from nine departments in four counties battled the fire for several hours, with strong winds and blizzard conditions hampering their efforts. After a reported 300,000 to 400,000 gallons of water were dumped on the flames, the crews had the blaze mostly subdued by late Wednesday morning. While the cause of the explosion is still unknown, the effect is painfully clear: eight businesses lost, a handful damaged and a large stretch of the block in ruins.

Dorothy McCabe, resident of Madelia for 71 years, told MPR News it was the worst local disaster she could recall in her lifetime. "I cried. I was devastated," she said. Two of McCabe's sons were personally affected by the fire; one son lost his insurance office while the other lost his place of employment. A third son's business, Preferred Printing Company, located just down the street from the site, was spared.
Affected businesses include American Family Insurance, Culligan Water Conditioning, EZ Medical Wraps, Gethmann Dental, Hope & Faith: Floral & Gifts, Kay's Upholstery, Plaza Morena Restaurant, and Tressa Veona Salon. Some buildings have been destroyed while others are still standing but will need to come down due to water and smoke damage.
In addition to structure loss, early estimates indicate between $400,000 and $1.3 million in lost employee wages and benefits — a huge blow to the small community of 2,300.
Region Nine Development Commission Executive Director Nicole Griensewic Mickelson said the businesses affected served the community for a combined total of 106 years and brought in a combined $3 million in sales volume. Their absence leaves approximately 40 people out of work. By comparison, if the same percentage of businesses were wiped out in nearby Mankato, MN (pop. 39,309), the equivalent would be a loss of 200 businesses and 1,400 people out of work.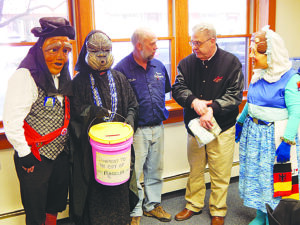 Region Nine is just one of multiple organizations reaching out to assist Madelia in their recovery efforts. Southern Minnesota Initiative Foundation (SMIF) and its partners immediately set up a Disaster Recovery fund for the affected businesses and building owners and raised more than $200,000 within one week of the fire, eclipsing their initial goal of $50,000.
"The loss of one business in a town the size of Madelia can be devastating, but to lose [nine] is really huge," said SMIF President and CEO Tim Penny. "However, the silver lining of tragedies like the Madelia fire is that the strength of our small town communities quickly becomes apparent."
The funds from SMIF came from more than a dozen business and group donors as well as over 25 individual contributors. Penny said the dollars raised were "a collaborative effort to help Madelia rebound," similar to the collective effort by neighboring communities to put the fire out.
"I find it true that during life's hardest moments, true character shines through. Fire stations from several neighboring communities got through the snow to put the fire out as quickly as possible and no injuries were suffered."
Now weeks later, the fire site remains idle as investigation into the cause continues. Currently the city faces costs of cleanup and disposal of rubble as well as the possibility of rebuilding major infrastructure. Madelia Mayor Mike Grote said the city had to fix a leaking water main after contaminated water from the site was found at the water treatment plant.
Affected business owners, meanwhile, have pledged to rebuild and stay in Madelia.
"City officials and residents deserve credit for the steps they are taking to move forward," said Heartland Director of Economic Development Casey Crabtree. "Although this devastating fire will most likely have a lasting impact, the community has come together to support one another physically, emotionally and financially."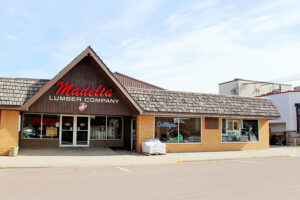 Madelia is home to Heartland Manager of Customer Relations Steve Moses, who formerly served as the city's public utilities general manager. Moses was in the community February 3 answering phones at the utility office while the crew was responding to urgent matters.
"We are committed to helping the businesses and community," said Moses. "For the 62 years I have lived in Madelia and driven down that road, nothing has made me more sad than seeing that empty hole in the middle of Main Street. Those are memories lost forever."
Moses and Crabtree recently connected Madelia Strong leaders with Kevin Goodno from Fredrikson & Byron, P.A. Goodno and his team agreed to help Madelia Strong by providing pro-bono services for the upcoming legislative session in St. Paul, addressing issues that may arise as the business owners recover and rebuild.
"We are doing everything we can to help," said Crabtree.
Part of the recovery process involves planning for the future of Madelia. According to the Madelia Chamber of Commerce, The Blandin Foundation has generously provided resources for the city to complete a comprehensive plan which will help the community determine goals and aspirations. The plan will dictate public policy and can be utilized when applying for grant opportunities. The city will partner with Region Nine and the community as a whole to complete the process.
If you'd like to contribute to Madlelia's recovery efforts, reach out to one of these organizations: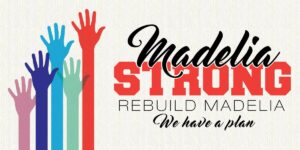 Madelia Strong, Inc. was formed locally to administer financial relief to those affected by the fire. Make checks payable to Madelia Strong, Inc. and contributions can be mailed to Madelia Chamber of Commerce, PO Box 171, Madelia, MN 56062. You can also buy "Madelia Strong" t-shirts at the Chamber to support fire victims.
Region Nine Area, Inc. has partnered with Madelia Strong, Inc. to be a fiscal sponsor, agreeing to receive and disperse funds for another organization's or group's project. The members of Medelia Strong, Inc. will determine how to best utilize the funds. Checks should be made to Region Nine Area, Inc with 'Madelia' written on the memo line and mailed to the Madelia Chamber of Commerce, PO Box 171, Madelia, MN 56062.
Southern Minnesota Initiative Foundation (SMIF) has established a Madelia Fire Disaster Recovery Fund. Donations collected by SMIF will directly benefit the property and business owners affected by the fire. You can make a donation on their website HERE.
Greater Mankato Growth, Inc. Foundation (GMGIF) is collecting donations in the Mankato area to help support the recovery. Funds gathered by GMGIF will be given to Madelia Strong, Inc. to distribute.
GoFundMe is hosting a number of sites where you can provide support directly to individuals affected by the fire. You can find links to the GoFundMe sites on www.visitmadelia.com.
Donations to Madelia Strong, Inc. and Region 9 Area, Inc. are tax deductible.
Madelia Times-Messenger, MPR News, FOX9, New Ulm Journal and SMIF contributed to this article.