Life Floor expands production
May 1, 2019
Aquatic tile manufacturer increases output, creates jobs at Madison plant
When you think of South Dakota, you may not immediately think of swimming pools.
But for the manufacturer of a slip-resistant tile installed largely around pools, South Dakota was the perfect fit.
Life Floor produces a foam rubber tile designed for use in aquatic environments. The tiles are slip-resistant without being abrasive.
With built-in cushioning, Life Floor's traction will last the entire life of the tile. They are stain resistant and do not support the growth of microbes. Life Floor is used on pool decks, splash pads, slide pads, multi-level structures and more.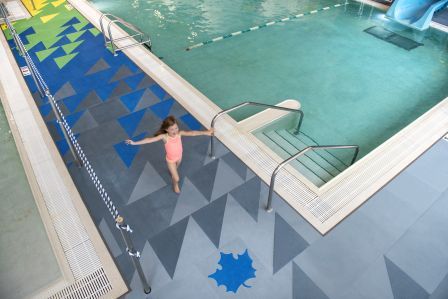 Since moving their production to Madison from overseas in 2015, Life Floor has shortened lead times, increased custom flooring options and created job opportunities.
The move has been so successful that in just a few short years, they saw the need to expand.
"With an increase in orders coming from all over the world, we needed capacity expansion and new production capabilities, including the ability to recycle product," said Spencer Howell, President of Life Floor.
The manufacturing line built in 2015-2016 reached full capacity, so the company purchased additional equipment and added production lines, allowing them to continue growing their U.S. production.
According to Howell, without this equipment, everything sold above the previous equipment's capacity would have been produced overseas.
Life Floor is headquartered in Minneapolis, Minn. and manufactured at Falcon Plastics in Madison. The partnership allows Life Floor to utilize the manufacturing expertise of Falcon, while allowing Falcon to diversify and expand its manufacturing line.
Many of the same organizations that helped Life Floor get established in Madison also helped fund their latest expansion, which included the creation of 12 jobs.
The equipment purchase is being financed by local lenders including Heartland Consumers Power District through their HELP Fund.
"Life Floor has been a great addition to Madison. It is the only product of its kind being manufactured in the world," said Casey Crabtree, director of economic development and governmental affairs for Heartland. "Life Floor's partnership with Falcon is a prime example of collaboration being the key to economic development success."
The Lake Area Improvement Corporation, which serves as the economic development office for Lake County, is grateful for Life Floor's continued investment in Madison.
"Life Floor choosing to reinvest and grow in Madison is a testament not only to their commitment to the community, but to the economic vitality and quality workforce we have here," said Eric Fosheim, the organization's executive director.
Howell is proud of the company's work in Madison and the speed with which they have been able to not only establish production, but ramp up.
"Through our team, Falcon Plastics, the Madison community, and other partners around the world, we have built a world-class manufacturing line, taking an idea from concept to operational in less than a year."
Howell also noted the economic benefits Life Floor brings to the community.
"This line brings sales and employment to Madison, and we will regularly bring customers from around the world to visit it."
Founded in 2011, Life Floor has designed and manufactured aquatic surfacing for industry leaders including Carnival Cruise, Atlantis Resorts, and LEGOLAND.
Picture above: Life Floor held a groundbreaking ceremony for their additional production lines this past October. Those in attendance included representatives from the Lake Area Improvement Corporation, Falcon Plastics, the Greater Madison Area Chamber of Commerce and the city of Madison.