Heartland welcomes Crabtree as director of economic development
February 1, 2016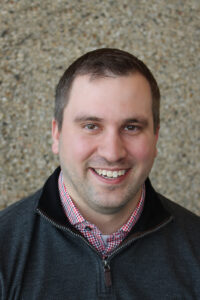 Heartland is excited to announce the hiring of Casey Crabtree as director of economic development. Crabtree comes to Heartland with over ten years of experience in marketing and sales.
"I'm extremely excited to join the Heartland team," said Crabtree. "It's a well-respected organization and they have some fantastic personnel in place. I'm looking forward to meeting with our customers and finding ways to better serve them."
Crabtree graduated from Northern State University in Aberdeen, SD. He worked for Daktronics for four years before joining Interstate All Battery Center in 2009 as an operations and sales manager. While at Interstate, he was named Innovator of the Year in 2013 and led his team to the 2013 Interstate Batteries Store of the Year award.
"My time at Interstate allowed me to serve a territory very similar to Heartland's customer base," added Crabtree. "I feel my experiences there give me a solid understanding of what is happening in those communities and the challenges they face to grow their businesses and serve their customers."
Crabtree also implemented an aggressive goal setting program and strategic sales plan to build his store's sales and account base to more than twice the average operation in the nation. He used a relationship building approach to garner and maintain top accounts in various industries.
"Casey has an impressive background in customer relations and sales and most importantly, knows how to grow a business," said Heartland CEO Russell Olson. "He has a lot of great ideas and I'm excited to see those ideas put in place to help our customers."
A native of Arlington, SD, Crabtree and his wife Ashley live in Madison with their two sons, Casyn, age 8, and Callan, 4. Ashley is an optometrist and owns Madison Vision Clinic. He is involved in various community organizations, has served as a business delegate on the South Dakota Retailers Association and is part of the sponsorship committee of the Sales and Marketing Executives of Sioux Falls Excellence Committee. He and his family enjoy outdoor activities including hunting as well as fishing year-round.