Grants help customers prepare for growth, boost local spending
January 29, 2021
Heartland awards nearly $25,000 to support five customer projects
In the face of adversity surrounding COVID-19, Heartland customer communities continue to persevere. Despite the odds, some are finding ways to thrive, welcoming new businesses and improving facilities and infrastructure.
As customers lay the groundwork for a bright future post-COVID, Heartland's economic development grant program is a valuable tool to help bring projects to fruition. Awarded to Heartland customers and their local development corporations, grants bolster community improvement ventures.
Heartland has awarded $24,500 in economic development grants in recent months. The funding has helped five customers tackle projects that address housing needs, support local businesses and accommodate growth.
Akron welcomes new amenity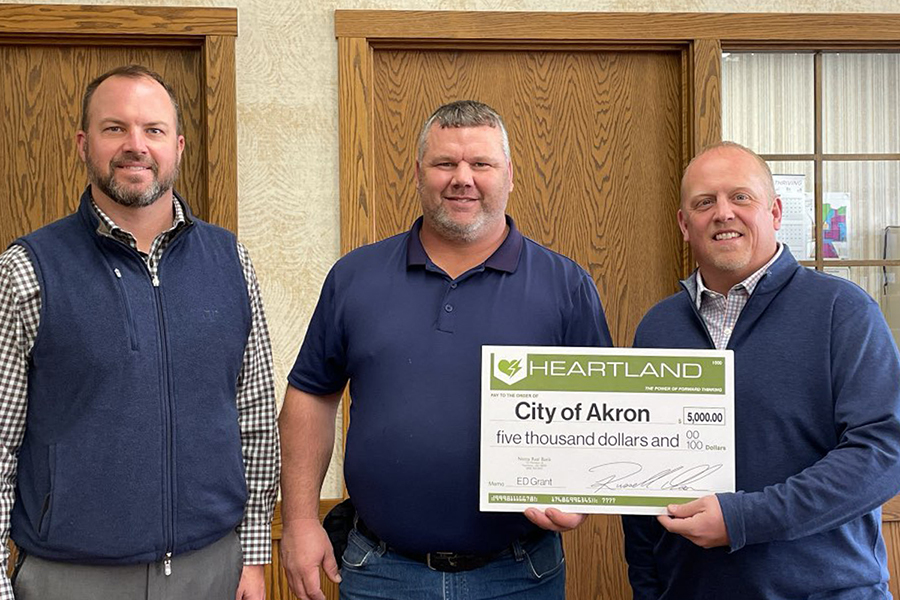 Officials in Akron, IA say a new local campground will provide the area with numerous benefits. Featuring 85 RV hookups and eight cabins, the Lazy H Campground can accommodate hundreds of guests. The influx of visitors could increase foot traffic in Akron businesses as well as provide a boost to the city's electric system. The city utilized a $5,000 economic development grant to provide electric infrastructure to the campground.
Pictured: Akron City Administrator Dan Rolfes, center, accepts a grant from Heartland CFO Mike Malone, left, and Customer Relations Manager Kelly Dybdahl.
Colman looks to expand housing options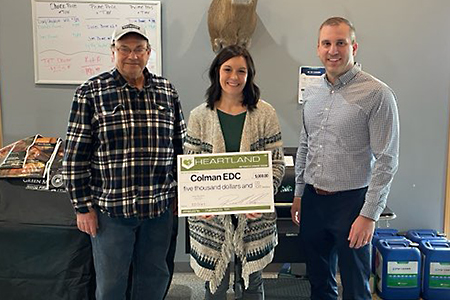 The Colman Economic Development Corporation's latest project aims to build on the success from its housing development in Colman, SD. CEDC sold the last two available lots in Sunrise Ridge Estates in November of 2020. Now the organization wants to add two more lots to the area. To maximize available land, CEDC plans to move a fairway on nearby Sunrise Ridge Golf Course. Heartland awarded CEDC $5,000 to assist with costs associated with the project.
Pictured: Heartland Director of Economic Development, right, presents a grant to CEDC board members Bob Landis and Brooke Rollag.
Wessington Springs aims to boost local spending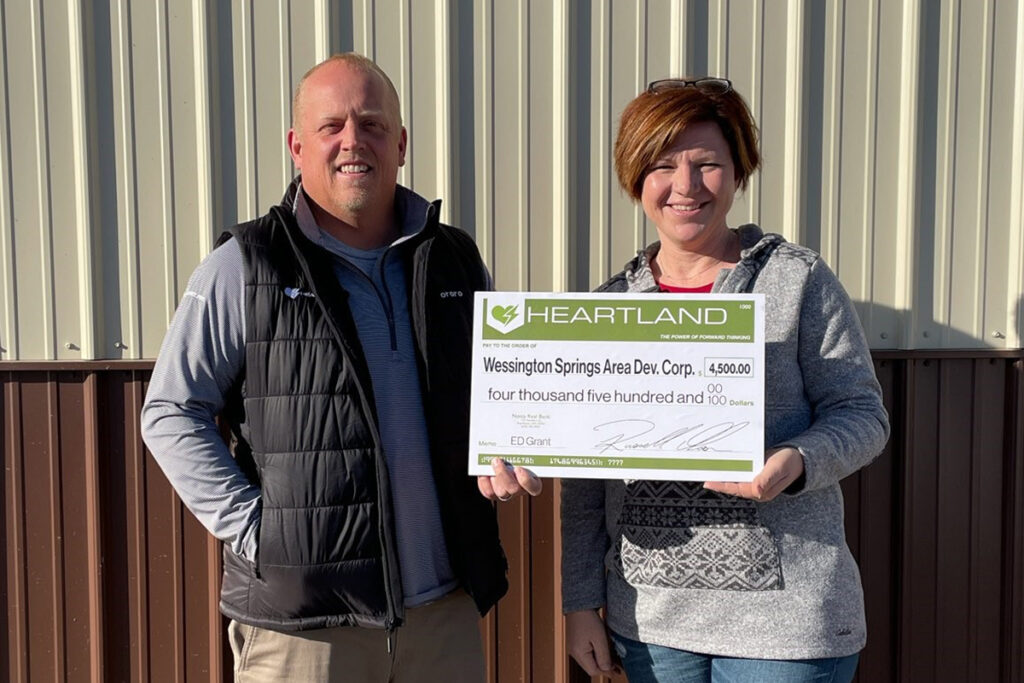 A re-brand is underway in Wessington Springs, SD. Utilizing a new logo, community leaders want to develop new marketing material to show off local amenities and benefit area businesses. The Wessington Springs Area Development Corporation plans to create coupons and incentives to entice people to shop local. New maps featuring points of interest will also be developed to help visitors discover the community. Heartland awarded a $4,500 grant to help with the project.
Pictured: Heartland Customer Relations Manager Kelly Dybdahl presents a grant to WSADC Executive Director Loree Gaikowski.
Plankinton prepares for new housing development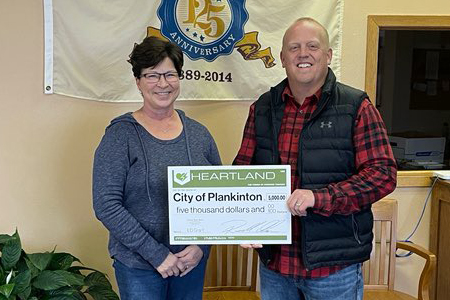 Community leaders in Plankinton, SD hope new, affordable homes will entice young people and families to move to their community. The city was awarded $5,000 to help install infrastructure in a new 16-lot housing development. The money will pay for a lift station plus installment of electric, water, sewer and roads.
Pictured: Plankinton Finance Officer Eileen Sorsen, left, accepts a grant from Heartland Customer Relations Manager Kelly Dybdahl.
Howard upgrades facility for incoming business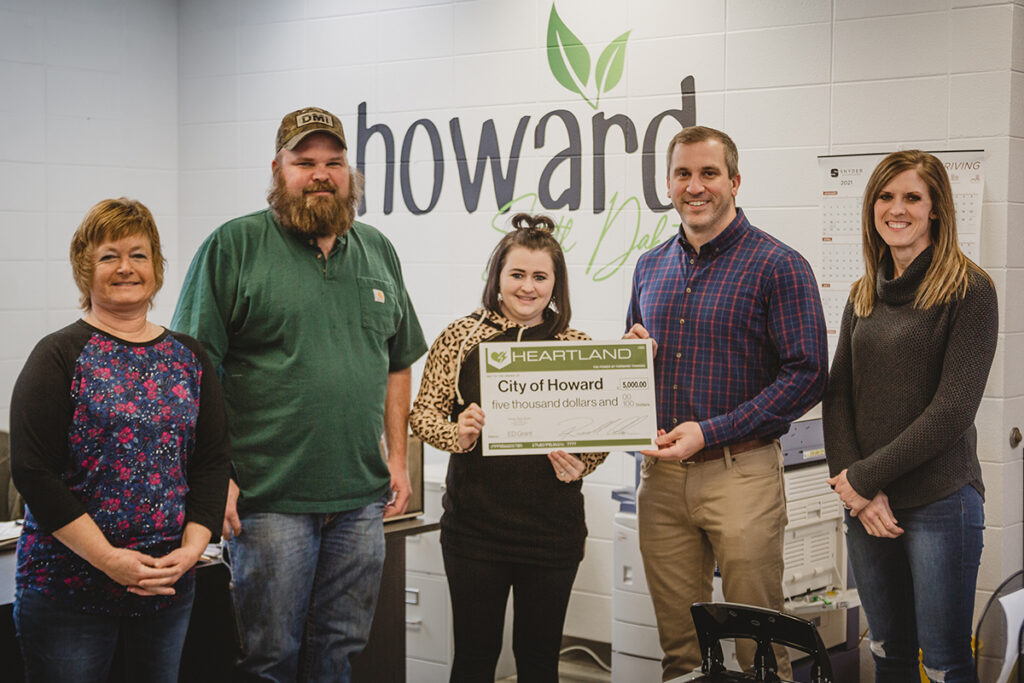 A $5,000 economic development grant will help the city of Howard welcome a new business. Though details are still being finalized, the business plans to occupy an existing vacant facility in the community. To better meet the new tenant's needs, the city is upgrading the facility by adding an additional transformer to the building.
Pictured: From left to right, Howard Assistant Finance Officer Donna Klinkhammer, Utility Superintendent Kody Dawson and Finance Officer Kate Calmus accept a grant from Heartland Director of Economic Development Casey Crabtree and Chief Communications Officer Ann Hyland.