Graff honored with Award of Excellence
May 3, 2022
When Adam Graff joined Heartland in 2008, he quickly immersed himself in Heartland's power supply portfolio, helping to manage resources to best suit customers' needs. This led to him quickly being named resource manager.
Today, Graff serves as director of power supply for Heartland, where he is responsible for the company's power supply portfolio with additional responsibilities including facility planning, integrated resource planning, system forecasts and more.
For the past ten years, Graff has also served as chair of Public Power Generation Agency's Engineering and Operations Committee. PPGA is the interlocal agency established for the sole purpose of constructing and operating Whelan Energy Center Unit 2 (WEC 2), a major component of Heartland's resource portfolio.
To celebrate his years of service and accomplishments on the committee, Graff was honored at Heartland's recent Annual Meeting with an award of excellence.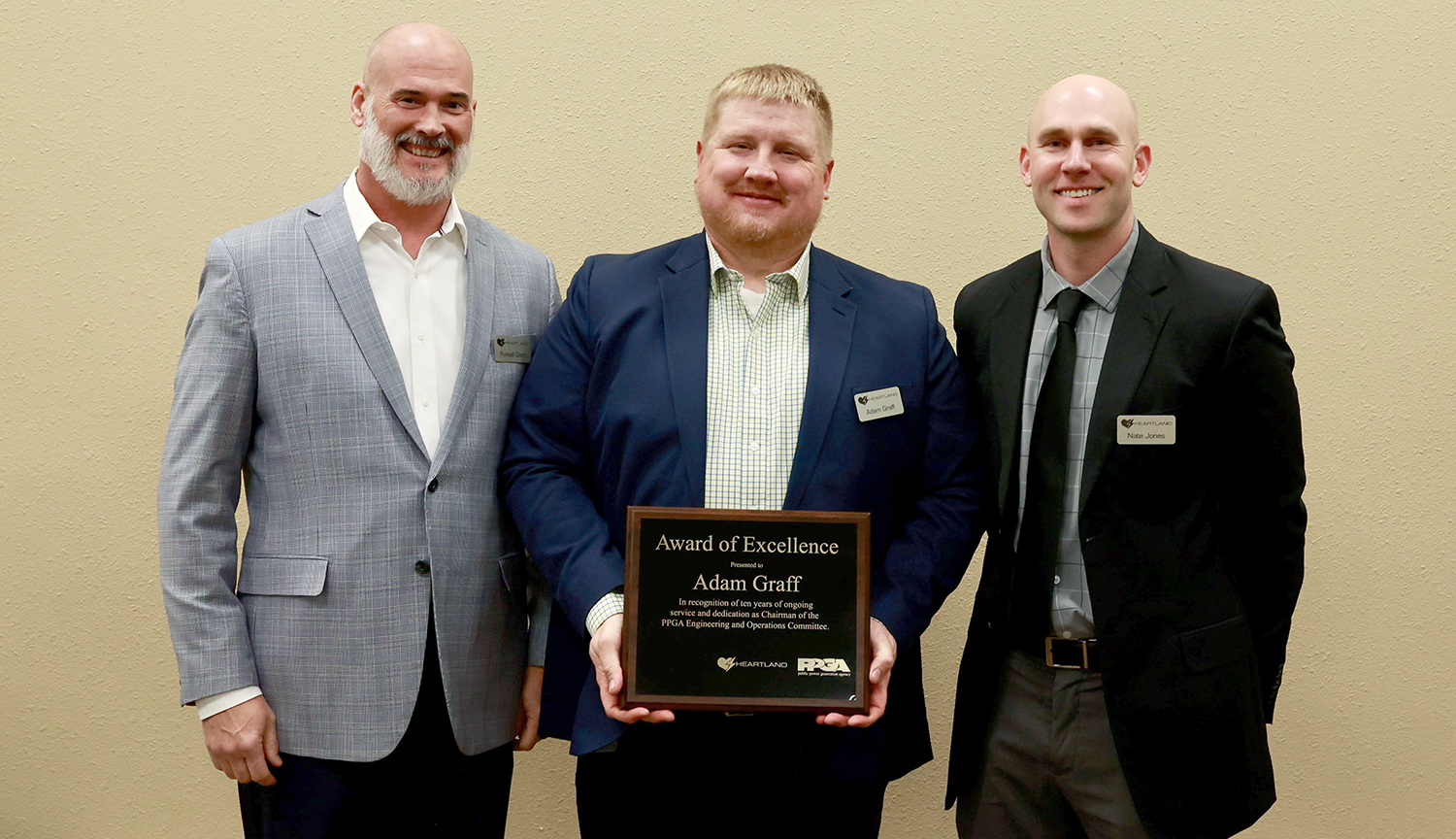 Adam Graff, center, was recognized at Heartland's Annual Meeting for his decade of outstanding service to Whelan Energy Center Unit 2. Joining in honoring him is Heartland CEO Russell Olson, left, and COO Nate Jones.
Graff's direction vital to operations
When Graff began working at Heartland, WEC 2 was three years into design, development and construction. It became commercially operational in May of 2011. Shortly after, Graff took on the role of chair of the engineering and operations committee. As such, he plays a very significant role for PPGA and Heartland.
The 220 megawatt coal-fired generating plant is located in Hastings, Nebraska. As a participant of PPGA, Heartland owns a 36% entitlement share in the project. It serves as the largest generating resource in Heartland's power supply portfolio, making up 53%.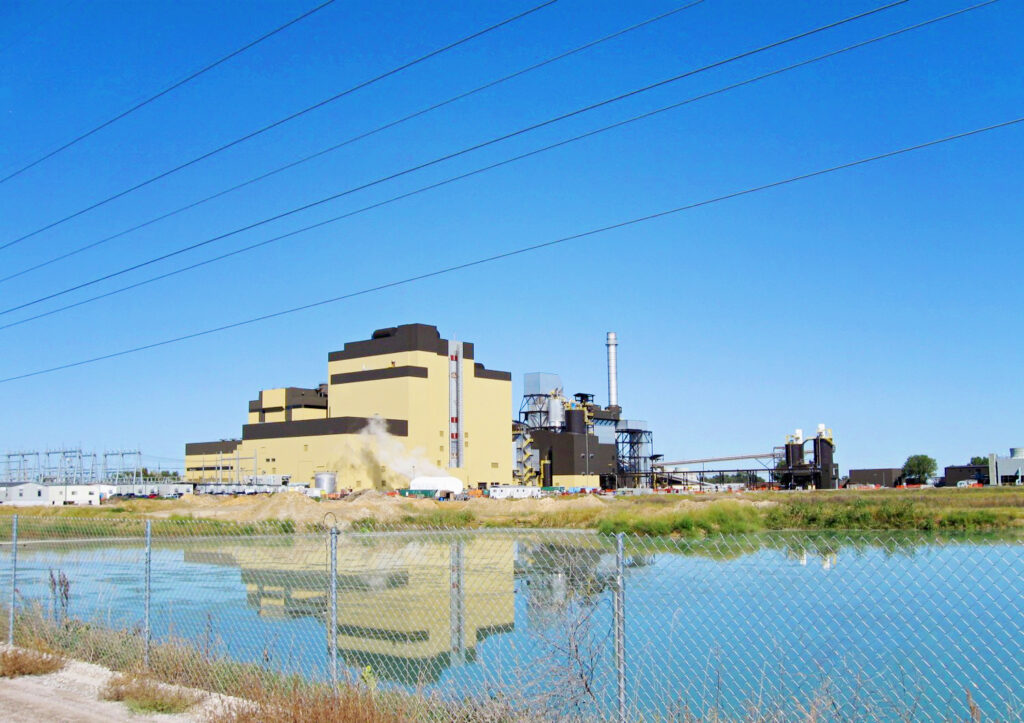 WEC 2 was built for approximately $700 million and is utilized by five different utilities for reliable, baseload power. It also represents 46% of Heartland's capacity and 35% of its energy portfolio. The success of the plant is directly linked to the success of Heartland and ultimately, Heartland's customers.
As chair of the engineering and operations committee, Graff oversees all major operating decisions made at the plant and makes recommendations to the PPGA board. During his tenure, he successfully led the transition of the plant into the Southwest Power Pool, advised and navigated the project on many staffing changes, and consistently ensures sound budgets.
Currently he's directing the project on environmental concerns regarding Whelan Energy Center Unit 1 that impact WEC 2.
"PPGA is lucky to have Graff in this role, as is Heartland," said Heartland Chief Operations Officer Nate Jones. "His expertise fortifies our ability to provide reliable, safe power to our customers at the lowest cost possible."
WEC 2 burns low-sulfer coal from the Power River Basin. It meets all the latest pollution control standards with an air quality control system that includes equipment to remove fly ash, sulfur dioxide, nitrous oxides and mercury. Heartland's power supply portfolio also includes 51 megawatts of wind power from the Wessington Springs Wind Energy Center located in Jerauld County, SD.
Pictured: Heartland Director of Power Supply Adam Graff, center, was honored for ten years and continued service on the E&O Committee for baseload resource, Whelan Energy Center Unit 2. Presenting the award were Heartland CEO Russell Olson, left, and Chief Operations Officer Nate Jones, right.