Football standout named Student of the Month
May 3, 2022
Trey Smith earns award from Heartland and KJAM Radio
The Madison High School football team completed a perfect season in 2021, capping it off with a state title. Helping power the Bulldogs to a championship was senior standout Trey Smith.
In the title contest, Smith ran for 51 yards and two touchdowns while also kicking four extra-points and a field goal. He also recorded thirteen tackles on defense (seven unassisted, six assisted), including one sack.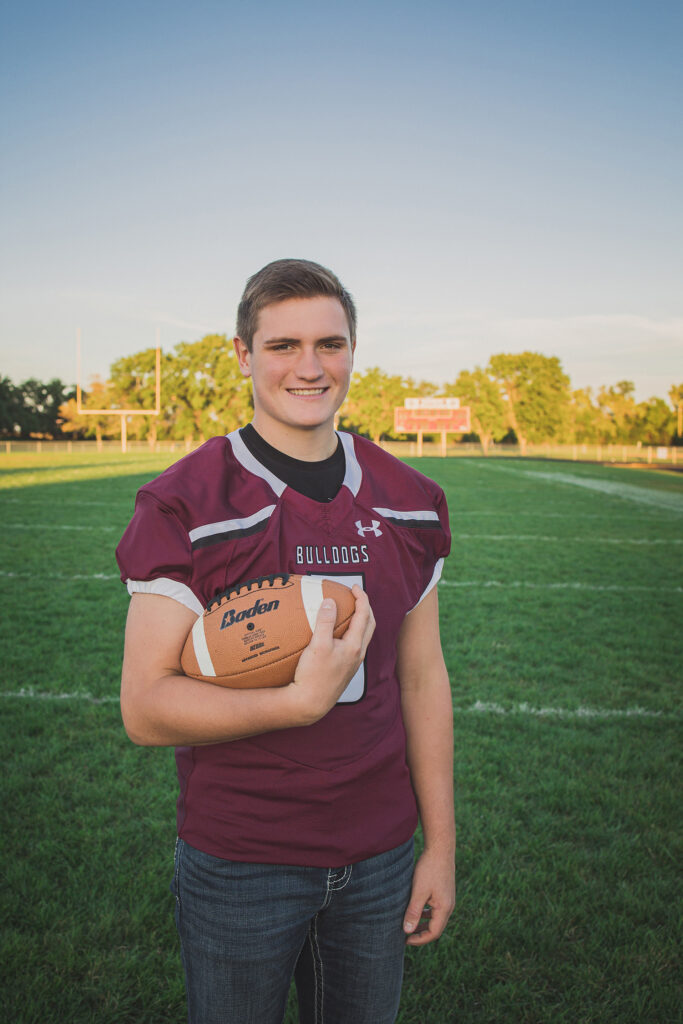 For his efforts, Smith was named the Joe Robbie MVP of the game as well as Outstanding Back. The awards were a fitting end to a phenomenal senior football season and high school career.
Smith has been named Student of the Month by Heartland Consumers Power District and KJAM Radio. He is recognized for his outstanding character and achievements as a multi-sport student athlete.
"Trey is a natural leader who strives to be the best he can be at everything he does, said MHS Principal Adam Shaw. "He will always go above and beyond the call of duty inside and out of the classroom. He's well-liked among peers and school staff and will go out of his way to help others."
Smith remained a dominant force on offense and defense his senior year of football. In the regular season he recorded fourteen touchdowns, 51 kicking points and 148 tackles, including 18 for loss. He also completed four sacks, two defensive interceptions and a fumble return.
Smith was named Midco Sports South Dakota 11A Player of the Year, Digital Z Sports South Dakota 11A Player of the Year, and South Dakota High School Coaches Association 11A All-American. He earned First Team All-Conference and All-State honors as well as Academic All-Conference.
Also in 2021 he broke his own school record for most tackles in a season and earned his second team MVP title.
Smith also participates in basketball, baseball and track. His basketball honors include Academic All-Conference, the Hustler Award and other leadership awards. He also served as captain for both basketball and football his senior year.
Outside of sports, Smith also participates in FFA and FBLA and is a member of the National Honor Society. In his free time he enjoys hunting, lifting and playing video games.
Smith is the son of Betsy and Paul Schamber and Ray and Trasi Smith. After high school he plans to attend the University of South Dakota to study exercise science.
The "Student of the Month" is awarded through a partnership of Heartland and KJAM Radio in Madison and recognizes exceptional students in one of five area school districts. Heartland provides wholesale power to the cities of Arlington, Colman, Howard, Madison and Volga, all of which are in the KJAM listening area.
Each month of the school year, Heartland presents an outstanding student from one of these schools with a recognition certificate and small token, and advertisements announcing the winning student air on KJAM Radio. Officials from each participating school nominate students for the award.
This is the eleventh year Heartland and KJAM have teamed up to offer this program.