Fedeler celebrates 40 years at Heartland
June 2, 2020
Back in 1980, employees at Heartland Consumers Power District took turns buying breakfast rolls for the office by drawing names. Coincidentally, new employee Sharla Fedeler, who was 18 at the time, had her name drawn multiple times before she had even received her first paycheck.
"I had to ask my dad for money so I could pay for them," Fedeler said. "I didn't know if I could afford to work here!"
Her first job after graduating from Nettleton College, Fedeler joined Heartland as a bookkeeper. Forty years later, as accountant, she is Heartland's longest-serving employee.
"Sharla is outstanding at her job," said CEO Russell Olson. "She pays great attention to detail and is reliable and knowledgeable. We know we're in good hands and others notice her work ethic as well. We've never had a bad review from the auditors–in fact, they praise her every year. It's great having her on board."
As Fedeler celebrates four decades of service, she reflects back on her time with Heartland, including the many things that have changed since she first started back in 1980.
Did you ever think when you started, you'd be celebrating 40 years at Heartland?
No. It is hard to believe that when I started my job, I was the youngest employee and now I'm the oldest. But I started when I was 18, so I guess 40 years is possible.
What do you like most about your position?
I have always enjoyed accounting. I like compiling and analyzing the account transaction information, posting those to the general ledger and preparing the financial reports for management.

I look forward to the audit season. It can be a very busy time, but I enjoy preparing the audit workpapers and checking my work for the year.
What has changed the most about your position since 1980?
There were no computers at Heartland when I started. I used a very loud posting machine that posted account balances and general journal entries on ledger cards and then I would create the monthly financial statements by using my calculator, a pencil or typewriter.

Eventually we did get computers, and then I was the computer person! I'm so glad that was for only a short period of time.
You've also had other duties that have come and gone, correct?
Because Heartland is a political subdivision of the State of South Dakota, we had to follow the state's records destruction rules. I created a records retention policy and I found a software program that would accommodate records retention and destruction. This was an enormous task. It was also very time-consuming to scan in records and code them for retention/destruction. Because of my work load, records management was eventually taken off of my list of things to do.
At one time, Heartland helped provide internet to our customers and people in the Madison area through a subsidiary company, Heartland Technologies. I was the person that would sign people up and get them on the internet, and with this company came another set of books to keep.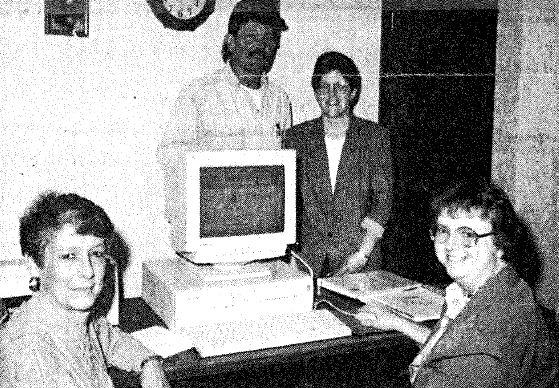 What do you find challenging, and how do you overcome?
There are certain times of the year that are very busy and everything is due at the same time. I just have to prioritize things and check them off a list.
What are a few of your most memorable moments from your tenure?
Heartland did a bond issue in 1979. I remember looking at the maturity date for that bond issue–2021–and thinking I would never see that happen. Well we paid the bond issue off a few years early, so I did see it happen.

Also, Laramie River Station was in the process of being built when I started. Then it started production, and then the divestiture. I was here for it all. I was kind of sad about it when it was gone, but then I remembered that now I didn't have to do all those property tax annual reports!

Lastly, for almost 30 years I worked in a small room with no windows. It was so great when Heartland built the new headquarters. I have a bigger office with windows.
Any retirement plans in the future?
Of course, I just don't know when yet.
Any last thoughts, looking back?
Heartland is a great place to work and I have worked with many great people.
Today Fedeler is responsible for accounts receivable and payable, customer billing, assisting with audits and budgets, and more.
During her tenure, she has worked under four general managers and four supervisors.
Fedeler lives in Madison with her husband Dave. They have two children, Ryan and Sara, and four grandchildren.
"Sharla has performed many roles since starting at Heartland, both in the office and out. It is great to know that when any of us has a question about something that happened at Heartland in the past, Sharla usually knows the answer. Today, it's also great seeing her outside the office as a grandma, watching her grand kids play ball or helping out by running them to various activities. She's a valuable asset all around and we are proud to work with her," commented Olson.
Congratulations Sharla, and thank you for your outstanding work and dedication!