Estelline and Groton receive economic development grants for electronic signage
June 2, 2015
Hoping to enhance the atmosphere and improve attendance at community events, officials in the cities of Estelline and Groton, South Dakota plan to integrate electronic displays in their respective communities with help from Heartland.  Each city was recently awarded an economic development grant to help fund digital sign projects, which will be used in conjunction with a local rodeo in Estelline and to promote local events and city news in Groton.
Estelline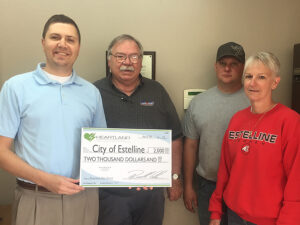 Officials in Estelline look to provide attendees with more excitement  during the city's annual Estelline Rodeo Days this summer by incorporating a digital display board from Daktronics, a leading scoreboard and video display board manufacturer.  The video board will be used for instant replay and general viewing during the two-day event.  Heartland awarded $2,000 to the city of Estelline on behalf of the Estelline Rodeo Club to help fund electric upgrades and service installation at the city's rodeo grounds to accommodate the Daktronics sign.
"We strive to think of new ideas that will enhance the rodeo so that it becomes one of the best small community celebrations in this part of the state," said Michael Ward of the Estelline Rodeo Club.  "The use of the video board will put our event on a bigger stage and people of all ages will benefit from its use.  With Heartland's help, we will be able to complete these upgrades."
Students from Estelline High School's multi-media class will be making the displays and advertisements that will appear on the video board, as well as manning the cameras during events.  People unable to attend the rodeo will also be able to watch it on the local ITC television channel.
"This is a great opportunity to reach everyone in the community so everyone can be a part of our celebration," said Ward.
The Estelline Rodeo Club is a division of the Estelline Area Economic Development Group under the umbrella of the city of Estelline.  The club's main event is the annual Estelline Rodeo Days.  The first rodeo was held in 2011 and continues to grow each year, both in attendance and participants.  Ward anticipates crowds to swell to 1,500 people this year.
Groton
Heartland awarded Groton funds to help towards the purchase and installation of a digital-display community sign.  The sign would serve as a community message board, displaying a variety of city announcements, public events, school activities and more.  City officials believe it will lead to increased community engagement and local commerce.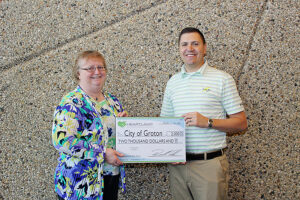 "We currently do not have an efficient or timely way to promote community events and other items of that nature," said Groton Finance Officer Anita Lowary.  "We hope this sign will help us do so, as well as help market Groton as a progressive and engaged community, as it will be visible on the major highway corridor through town."
The total cost of the project is $60,000.  The city has secured funding from other donors in addition to the grant from Heartland.