Committed to service, committed to success
December 1, 2016
Madelia, MN businessman aims to do what's best for his city
Someone once told Matt Gunderson he takes too many risks.
"No kidding," he said. "If I don't take risks, I'll never get chance for the reward. That's the point—that's what I enjoy."
The truth is he comes from a long line of risk-takers.
The Gunderson family has been a staple in the Madelia business community for years. His grandfather was a businessman and owned a bank for many years. His father is an entrepreneur and at one time ran the liquor store for the city, which is where Gunderson got his start.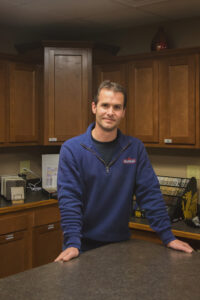 "I started working in the fourth or fifth grade," Gunderson said. "I'd help break down boxes and move freight to and from the basement. As far back as I can remember I've helped my father in different ways with the different businesses he's operated. I've had a lot of jobs that required different skills that have helped me get where I am today."
Today, Gunderson owns and operates Madelia Lumber Company. He prides himself on service, something his dad taught him the importance of long ago, and constantly strives to elevate his business for the benefit of his customers and his community.
"My father is definitely an entrepreneur. Over the last forty years, I've watched him commit himself to try and do what's right for Madelia, and that certainly was passed down to me."
In the business of building
Before owning Madelia Lumber Company, Gunderson followed in his father's footsteps and joined the United States Marine Corps. After serving four years, he returned to Madelia.
He spent time in property and retail management, both for his father, before switching to contracting in 2008. When the lumber yard, then called Countryside Lumber, went up for sale in late 2011, he saw an opportunity to roll the dice.
"Being in retail previously, it wasn't the retail aspect that I loved. But the business was more geared toward what my interests had been: construction, contracting, problem solving," he said.
Also, he didn't want to see it go.
"If it were not open, people might drive elsewhere to get what they need. I want to be able to offer as much as I can here."
Although he knew it might come with some adversity, he knew he could do it. And like his father, he was committed to his city.
"It took opportunity and community pride, but it also took a little craziness," he said. "It's harder to run a business in a small town, but how do you know if you don't try?"
At the time, Countryside Lumber was a simple lumber yard with a small selection of hardware and wood stain. There were three employees and the facility was mostly storage.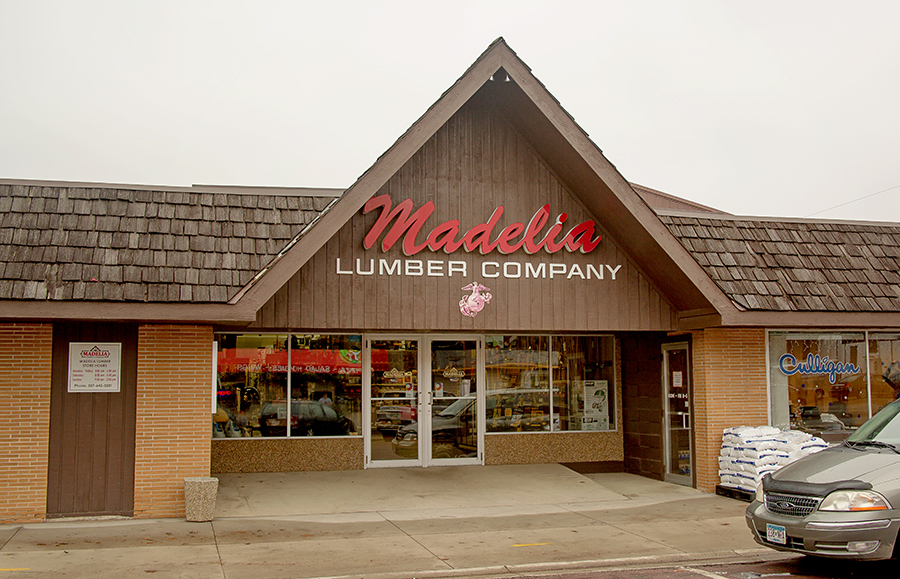 Today, Madelia Lumber Company is a full-service building center and supply company open seven days a week. Gunderson employs eight people full time and two part time.
The facility features an interior showroom with countertops, cabinets, flooring options and more. An exterior showroom with siding, doors, windows, decking, roofing, commercial and ag products will open soon.
Inventory includes items for nearly every room of the house with twenty to thirty new items being added weekly. Gunderson is also in the process of adding full plumbing and electrical product lines.
"We've done well," he said. "We've had sales increases each year. At the same time, we've offered more products and expanded, which requires more time and energy. It's a fine balancing act right now."
Gunderson estimates it will be another five years before he gets his business where he thinks it needs to be.
"We've expanded greatly and rapidly," he said. "Now I wonder, was it too fast or not fast enough? That's really what keeps me pushing harder and harder–I'm not satisfied yet. It's been a huge undertaking and such a long process, but we'll get there. If not, you can't say we didn't try."
Keeping it personal
Despite the ever-expanding inventory, Gunderson says his business sells service more than anything else.
"We pride ourselves on being as helpful as possible. It's not always about the sale of an item but rather giving guidance on how to fix a problem. Sometimes we just offer customers an opinion."
Gunderson believes this mantra sets his business apart from big box stores.
"There's a perception you can get a better price in the bigger towns, and for some things you probably can. But we're offering a dedicated service to ensure customers get what they want and are comfortable with what they're paying for," he said.
"We're looking for a lifetime customer, not a one-time sale. We try to make each experience as personalized as possible."
Gunderson is also reaching out to different demographics. Social media sites like Pinterest have surged interest in do-it-yourself projects among women of all ages, so Gunderson and his crew have introduced product lines and created events targeting female customers.
In 2014, they hosted their first annual Ladies Night.
"A lumber yard is stereotyped as a man's world, but early on I observed women having the final say on colors, layouts and designs in their home projects," he said. "Ladies Night was a chance to invite women in here to show them what products we have and introduce our great support team of distributors."
Roughly 70 people attended the first year and attendance doubled in 2015.
In addition, the store now features a crafting area with chalk paint and similar items. Gunderson says he and his staff have helped with many do-it-yourself projects in the last few years.
"You can walk into our store, show an employee a picture on your phone and ask, 'how do I build this?' or 'can you build this for me?' Our staff is very knowledgeable and has a wide range of abilities," Gunderson said.
"All our employees have been in this business or the construction business for a number of years – they are great problem solvers. We pride ourselves in coming up with the solution for a number of different situations to help somebody achieve what they want."
From giant Jenga to custom patio furniture, Gunderson says they've seen and helped with it all.
"We don't say no very often," he said.
Rising from the ashes
These days, Gunderson is tackling his biggest project to date: the Madelia fire recovery efforts.
After an explosion erupted in a Main Street business earlier this year, seven businesses were lost with a large stretch of the block left in ruins.
Gunderson's father owned several of the buildings that burnt down, which housed a beauty salon, dentist office and Mexican restaurant. Also lost were his mother's upholstery shop and his own apartment.
Now, the Gundersons and the other three property owners affected by the fire are in the process of rebuilding. The group worked together to complete the shell of each building at the same time.
As Gunderson begins work on his family's buildings' interior spaces, he's found the one upside to the fire.
"As devastating as it was, now you get to build some dreams," he said. "All four owners are going to be able to build what they want in order to operate their businesses as efficiently as possible while still maintain their Main Street presence."
He said there are a number of internal workings that need to be accomplished before construction is complete. A few of the properties are planned to open soon.
"As far as the completion of our buildings, I know I can do it but I'm running out of days," he said. "Like most things, there is never enough time or enough money. It's a lot of logistics, and I want everything to be done right."
It's a massive project, made no easier by the fact that he has to balance his time between the rebuild and his store.
"Once it is complete, it will be a project that I will never want to do again, but it will be one I am very proud of."
Service and community first
Gunderson learned a lot in his early years working for his father's different businesses, including hard work, perseverance and the importance of customer service.
Those early experiences have helped him make his business not only a success, but a true community partner.
"Throughout all my travels, with the Marine Corps or just for business, this city is the only place I've ever missed," Gunderson said.
"Madelia has everything we need right here and a lot of people have worked very hard to make that happen."
A lot of people, including Gunderson.
*Public Power is Good for Business is a quarterly section highlighting successful businesses located in our customer communities. Public power communities help foster prosperity and growth by offering reliable electric service at low rates.