City finds success with main street spec building
September 1, 2016
Officials in Akron, Iowa have long considered the possibility of a spec building in their community. It wasn't until Akron native, former city council member and entrepreneur John Lucken stepped in with a business idea that the city and development corporation decided to move forward with the project.  Completed in early 2016, the building is now home to Broken Kettle Wine Cellars and Click n Pick photography studio.
"We are extremely pleased with how everything developed," said Akron City Administrator Gary Horton. "If there's a need, we'd like to have another spec building in the community. Anything we can offer to facilitate new business or business expansion, we'll do our best to accommodate."
The city secured $211,000 from USDA Rural Development in 2013 to construct the 4,275 square-foot facility on Reed Street, the city's business district, and matched over $42,000 with help from the development corp. The total project cost exceeded $359,000, with the difference paid back to the city by the occupants.
Initial plans for the building included the winery as well as a dentist's office, with both suites built to suit each business' needs. While the Broken Kettle portion was under construction, the dentist plans fizzled, leaving that portion of the building unfinished.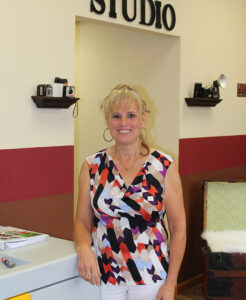 However, in early 2015, Horton had conversations with local entrepreneurs Randy and Charlene "Char" Frerichs who were seeking retail space for their photography service startup. While other facilities around Akron were immediately available, the spaces never quite fit the Frerichs' needs. Horton suggested, if they were willing to wait, the new building downtown might be a perfect fit. The Frerichs worked out a deal with Lucken, who purchased the entire building, to lease 1,150 square feet.
"John and the city were awesome during the entire process," said Char Frerichs. "We had very specific needs for the studio, such as high ceilings, and they allowed us to offer input on the design so it would function the way we needed it to."
The Frerichs opened Click n Pick in May, providing a variety of photo printing services in addition to 30-minute studio photography sessions. The business offers all the amenities of a typical photography studio–backdrops, props, professional equipment and lighting–but is leaving one key element literally in the hands of the consumer.
"The client is the photographer," explained Frerichs.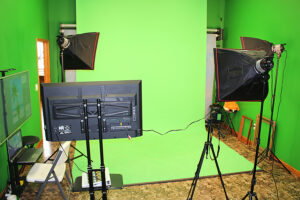 The studio is set up with a mounted Nikon camera connected to a computer and TV which allows the client to view their shot live and take the picture remotely. Customers can choose from a variety of cloth and canvas backdrops for their photos, or utilize the studio's green walls and backgrounds, which allow you to drop in a digital image as the background. The studio offers more than 300 digital images to choose from, including settings from area schools, or clients can bring in their own original images. Eliminating the photographer drives down session fees and also allows for a more informal environment.
"It's great because it lets the client be in control–they can decide what poses they want, which outfits to wear, how much time to spend and even their setting," said Frerichs.
After taking and editing the photos, clients can save their pictures to a memory card or print on-site using the studio's photo kiosk. Personalized photo mugs, key chains, t-shirts and canvas or metal prints can also be ordered through the kiosk. All copyrights are reserved for the client.
"We offer all the services of a traditional photography studio plus photo printing at affordable prices," said Frerichs. "It's simple, fun and different–we don't know of another business like it."
Broken Kettle Wine Cellars also offers unique products centered around nature's super berry–the aronia berry. A subsidiary of Akron Apple & Aronia Inc., Broken Kettle is owned by Lucken and his wife Mary and their partners, Tony and Jennifer Heisterkamp. Their business venture is rapidly becoming a leader in the emerging aronia berry industry, shipping products across the United States and drawing interest from markets in Asia.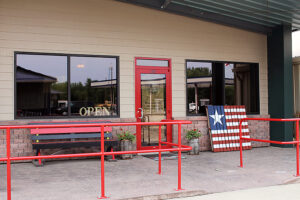 Aronia berries are famous for their extreme levels of antioxidants and natural anti-inflammatory properties. The Luckens and Heisterkamps have 6,300 aronia berry bushes at two orchards from which they harvest and develop a variety of products.
"We offer 100% aronia berry juice, aronia berry honey and creamed honey, frozen aronia berries and aronia berry powder," said John Lucken.
Broken Kettle also sells a variety of wines, made from fruit grown and harvested locally and processed and bottled on site.
"It's vertical integration from farm to table," said Tony Heisterkamp.
The Luckens and Heisterkamps moved into their portion of the building in February of 2015. Consisting of just over 3,000 square feet, the facility offers a wine tasting room, retail and office space as well as a licensed fermentation room and food processing center.
"Both businesses offer something very unique to the area and region," said Horton. "We're drawing traffic from neighboring communities and increasing activity in our downtown district. Needless to say, this project has paid off for our community in many ways."
*This version has been corrected to identify Reed Street as Akron's business district.
USDA is an equal opportunity provider, employer and lender. See full non-discrimination statement for further information.