Arlington senior is determined, has bright future
June 1, 2015
Heartland is pleased to announce Kimberly VanBockern, a senior at Arlington High School in Arlington, SD, as our May student of the month.  The daughter of Nikki and Shane VanBockern, Kimberly is recognized for her determination, strong moral compass and bright future.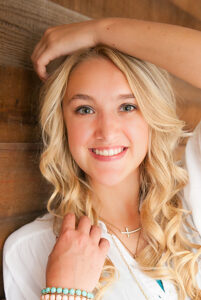 "Kimberly is truly an exemplification of all a teacher wants to see in a student and, more importantly, in a young person who holds the future in her hands," said Arlington Principal Rhonda Gross.  "At a time when there is too much contentment with mediocrity, Kimberly demands 100% of herself in the classroom, as well as on the court and track.  Never satisfied with 'good enough,' she continuously pushes herself to her limit, and, upon reaching it, finds a way to go even a bit further.  She makes decisions she and her family can be proud of."
VanBockern's high school activities and clubs include volleyball, basketball, track, band, chorus and marching band color guard.  She is also a member of Fellowship of Christian Athletes and National Honor Society, and is a Girls State delegate and a HOBY Ambassador.  In her free time, she enjoys fishing, volleyball and spending time with friends and family.  After high school she plans to attend South Dakota State University and pursue a career in nursing.
"It has been a pure pleasure to work with Kimberly, and I am anxious to watch her remarkable future unfold," said Gross.
The "Student of the Month" is awarded through a partnership of Heartland and KJAM Radio in Madison, and recognizes exceptional students in one of five area school districts located in communities served by Heartland and in the KJAM listening area. This is the fourth year Heartland and KJAM have teamed up to offer this program.