Arlington seeks competitive edge with shovel-ready sites
October 5, 2015
The Arlington Community Development Corporation (ACDC) hopes to expand the number of shovel-ready sites in the local industrial park by 250 percent. The first step in the process is developing the Arlington Industrial Park Master Plan, to be completed by Banner Engineering,  which will outline a blueprint for the development of roads, sewer and electrical infrastructure to six new lots on the north side of the industrial park.
"Our development corporation is dedicated to improving the business environment in Arlington," said ACDC Executive Director Jason Uphoff. "The completion of the industrial park master plan is critical to attracting new businesses to the area."
Located along US-Hwy 81, the industrial park currently houses TopLot Industries, a furrier, and TransCanada Regional Storehouses, a pipeline supply depot. Uphoff believes additional commercial and light industrial sites will make Arlington more appealing and facilitate economic development in the region.
"In order to  grow, we have to be prepared for it," said Uphoff. "Expanding our shovel-ready sites will be a vital economic development tool when competing with other communities to attract prospective businesses."
The term shovel-ready generally refers to commercial and industrial sites that have all the planning, zoning, environmental studies and infrastructure engineering completed prior to sale and occupation. Generally these "ready to go" sites are under the legal control of the city, local development corporation or other third party. Because shovel-ready sites provide businesses with guarantees and expedite development, the communities in which they are located often have a competitive edge in the site selection process.
Heartland recently awarded the ACDC a $5,000 economic development grant to assist with the completion of the master plan. Heartland awards economic development grants to help with projects that foster growth and development or increase the quality of life in the community. Heartland customers and their local economic development corporations are eligible to apply.
"Shovel-ready sites are very attractive to companies looking to move or expand because they mitigate risk," said Heartland Director of Economic Development Ryan Brown. "The more information and data a prospective business has about a site or location, the faster they can make a decision and begin construction."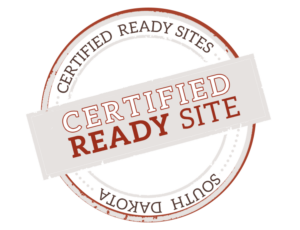 Upon completion, Uphoff intends to register the industrial park with South Dakota's Certified Ready Sites (CRS) program. Operated by the South Dakota Governor's Office of Economic Development (GOED), CRS is an economic development tool available to all cities, counties and developers in the state which promotes commercial and industrial sites that are development ready. Upon certification, qualifying sites are featured on the GOED website www.sdreadytopartner.com.
[row][third_paragraph]Not a South Dakota customer?[/third_paragraph][paragraph_right] Iowa and Minnesota have similar certified site programs. [/paragraph_right][/row]