Annual Meeting recap: Social media enhances customer experience
June 1, 2016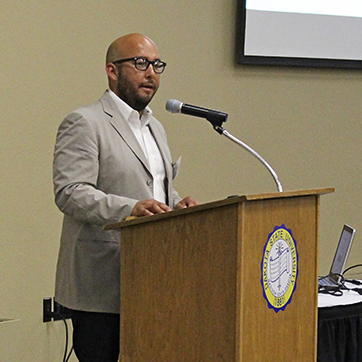 According to a recent article in The New York Times, more than one-sixteenth of the average user's waking time is spent on Facebook or its Instagram and Messenger platforms. Those 50 minutes a day is more time spent than on any other leisure activity surveyed by the Bureau of Labor Statistics, with the exception of watching television and movies, and almost as much time as people spend eating and drinking. With so much guaranteed face time, more and more businesses are turning to Facebook and other social media platforms to communicate with consumers. According to Sam Gonzales, director of digital and social media for the American Public Power Association (APPA), public power utilities can also leverage social media to communicate more effectively with their communities. At Heartland's Annual Meeting May 9, Gonzales discussed the customer experience and how it can be enhanced with social media, and shared how electric utilities across the nation are taking advantage.
In 2015, APPA launched a Raising Awareness of Public Power strategic initiative, which included a national survey of 1,600 public power customers through December 2015 and January 2016 to gauge customer satisfaction levels, utility awareness and communication preferences. Gonzales highlighted a few key takeaways for the organization:
Electric utilities rank high:

over 66% of public power customers positively rate the quality of customer service they receive from their electric utility — higher than gas, water, wastewater, phone, cable and internet providers

The younger generation is less impressed:

customers over 55 years in age rated satisfaction at 78% while those under 55 rated significantly lower at 54%

Only one in five customers under 55 knows their utility is community-owned and not-for-profit

Information is key:

 58% of customers want to be educated on rates; customers predominantly want utility websites and social media to be the sources for rate and outage information
According to Gonzales, APPA concluded it takes a robust mix of channels to communicate effectively to consumers. As younger generations become bill-paying customers, utilities should consider sharing information via email, web and social media in addition to more traditional methods such as bill stuffers.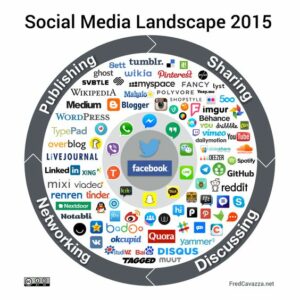 Gonzales is an admitted early adopter of technology, social media and digital tools, having been involved in social media since the early days. However he understands that while utilizing new technology is an important step in communications, it can also be quite daunting.
"The social landscape keeps growing, and popularity of one platform can shift depending on features," he said.
Rather than dive right in, Gonzales recommends utilities get their feet wet with one or two of the top three most popular platforms today: Facebook, Twitter and Instagram.
"Facebook is the most popular platform, and it is great for updates, videos, live video and photo albums," he said. "Twitter is great for real-time updates. Users are limited to 140 characters, so it forces you to be creative yet to-the-point, and the application now lets you add images and short videos. Finally, there's Instagram, which is photos and short videos. A growing number of utilities are using this platform."
While each platform is unique, Facebook, Twitter and Instagram each utilize hashtags, which are words or phrases preceded by a hash or pound sign (#) to identify messages on a specific topic. Hashtags are searchable, allowing users to find related content and be more engaged with each topic, so utilities should consider using their city as a hashtag, such as #SiouxFalls or #AkronIA, as well as more broad terms, such as #energyefficiency or #publicpower.
"Hashtags draw attention, organize and promote," said Gonzales. "Tweets with hashtags receive twice as much engagement than those without, so make them relevant, simple and memorable. Most importantly, be consistent and use it everywhere."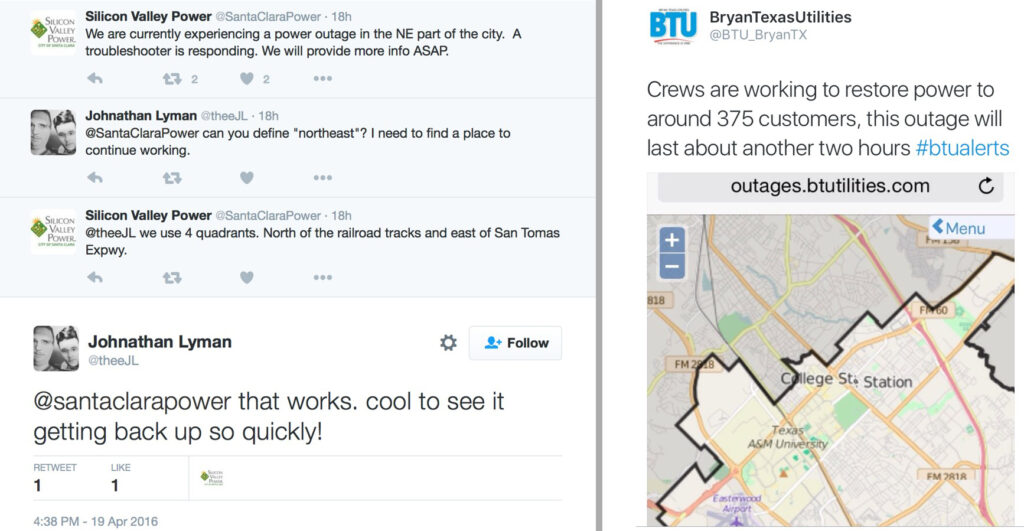 Gonzales also addressed a common fear among utilities in regards to social media: negative comments.
"Social media is the first place people turn when they are unhappy with a product, for example when their power is out," he said. "Social media helps you listen to your customers like never before, and if you are not there to hear them, they will speak anyway. Why not take advantage of the situation and address it – let them know they have been heard."
He shared examples of other utilities utilizing Facebook and Twitter to provide outage information and responding to unhappy customers. Most often, Gonzales said, updates and responses such as these help alleviate the situation.
"You could be missing the good stuff too! If someone provides positive feedback of your utility on Facebook, you now have great customer testimony for future marketing pieces," he said.
Gonzales offered other tips for social media use and how to engage customers:
Show a sense of humor when appropriate
Ask for customer opinions
Humanize your utility: give a face to the company by highlighting staff with photos and information
Be relevant: take advantage of trends, holidays and special social media days, such as #MondayMotivation or #ThrowbackThursday
Follow other relevant accounts in your community and industry for shareable content
Do your research and be unique
Look at your analytics and insights: learn the best time to post to reach more people
Schedule your posts: websites such as Buffer.com allow you to manage up to four social accounts for free and allow you to schedule posts by date and time
Involve and empower your employees: give admin roles on Facebook and share the workload among staff
Download the apps on your phone to post on the go
Sam Gonzales is a professor of social media at Montgomery College and has helped companies with their digital marketing strategies as principal of 202Labs before joining APPA. He has presented numerous times on how social media has changed the customer experience and most recently spoke at the APPA Customer Connections Conference on how to step up your social media game. For more information, contact him at sgonzales@publicpower.org or follow APPA on Twitter and Instagram.
Is your utility on social media or would you like assistance in setting up one or more social media accounts? Call 605-256-6536 or email drosheim@hcpd.com for details, and be sure to follow Heartland on Twitter with the handle @HeartlandPower.