Affordable housing taking shape in Colman
April 1, 2020
Spec homes under construction in Sunrise Ridge Estates
Low cost-of-living, ideal location, plus a sense of kinship and small-town appeal are just some of what makes Colman, South Dakota a great place to live.
There's just one problem: a low inventory of homes for sale.
But an area developer hopes to change that.
Josh Spilde recently purchased ten lots in the community's housing development, Sunrise Ridge Estates, with plans to build affordable homes perfect for families and first-time home buyers.
Proven track record
Spilde is the owner and operator of Spilde Electric in Arlington, SD, a business he's run since 2003. He first ventured into housing development in 2015 in Aurora, SD.
After identifying a need for affordable housing opportunities in and around Brookings, SD, Spilde purchased fourteen acres in nearby Aurora and installed infrastructure.
Soon, the raw farm land had transformed into a 24-lot housing development complete with water, sewer and electrical services as well as roads. By March of 2017, half of the lots had sold, some with homes on them, and work had begun on an additional 18 lots.
Spilde's development included 1,900 square-foot spec homes with price tags under $200,000. The new, move-in-ready homes were affordable, convenient, appealing options that led to a booming development.
Signs point to success
Spilde's lots in Aurora have since sold out and officials from roughly half a dozen communities have contacted him about managing similar projects within their city limits.
The Colman Economic Development Corporation (CEDC) was among those inquiring. Spilde was familiar with the community and soon discovered it offered favorable conditions.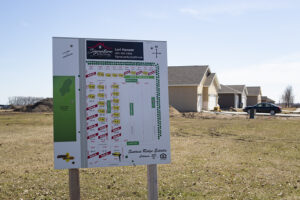 Colman is roughly the same size as Aurora and is also centrally located near major thoroughfares and larger cities.
CEDC already had shovel-ready lots available, located only blocks from the school, swimming pool, golf course and city park.
"It's a great location and the initial legwork is already complete," Spilde said. "Also, the development corporation is supportive and eager to work."
Filling a need
Spilde signed a purchase agreement for ten lots in the development with plans to build spec homes on each lot. He broke ground on the first two in early March.
Both homes under construction feature open-concept floor plans with two bedrooms and a double garage. They each come equipped with cabinets, a kitchen island and a deck off the dining room. Unfinished basements will offer room to grow.
Although construction is underway, potential buyers still have time to pick out some finishes and options. They can also work with Spilde on custom features of future models.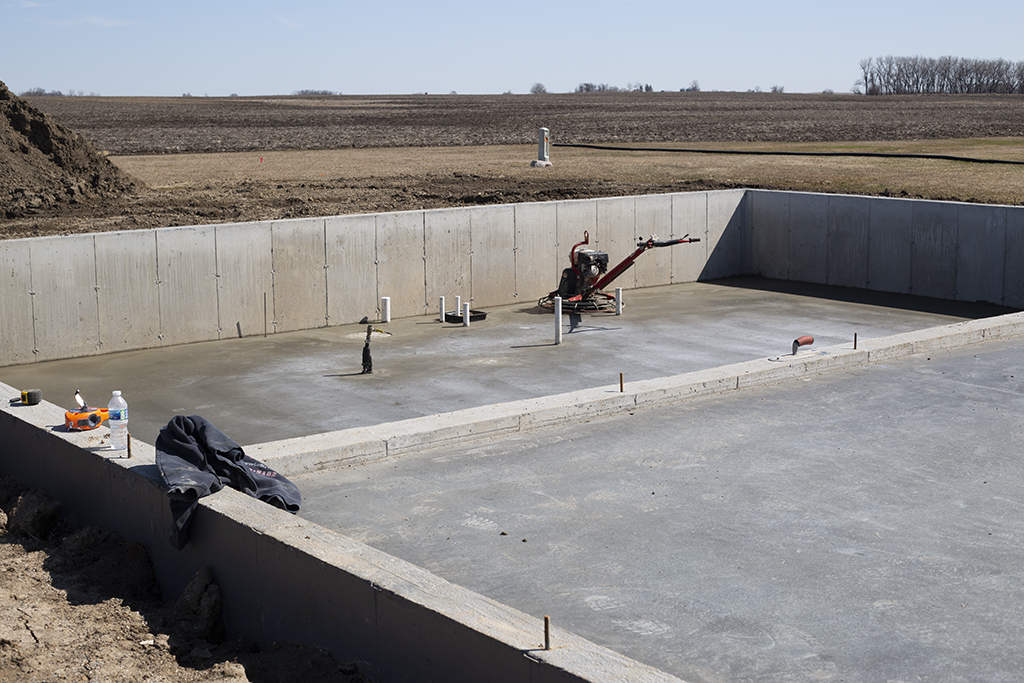 According to Lori Hansen of Signature Realty Group, LLC. and a member of the CEDC board, response to the project has been positive.
In fact, one home sold before Spilde broke ground. The other is currently listed at $209,900.
"It's peaked many buyers' interest," Hansen said. "This is very special to me as I have lived in Colman for over 40 years and I love this community. We are poised to grow but we need more housing opportunities. This project helps make it possible."
Heartland is common denominator
Heartland Director of Economic Development and Governmental Affairs Casey Crabtree is anxious to see how the project plays out.
As wholesale power provider to both communities, Heartland has been a common thread woven into each city's housing development project.
Heartland helped Colman get Sunrise Ridge Estates off the ground in 2009 by developing a graduated incentive program for three governor's homes. The three homes were purchased by West River Foundation, a regional non-profit economic development corporation. The CEDC applied for a grant from Heartland to assist buyers with closing costs.
Then-Manager of Economic Development Russell Olson also helped coordinate marketing efforts for the development, helping the city conduct a housing fair and produce advertising material, including a billboard along Highway 34.
Spilde utilized low-interest financing from the Heartland Economic development Loan Program (HELP) Fund in both 2016 and 2019 to move forward with his development plans in Aurora.
"We have partnered with Josh a few times and it's incredible what he was able to accomplish in Aurora," Crabtree said. "Colman has been seeking a similar outcome for their development and we thought Josh would be an excellent fit. We expect great things to result from this partnership."
Offering a solution
Spilde hopes to complete the first two homes in July and start another in the fall. Models of future homes will vary but all will be priced competitively.
"I think housing should be affordable and maintenance-free, especially when you're a first-time buyer or a young family," he said. "Lack of options presents a real problem. I'm looking forward to being a part of the solution."